SpaceX has teased a video highlighting all aspects of its next-generation Starship rocket, ranging from new views of the Starship Mk1 prototype in Boca Chica to slow-motion clips of Raptor engine static fire tests in McGregor, Texas.
2019's International Astronautical Congress (IAC) has included multiple SpaceX presentations, culminating on October 22nd with a discussion panel featuring SpaceX COO and President Gwynne Shotwell. Aside from offering some excellent details on the progress being made by SpaceX Starlink program, Shotwell also debuted a new Starship-centric video, featuring a range of new views of SpaceX's next-generation rocket development program.
IAC 2019 attendee Trevor Mahlmann was able to stream the bulk of the panel, including Shotwell's minute-long Starship program redux. Aside from a new perspective of Starhopper after its second and final test flight, perhaps the most notable new footage offered a select few glimpses of Starship Mk1's build process. Drone timelapses and video taken from inside Starship's tank section – prior to the installation of its third and final dome – are a strong confirmation that SpaceX is constantly acquiring high-quality footage throughout the development program.

Additionally, a back-to-back series of new videos of Raptor engine static fire testing may have been a sort of highlight reel of Raptor SN06 – the first engine to successfully make it through SpaceX's preflight test regime – before it supported Starhopper's final flight test in August 2019. It could nevertheless be any number of engines, as SpaceX continues to build and test Raptors at an accelerating rate.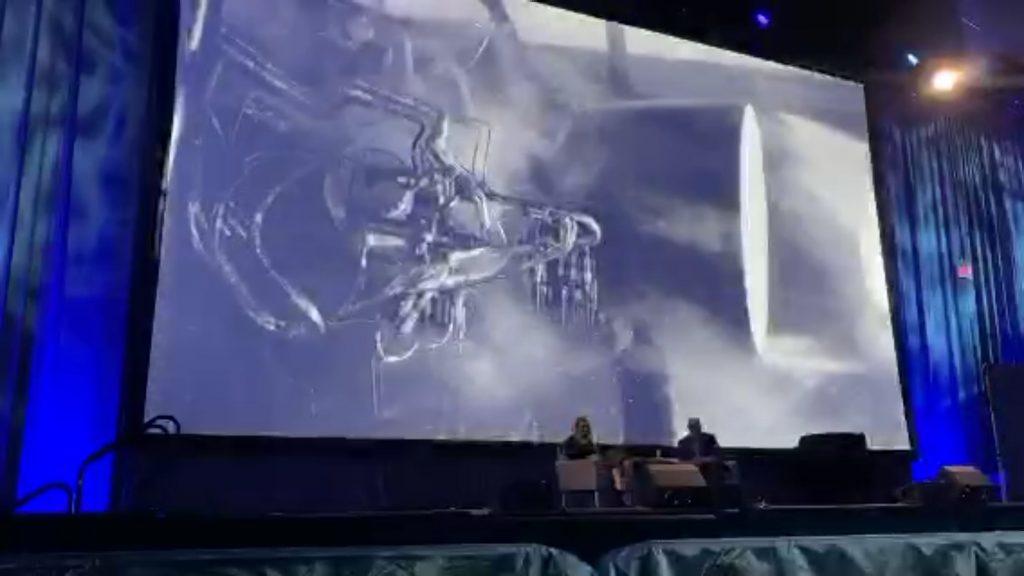 Meanwhile, beyond Shotwell's October 22nd discussion panel, SpaceX Principal Mars Development Engineer Paul Wooster revealed additional previously-unseen views of Starship – this time in the form of a lunar landing render. This particular render featured an unusual setup in which Starship appeared to have opened garage door-style hatches along its hull after landing on the Moon, revealing what can be assumed to be cargo bays.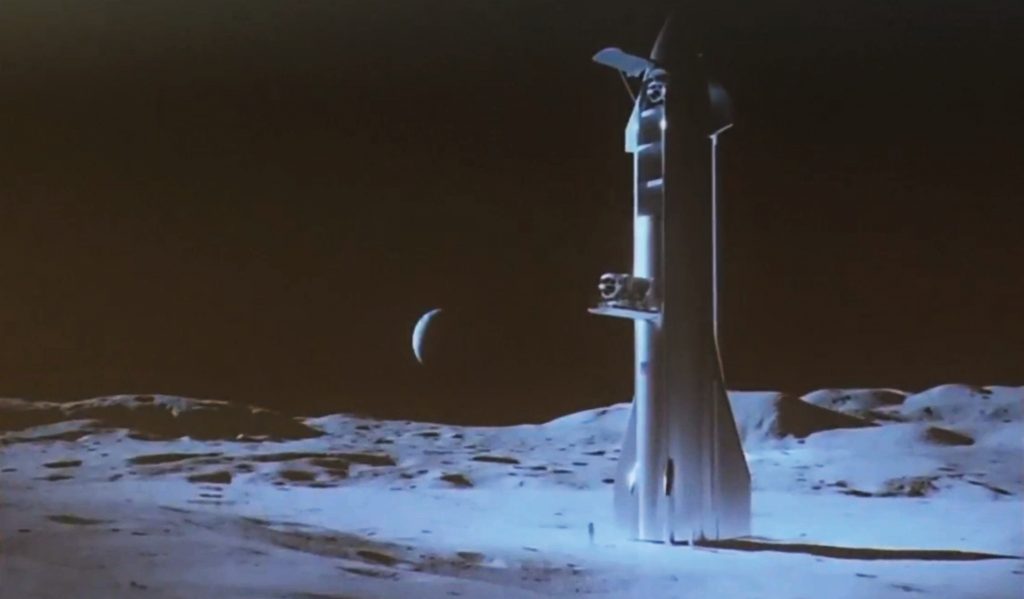 In an even weirder twist, a large Moon rover appears to be heading to the lunar surface on a section of Starship's detached hull that has been transformed into an ad-hoc elevator. The quality of the screenshot is subpar but there are no obvious strings or wires, suggesting that the implied elevator is some sort of track built directly onto the exterior of Starship's hull. What is likely an astronaut stands on the surface, awaiting the delivery if their fresh Moon rover.
It's unclear if the recent burst of Starship-related disclosures and teasers from SpaceX executives and senior employees is a glimpse behind the curtains or a sign of a new stage of seriousness and company-wide interest in the next-generation rocket, but it doesn't look like it's going to be stopping anytime soon. Up next for Starship is a critical 20 km (12 mi) flight test that will use the Mk1 prototype to determine whether SpaceX's exotic skydiver-like recovery method is a viable option for landing on Earth and Mars. A different SpaceX presenter indicated that that test flight could occur as early as December 2019.
If successful, SpaceX CEO Elon Musk has said that the very next Starship flight test could be the spacecraft's first attempted orbital flight. It's far more likely that many more test flights – possibly including Super Heavy booster hops – will occur before an orbital launch attempt is made. Still, Musk believes that it could occur as few as six months from now, while Shotwell (often known for her more down-to-earth approach to schedule estimates) stated at IAC 2019 that she hoped it would occur "within a year".

Starship's first operational cargo mission to the surface of the Moon would then follow as early as 2022.
Check out Teslarati's newsletters for prompt updates, on-the-ground perspectives, and unique glimpses of SpaceX's rocket launch and recovery processes.