Update Dec 17, 2015: Deliveries of Signature Series Model X sighted across North America.
A number of Model X reservation holders woke up to a surprise email from Tesla this morning informing them that deliveries of the long-awaited electric crossover has finally begun in North America.
Although limited details of the Model X have surfaced since its initial announcement three years ago, Tesla has been hugely successful with generating demand for the vehicle. A backlog of 30,000 Model X reservations, with projections of nearly 40,000 by year end, have been placed by eager recipients to this new class in sports utility vehicles.
The letter from Tesla provides insight to its plans for a worldwide roll out of invitations by year end. According to Tesla,
"We will invite the next group of reservation holders to configure in the next few weeks. We hope to invite all current reservations holders to configure their cars before the end of 2015."
First invitations to configure the Model X were sent to early reservation holders of the fully loaded P90D Signature Series Edition, priced at $132,000 and above. The invitations being sent through the remainder of the year will presumably allow reservation holders to customize the Model X in a variety of configurations, including a lower priced version said to cost $40,000 less than the Signature Series Edition.
Letter from Tesla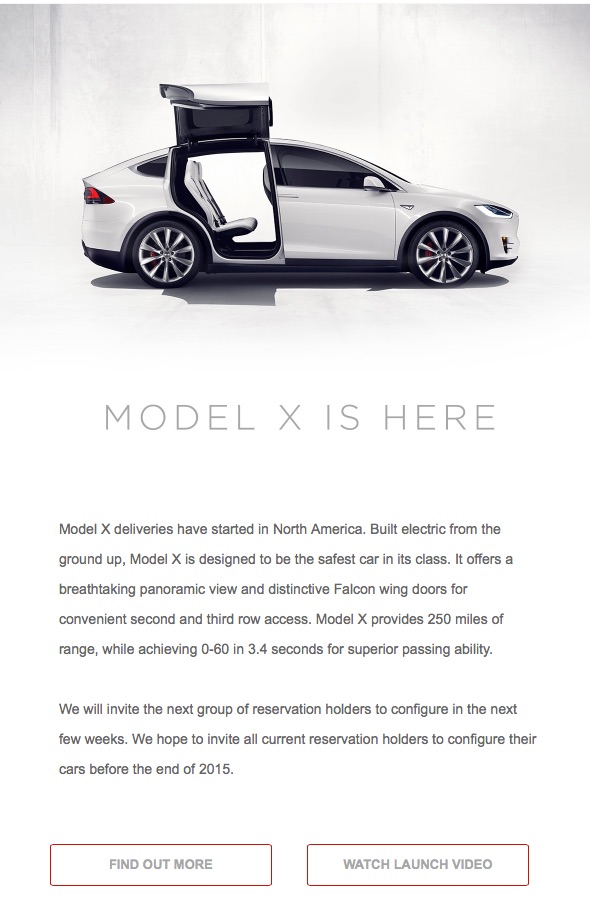 Model X News