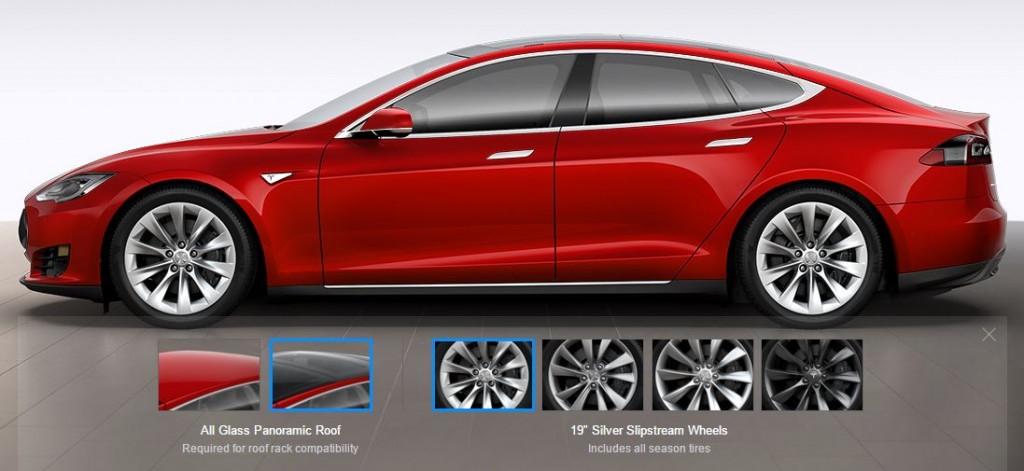 Tesla quietly updated their Model S configuration page sometime Friday night with the addition of new 19″ 'Slipstream' wheels.  The long-standard 19″ 5-spoke wheel design was unceremoniously removed from the page and replaced with the new standard offering in silver.
The Slipstreams evoke the design language of the 21″ Turbine wheels but have some very subtle detailing that set them apart. The connection points between the spokes and the rim of the wheel have more detailing than the Turbines, contributing to a slightly beefier look around the edges.
Whereas the Turbine's spokes resolve at a 45 degree angle to the face of the rim, the Slipstreams twist all the way around to meet the face flatly.
TSportline, long a purveyor of an aftermarket wheel called the TST that more closely mimics the aesthetics to the Turbine, continues to be the best source for an enthusiast looking to bolt on a grey colored version of the Turbines in 19″ or 20″ sizes.  When I tweeted the company for their reaction to Tesla's seemingly out-of-the-blue ambush of their product, they replied with a cheeky "stockisboring" [sic]. Worth noting, TSportline offers wheels in a much wider array of colors than Tesla does.
There are reports that some recent deliveries have already included the new wheels, as one owner on Reddit claimed to be surprised at their arrival.  While not clear how fast the roll out will be for the new Slipstreams, it appears the change is effective for new orders, worldwide, immediately.  21″ Turbines and the 19″ Cyclone wheels remain additional cost options.