Tesla just announced Elon Musk's new all or nothing, long-term performance award, ultimately confirming that the billionaire visionary will stay on as the electric car maker and energy company's chief executive for the next ten years. Musk's new long-term performance award involves a series of milestones which, if achieved, would make Tesla as one of the most valuable companies in the world and Musk the richest man on the planet, by today's standards.
Elon Musk's performance award was formally announced on Tesla's Investors Relations page on Tuesday morning, with the California-based firm outlining its targets for the next ten years. Tesla's board of directors, minus Elon and his brother Kimbal Musk, have been working on the new performance award for the past six months with a third-party compensation consultant, according to the investor communication.
Musk's new ten-year plan echoes much of the same theme as his 2012 performance award, in that his compensation is not guaranteed unless the company's goals are met. Tesla's 2012 performance award for Musk ultimately helped Tesla achieve an almost 17-fold increase in market cap over the past five years, a pace almost unprecedented in the auto industry. This time around, Tesla is aiming to reach a far more ambitious market cap of $650 billion within the next decade. If achieved, this would place Tesla in the same league as leading companies like Apple.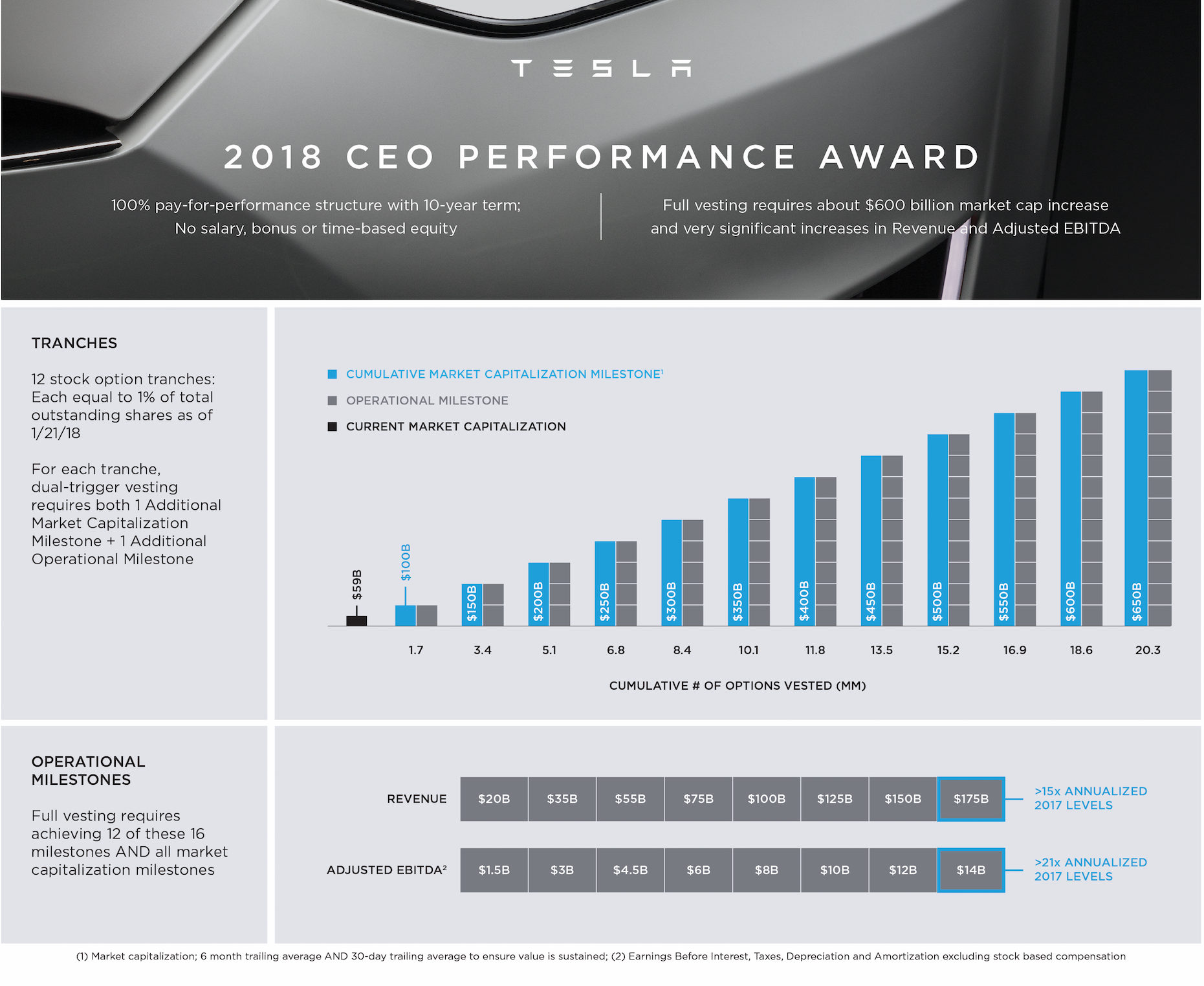 Musk's new performance award consists of a 10-year grant on stock options that vests in 12 tranches. Each of the tranches vests only if the Silicon Valley-based electric carmaker can meet both the company's market cap and operational milestones. The next market cap milestone will be reached when Tesla increases to $100 billion. The following 11 milestones would be attained every time Tesla's market cap grows another $50 billion. For perspective, Tesla's current total market cap is at roughly $60 billion.
Tesla's operational milestones for the next ten years requires the electric car maker to meet a set of escalating Revenue and Adjusted EBITDA targets. Thus, for Musk to fully vest in the award, Tesla must be able to hit a market cap of $650 billion, and its operations have to be executed well on both a top-line and bottom-line basis. Every time a milestone is attained, however, Musk will vest in stock options that correspond to 1 percent of Tesla's current total outstanding shares. In the event that Tesla fails to meet its performance goals, Elon Musk will receive no compensation at all.
The aggressive performance goals that the California-based electric carmaker recently published could indicate that the company is branching out and expanding its reach in markets outside the auto industry. At its current state, Tesla has already evolved into a company that not only makes cars; it also makes industry-changing energy solutions and with ambitions to create a fully autonomous ride-sharing network. Musk's side projects, such as The Boring Company, might also be absorbed by Tesla if its tunneling projects turn out successful, further increasing the company's overall value.