Tesla has removed the $35,000 Standard Model 3 from its online configurator, citing the higher range Standard Plus as being a far more popular option among buyers of the all-electric sedan. Tesla's base Model 3 can still be purchased by phone or by visiting a Tesla store, according to an announcement published onto the company's blog late Thursday.
The $35,000 Model 3 will be software-limited to 220-miles of range but can be 'unlocked' to 240-miles over-the-air. The latest update essentially allows Tesla to streamline its production operations by offering a single rear-wheel drive variant (Standard Plus) Model 3 that has 240 miles of battery range. The Long Range Model 3 in a rear-wheel drive configuration has also been removed from Tesla's online configurator and like the $35k base version, the vehicle can still be purchased offline through a Tesla salesperson.
"To further simplify our line-up, beginning today customers will also need to call or visit a Tesla store to get Model 3 Long Range Rear-Wheel Drive. We're making these changes to ensure that our online order process is focused exclusively on the three Model 3 variants customers want most," note Tesla in its blog post.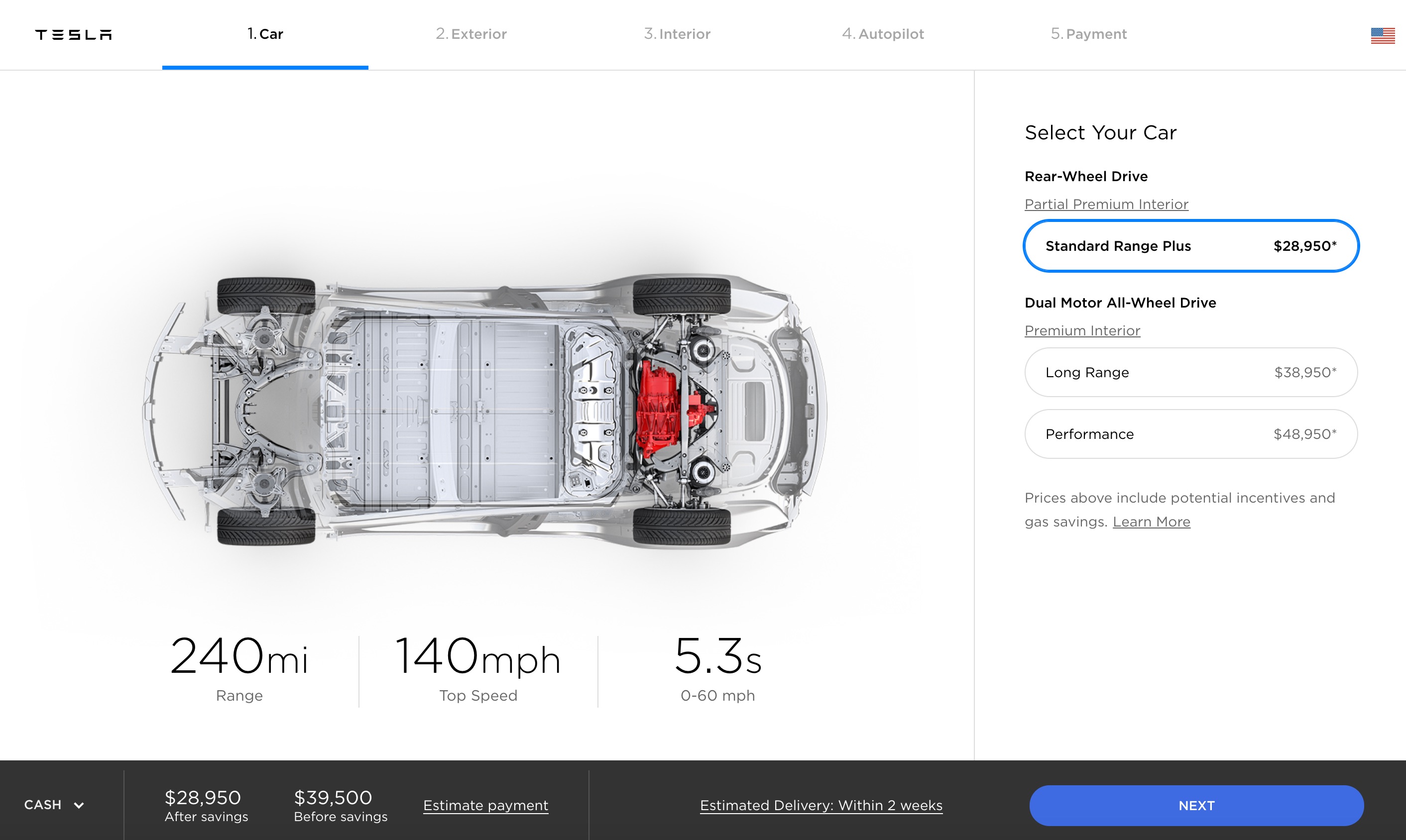 Speculations around a software-limited base Model 3 first emerged in early March after members of the Tesla community noticed that the Standard and the Standard Plus variants of the electric sedan had the exact same weight. A look at Tesla's order pages for the two Model 3 versions, at the time, revealed that both vehicles shared the same weight, suggesting that they are equipped with battery packs that have an identical number of cells.
Tesla's latest streamlining of the Model 3 lineup shifts customer focus to a $39,500 version of the electric car as the lowest cost option. The Model 3 that was once branded as Standard Range Plus and priced at $37,000, now comes with Autopilot included along with the costs associated with the driving-assist feature.
It comes with little surprise that Tesla would be reducing the number of base-level Model 3 variants being offered, especially since CEO Elon Musk has said in the past that he believes a 240-mile Model 3 with Autopilot represents the best option for customers. "Best choice for most people is Standard Range Plus with Autopilot," Musk wrote.
Best choice for most people is standard range plus with Autopilot

— Elon Musk (@elonmusk) March 1, 2019