Tesla's Made-in-China Model 3 will be receiving subsidies for new energy vehicles, a development that serves as a big push for the electric car manufacturer trying to bite a chunk of the sales pie in the world's largest automotive market.
The vehicles qualified for government subsidy were announced by the Ministry of Industry and Information Technology on Friday through its website. Based on the list, there are two variants of the Model 3 that are granted subsidies and an initial report by Bloomberg estimates the savings to be as much as $3,550.
The U.S. carmaker plans to sell the Made-in-China Model 3 for RMB355,800 or about $50,000, as per Tesla's initial announcements about the vehicle.
Tesla will produce the Model 3 units at its new Gigafactory in Shanghai that aims to roll out 3,000 vehicles a week, and it plans to deliver the cars to consumers before the end of January 2020 if given the green light to sell its locally-made vehicles.
The entry on the official list of new energy vehicles receiving subsidies in China shows the two Tesla vehicles which received incentives are of the same weight, with slightly different driving mileage and power consumption per hundred kilometers. The numbers hint that it could be the Model 3 Standard Range without Autopilot and Standard Range Plus that comes with basic Autopilot.
There were earlier leaks that Elon Musk's electric car company might produce a Dual Motor AWD Model 3 variant in China, but it wasn't clear if these units will be similar to the Long Range Dual Motor AWD vehicles being imported by the carmaker from the US today.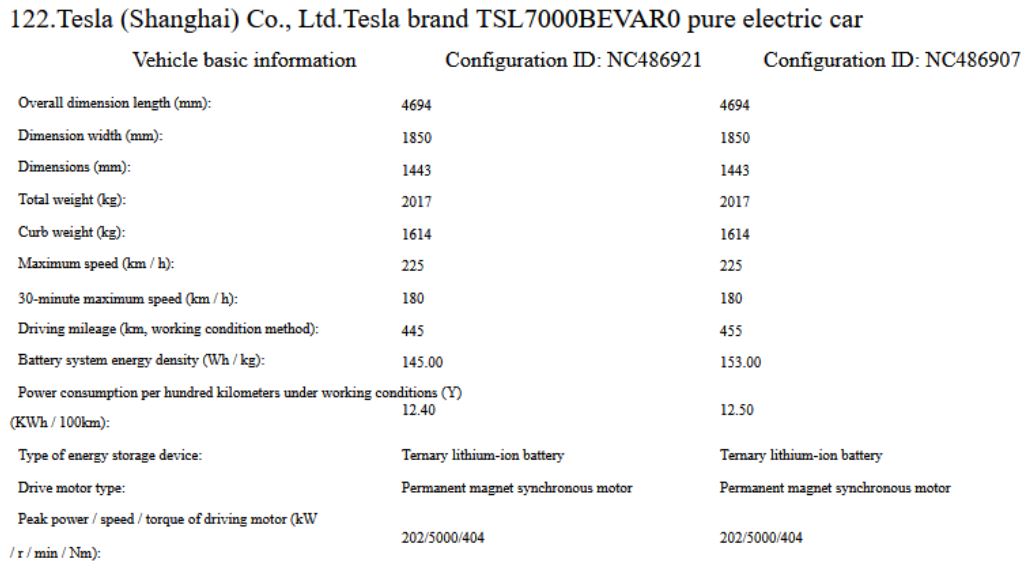 With the sale of the Made-in-China 3 Model 3 units imminent, we can expect Tesla to release more information soon as it tries to penetrate the Chinese market that's already enjoying the presence of brands such as BMW and Daimler, as well as local electric vehicle manufacturers such as Xpeng Motors and NIO.
The Gigafactory in Shanghai broke ground in January and was ready to start electric car production after just 10 months. Tesla announced during its Q3 earnings call that everything's ahead of schedule in its factory in China and Musk's team seems to be delivering as promised as there were also recent reports that the factory's parking lot is starting to fill with locally-produced Model 3 units.
As China pushes for more electric vehicles on the road, the subsidy for Made-in-China Model 3 will help Tesla even convince more locals to get behind the wheels of their electric vehicles. If the Made-in-China Model 3 succeeds in the market, there's a good chance that the electric car maker cam bring the Model Y to the local Chinese market as well.