A new analysis by Teslanomics shows that the introduction of the Model 3 in 2017 will single-handedly result in a 40% increase in US EV sales this year.
The substantial bump is based on the presumed 83,000 extra Model 3s that Teslanomics estimates will be produced in 2017. This number is based on an admittedly conservative production ramp versus the expected 6,000 cars produced per week by the end of 2017.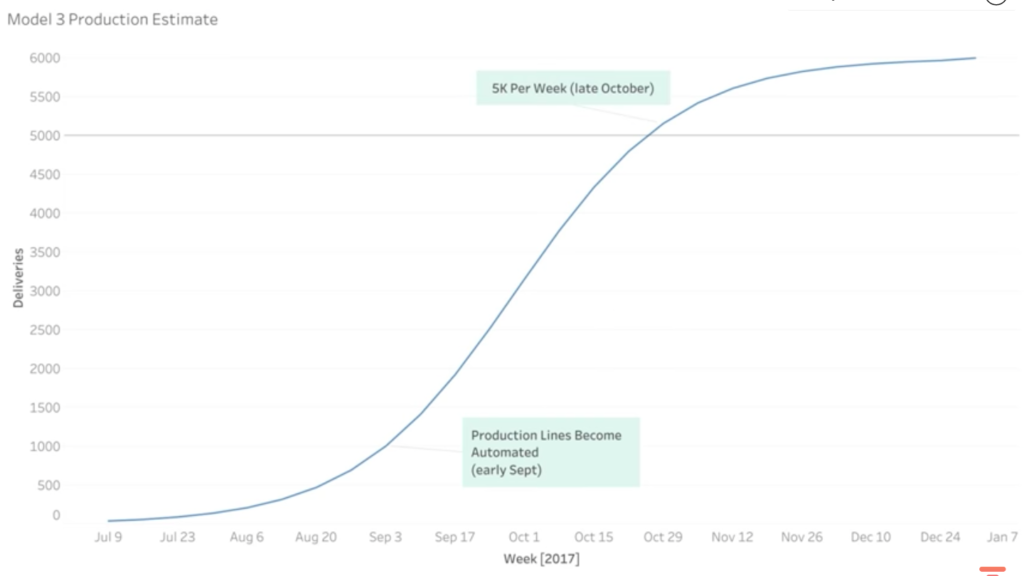 The analysis utilizes the logarithmic curve Elon Musk mentioned when discussing the production ramp up but fails to take into account the expected full production ramp in 2018. A logarithmic curve peaking out at 10,000 cars per week in 2018 would feature a longer and more gradual ramp before reaching peak production.
The graph above shows production flattening out in October through the end of the year, when in fact Tesla will still be pushing for higher production rates and until it hits the target rate of 10k Model 3s per week. Ben notes that his analysis is admittedly conservative, but even at that the expected impact on the US EV market due to Model 3 is significant. Model 3 will single-handedly cause a spike in EV adoption in the US, and thus cause a noticeable drop in gasoline demand in the US this year.
The real splash will take place in 2018 as Model 3 production peaks. Several hundred thousand vehicles are expected to be delivered across the world by the end of 2018. Tesla has shared that it will produce roughly 100,000 Model S and X from its Fremont factory and another 400,000 Model 3s next year which will make 2017 delivery numbers pale in comparison.
The big question for 2017 is about options. How many Model 3 reservation holders will opt to buy a less optioned car just to get it sooner and how many will hold out for every last option they want which could push the delivery date into the middle of 2018? I'm leaning towards getting my Model 3 sooner rather than later – how about you? Check out the full video below and let us know in the comments what you're going to do with your Model 3 reservation.