The Society of Motor Manufacturers and Traders Ltd (SMMT) has released its data on the UK's vehicle sales for September. Based on the figures, it appears that a particular all-electric crossover is starting to gain some real traction in the country.
Tesla CEO Elon Musk has been pretty open about the idea that Model Y could become the world's best-selling car, electric or otherwise. When Musk made his prediction, many were skeptical, and for a good reason. The Model Y is a premium vehicle, after all, and EVs are still very much in their early stages. 
Yet if the SMMT's data from September 2022 is any indication, it appears that the Tesla Model Y does have what it takes to disrupt, and perhaps even dominate, the overall auto market. The Model Y ended September as the UK's second best-selling car overall with 8,315 units sold, just behind the ubiquitous Nissan Qashai, which sold 9,311.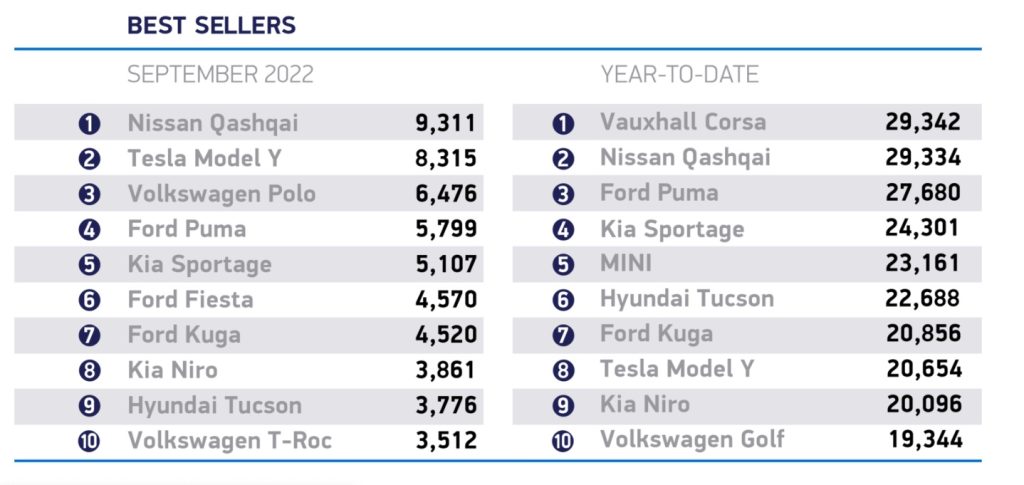 A look at the SMMT's data shows that the Model Y is quite the odd one out in the UK's list of best-selling vehicles. This is because the all-electric crossover is the only premium car on the SMMT's Top 10 list. The rest are affordable cars like the Ford Puma and the Kia Sportage, which are priced well below the Model Y. 
Tesla is gaining ground in the UK, with the electric vehicle maker selling 32,218 vehicles in the country year-to-date. This translates to a market share of 2.67% in the UK's overall auto segment. In comparison, Tesla sold 22,148 units in the UK last year, resulting in the company having a market share of 1.68%. The year is not yet over too, so Tesla is poised to sell even more vehicles in the UK for the remaining months of the year.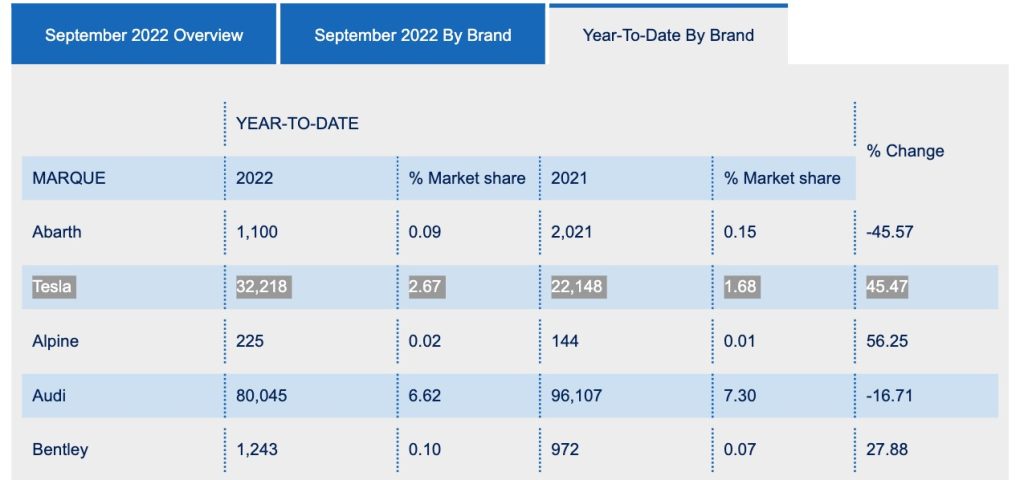 The Model Y's rise in the UK is indicative of the country's impending shift to electric vehicles. As noted by Mike Hawes, SMMT Chief Executive, September is a pretty historic month for the UK because it marks when the country saw its millionth electric car on the road. With facilities such as Gigafactory Berlin potentially exporting Model Y vehicles to countries like the UK, the momentum of EVs in the country might become even more notable. 
"September has seen Britain's millionth electric car reach the road – an important milestone in the shift to zero-emission mobility. Battery electric vehicles make up but a small fraction of cars on the road, so we need to ensure every lever is pulled to encourage motorists to make the shift if our green goals are to be met," the SMMT executive said.
The SMMT's full report for September can be viewed here. 
Don't hesitate to contact us with news tips. Just send a message to simon@teslarati.com to give us a heads up.