Less than four days after Elon Musk responded to 10-year old Bria Loveday's open letter, suggesting that Tesla should consider holding a competition to find the best homemade commercial, the company replied with "Project Loveday".
Tesla has published terms and conditions to the new "Project Loveday" contest aimed at finding the best fan-made commercials ending May 8, 2017. According to the blog post on Tesla's website, entrants can submit a link to a 90 second or less YouTube video along with a brief description.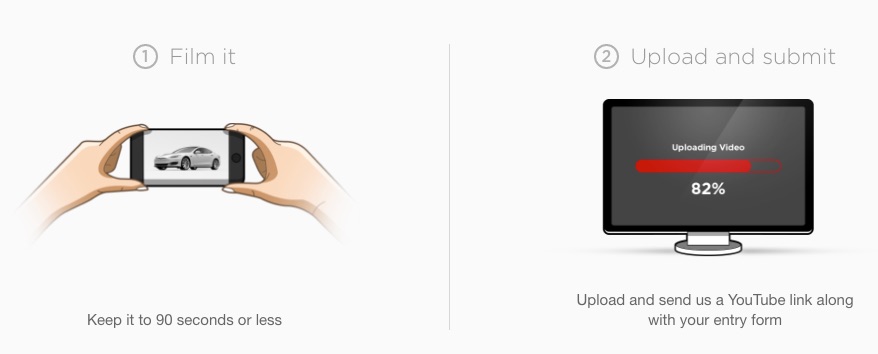 Tesla will select ten "Winners" that will be judged on a point scoring system based on originality, creativity, relevance to Tesla and its mission, and entertainment value. Additionally, a Grand Prize Winner along with a Top 3 will be selected from all eligible video submissions on May 22, 2017.
Updated May 5, 2017: Tesla extended the deadline for submissions to the end of the day on June 5, 2017. Some of the top fan submissions can be found here.
We've provided full details to Tesla's Project Loveday contest, as follows:
Project Loveday
Terms and Conditions
Project Loveday is a video submission contest sponsored by Tesla, Inc., 3500 Deer Creek Road, Palo Alto, CA 94304, USA ("Tesla").
1. OVERVIEW
Project Loveday begins on March 4, 2017, at 12:00 A.M. PT and ends at the end of the day on June 5, 2017.
2. ELIGIBILITY
Project Loveday is open to individuals who are at least 18 years old at the time of entry or to individuals under the age of 18 with the express permission of their parent or guardian ("Entrant"). All federal, state and local laws apply and Project Loveday is void where prohibited or restricted by law. By participating in Project Loveday, the Entrant agrees to be bound by these Terms and Conditions and all final decisions of Tesla.
3. HOW TO ENTER
During the Entry Period, an Entrant may create and submit a video entry ("Submission") by completing an entry form located here. Each Submission must comply with the guidelines in Section 4 below. By entering Project Loveday, the Entrant agrees to these Terms and Conditions. Each Entrant may only enter one Submission, and each Submission may only have one individual Entrant.
4. SUBMISSION GUIDELINES
Submissions must be submitted via the online Entry Form
Submissions must comply with these Terms and Conditions
Videos must be no longer than 90 seconds
Videos must relate to Tesla, SolarCity, our products, or our mission to accelerate the world's transition to sustainable energy
Videos hosted on third-party social media platforms must comply with that platform's Terms of Service
Videos must be approved for all ages; i.e., it cannot contain violence, nudity, or inappropriate language or behavior
Any text or voice-overs in the videos must be in English
Submissions must not contain material that violates or infringes another's rights, including, but not limited to, privacy, publicity or intellectual property rights
Submissions must not in any way mention, refer or otherwise allude to the name, logo or trademark of any entity, individual, product or brand other than those of Tesla and its brands
Submissions must not contain material that is not the original work of the Entrant
NOTE: By submitting a Submission, the Entrant agrees that his or her Submission conforms to the Submission Guidelines and that Tesla may, at its discretion, disqualify him or her from Project Loveday if Tesla decides that the Submission fails to conform to these Terms and Conditions or for any other reason.
5. LICENSES
Entrant grants Tesla (and its affiliates) a royalty-free, irrevocable, perpetual, nonexclusive license to use, reproduce, modify, publish or create derivative works from and display the Submission in whole or in part, on a worldwide basis, and to incorporate it into other works, in any form, media or technology now known or later developed, including for promotional or marketing purposes. If requested, the Entrant will sign any documentation that may be required for Tesla or its designees to make use of the nonexclusive rights to use the Submission. No rights in or to the Submission are reserved by Entrant.
Entrants may only use Tesla's name, product, trademarks and logos (collectively, "Tesla's IP") for the sole purpose of entering Project Loveday. Entrants are not permitted to make any other use of Tesla's IP, and Tesla may, at any time, revoke any permissions granted by Tesla. No rights, title or interests in and to Tesla's IP, except for the limited permissions granted to Entrant in these Terms and Conditions, are transferred or created.
6. JUDGING AND WINNER SELECTION
After the Entry Period, all eligible Submissions will be judged by Tesla personnel ("Judges"). The Judges will score each eligible Submission based on originality, creativity, relevance to Tesla and its mission, and entertainment value. Entrants of Submissions that receive the 10 highest scores from the Judges will be deemed the Winners. Entrants of the 3 highest scoring Submissions will be declared Top 3 Winners. The highest scoring Submission will be declared the Grand Prize Winner. All Winners are subject to verification of eligibility and compliance with these Terms and Conditions.
7. PRIZES
Approved Submissions will be hosted on Tesla's website located here. In addition, the winning Submissions will receive the following.
Winner Prizes (10): The top 10 winning Submissions will be featured and shared on Tesla's social media channels.
Top 3 Winner Prizes (3): The top 3 winning Submissions will receive additional promotion across social media channels.
Grand Prize Winner (1): The Entrant with the top winning Submission will be invited to and introduced at a future Tesla product launch event. Tesla will pay for reasonable travel expenses and accommodations for 2 people for 2 nights.
PRIZE CONDITIONS: Prizes are non-transferable and no substitution, redemption or cash equivalent will be allowed. All applicable taxes, and all other fees and costs not specifically identified in these Terms and Conditions as a prize element, are the sole responsibility of the prize winner.
8. HOW TO CLAIM A PRIZE
On or about May 29, 2017, the Grand Prize Winner will be sent an email notification with instructions on how to claim the prize. The Grand Prize Winner may be required to provide the winning video in a format requested by Tesla and to execute any requested documents within the time period requested by Tesla. The prize must be claimed by June 2, 2017 or, at Tesla's sole discretion, the prize may be forfeited and awarded to the Entrant whose Submission received the next highest score.
9. PRIVACY POLICY
Any personally identifiable information collected during an Entrant's participation in Project Loveday will be used for purposes of the proper administration of this contest and in accordance with Tesla's Privacy Policy, available here.
10. PUBLICITY RIGHTS
By participating in Project Loveday, each Entrant agrees to allow Tesla and its designees the perpetual right to use his or her name, biographical information, photos, videos, entries, likeness, and statements for Project Loveday and for trade, commercial, advertising and publicity purposes in any form of media worldwide.
11. GENERAL
Tesla reserves the right to disqualify any Entrant found, in Tesla's sole discretion, to be acting in violation of these Terms and Conditions or to be acting in an unsportsmanlike manner or otherwise acting in bad faith.
12. WINNER LIST
To obtain a list of prize winners, interested individuals should send a written request with a self-addressed, stamped business-sized envelope to: Tesla, Inc., 3500 Deer Creek Road, Palo Alto, CA 94304, Attn: Project Loveday. Winner List requests must be received by May 31, 2017.