Teslarati has received engineering plans showing 10 new Supercharger stalls coming to a popular shopping mall near the Atlantic Coast in Myrtle Beach, South Carolina. It's the first Tesla Supercharger station to find home on the Carolina coast, and part the company's stated plan to double the size of the Supercharger network in the US in 2017.
Located just off Route 17 at Grand Coastal Circle which leads to the shopping area, the new Supercharger station provide owners with plenty of opportunities to shop and relax while charging.
Abuelo's Mexican Restaurant is just a few steps away from the proposed location as well as a Texas Roadhouse Grill. The Coastal Grand Mall is anchored by two upscale department stores — Dillard's at one end and Belk at the other, with dozens of other shops in between including Dick's Sporting Goods and Foot Locker.
The engineering plans were prepared by GDP Group of Ohio. The actual site for the new Superchargers is close to an existing transformer, which will make connection to the local grid more convenient.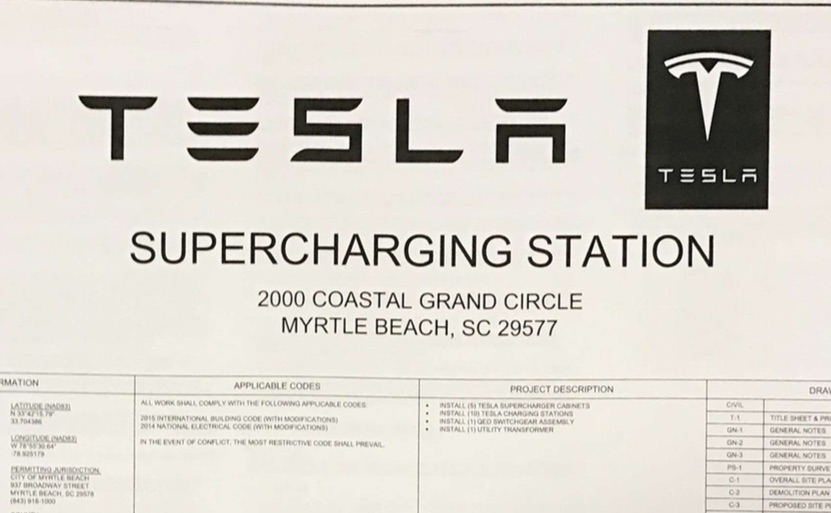 Tesla CEO Elon Musk has made increasing the number of Supercharger stations a top priority after some locations were plagued by long waiting times at certain times of day. Originally Tesla installed 4 chargers at each Supercharger location but has expanded that to 8 or even 20-Supercharger stations.
Myrtle Beach is a popular tourist destination known as much for the excellent golfing in the area as the beach itself. It is a favorite destination among east coast residents looking to escape the snow and cold of winter. The new Supercharger location will be welcome news for Tesla owners visiting the area.
Do you have more info about this location? Share it with the community through our forum or the Tesla Lifestyle app.