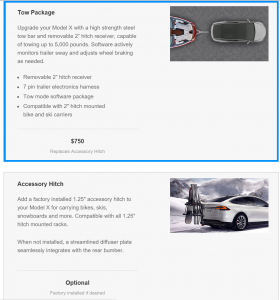 Having recently reported that Tesla discontinued two colors from the Model S and Model X color palette, keen-eyed observers note that the company also discontinued the Model X optional factory installed accessory hitch. Not to be confused with the popular Model X tow package that provisions the electric crossover SUV with a 2″ hitch receiver that's capable of towing items as large as a boat, the new update made to the company's design configurator removes the ability to select a factory installed 1.25″ hitch accessory.
The accessory hitch was previously recommended on the Model X configurator as an option for carrying lighter weight items such as bikes and sporting equipment. A snapshot of the design configurator from earlier in the year shows the 1.25″ hitch accessory described as a means to carry "bikes, skis, snowboards, and more".
Though the use of a 1.25″ accessory hitch can be used for carrying smaller items, our previous review of a swing-out bike rack installed onto a Model X with the optional tow package had us doubting the usefulness of a smaller hitch accessory. The sheer weight of a bike rack made from sturdy steel construction combined with the weight of up to four bikes would seem better fit for 2″ hitch receivers. From a practicality standpoint, we're not surprised Tesla decided to remove the 1.25″ hitch accessory.
The latest round of removals from Tesla's online Design Studio is a signal that the company looks to streamline production of vehicles at its Fremont, California factory. By minimizing the number of options available for a vehicle, the company has fewer external vendors to source products from and thus reduce its risk of having production bottlenecks. The factory will also be able to maintain a more efficient production line if Model S, Model X and future vehicles are able to share components across fleets. Case in point is the latest Model S which is outfitted with a center console and newer generation seats carried over from the Model X.
Hat tip to Teslarati reader Ari Jay Comet