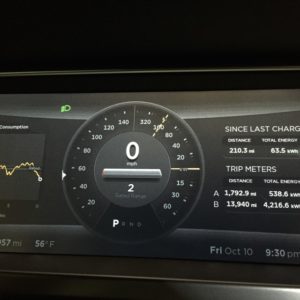 My Tesla road trip down to NJ was a success, for the most part, but it didn't come without some high stress range situations due to some poor planning on my part.
The Setup
Tesla road trips for me almost always takes place after a full day's worth of work which includes 100 miles of driving, something I always have to factor in with my range planning. At the time of writing, there are no Superchargers anywhere near my home or work which makes Tesla road trip planning slightly more difficult.
On my first road trip I charged up to 225 miles at the Tesla store near my work before heading home and beginning my road trip. But this time around, I wasn't so lucky since every charging spot at the Tesla store was taken.
Knowing this might happen, I had a "plan B" which involved leaving work early and charging at home to give me enough buffer range before heading out again on my Tesla road trip. Unforeseen circumstances at the business left me staying much later than I wanted to. It also happened to be the day leading up to a holiday weekend so traffic was terrible.
I got home with about 140 miles of range left – far less than what I started with on the prior trip. The family and I were in a rush since I got home late and we were all anxious to get out of town.
RELATED:
EVTripPlanner indicated that I needed 122 rated miles to get to the first Supercharger in CT which meant that I had approximately 18 miles of wiggle room.
While I had another "Plan C" which would route us through the Greenwich, RI Supercharger, the downside was that it would take us into some high congestion areas and add additional time to the commute.
Time was ticking down and I needed to get out of town within a reasonable evening hour so I decided that 18 miles was plenty of buffer. We stuck to the original plan and went for it.
The Countdown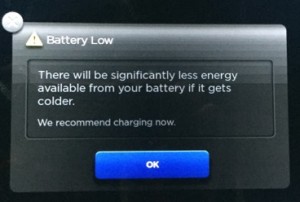 Just like on our previous trip, we stopped at our favorite sushi place, Hanami, along the way. There was 44 miles of range left and 29 miles remaining before reaching the Supercharger.
The Model S was already getting cranky at this point due to the low state of charge along with the nighttime temperatures in New England. I didn't think too much of it since we were just stopping for a quick dinner and the outside temperature was still above freezing point (32F).
My mind ran rampant over dinner and I couldn't stop thinking about the remaining battery range. I knew there was a Level 2 charger nearby (but not walking distance) that could add a whopping 17 miles per hour had at the expense of waiting in the middle of nowhere only to make a small dent in range. It didn't seem worth it so we got back in the car and decided to head directly to the Darien South Supercharger.
The next 30 miles would take us on a heralding ride as we watched the battery range countdown at a rapid rate, as we traversed hilly portions along the journey, and approach the actual miles remaining before reaching the Supercharger. In the back of my mind I knew the Model S has a 10-20 miles of buffer but I really didn't want to count on it. I slowed my driving speed to stretch my range as much as possible.
As the range crept into the single digits the dashboard indicated that the Model S would begin trimming my energy usage (disabling unnecessary energy drawing features). This was just one more blow to my confidence.
The Arrival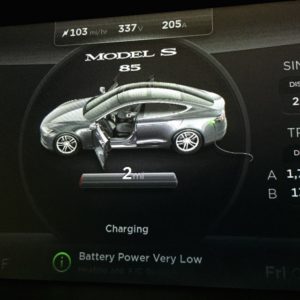 We made it to the Supercharger with 2 miles of range to spare and with great sighs of relief from all.
While we only needed about 130 miles of range to get to our final destination of this Tesla road trip, the first leg of the journey left some battle wounds. My daughter literally refused to get back into the car until it had 200 miles of range left on it.
The rest of the journey along with the return trip was pretty uneventful but I think we'll all remember this thrilling incident for a very long time to come.
Unlike ICE cars, there's no quick fill for a Model S except for Superchargers. While there are alternative charging stations everywhere, they're so slow in charging that it becomes nearly useless, in terms of practicality, especially as it relates to long-range Tesla road trips.
Either way there was lessons learned: don't take shortcuts and spend the time to charge; I should have given a large enough buffer by stopping at the closer Greenwich, RI supercharger or even slept at home and left early the next day with a full charge.
With new Superchargers popping up all the time hopefully we'll have less and less opportunity to make poor decisions, but even Elon can't protect us from our own mistakes.