New racetrack discovery indicates Tesla power limiting may go beyond just temperature sensing.
We recently set out to conquer (once more) the Streets of Willow Springs racetrack, a technical, 1.6 miles long, with 13 turns, located approximately an hour north of Los Angeles. Being a short track with a lot of turns (most tracks are 2 to 3 miles long), it's considered  a relatively low speed track. There's opportunity to briefly reach 100+ mph on straightaways, but most of the time is spent within the 40mph to 80mph range.
Streets of Willow Springs is an excellent track for practicing turns at lower speeds. Unlike our race at Laguna Seca which proved to be one of the more difficult and dangerous tracks we've driven, this track had no retaining walls, smooth shoulders and overall a much less dangerous track to race on.
Tesla Model S Configuration
Tesla's infamous power limiting feature to prevent overheating was not nearly as pronounced this time around because of the short bursty nature of the track. We could easily achieve a full five timed-laps without the dotted power limit line dropping below 160kw mark.
We used a set of new Toyo R888 racing tires (19″, 265 width) this time around as opposed to our usual BFGs. The Toyo's held up exceptionally well in terms of wear and durability while also providing great traction. It was a cold day (temperature in the 50s) so we kept tire pressure higher than usual, aiming for 36 psi hot.
The Model S experienced a bit of  steering wheel lockup through turn 1 (known issue), but it was very short lived.
New Tesla Power Limiting Feature?
A new phenomenon was discovered on the Model S where the vehicle appears to cut power when experiencing high lateral G-forces along, and when the car is angled from flat level ground.
Case in point is the track's #8 bowl turn which sports a 20 degree bank. This is where we experienced losing power for a brief second or two as we into the bank pushing nearly 1.2 Gs. The behavior can be seen in the video (2:20 min mark) where we were unable to accelerate past 40mph. We speculate that the combination of G-forces and angle from level ground (measured by the vehicle's internal gyro) might be simulating an accident scenario, hence Tesla's onboard system disables any additional use of power.
Performance
Best lap time was 1:31, which was a nice improvement over last year's 1:39. Our Teslarati 48 ran within the Green (Advanced) group with Speed Ventures. The fastest time in the class came in at 1:26 (Formula Mazda) while the slowest was 1:36. We felt that there was still a lot of room for improvement and with a little more practice, we should easily break below 1:30 next time. If not for the power limiting features of the Model S our lap times could be at minimum five seconds faster.
The max lateral G came in at 1.2 G which is on par with what we experienced in the past (using G-Force Rival tires).
Charging and Power Consumption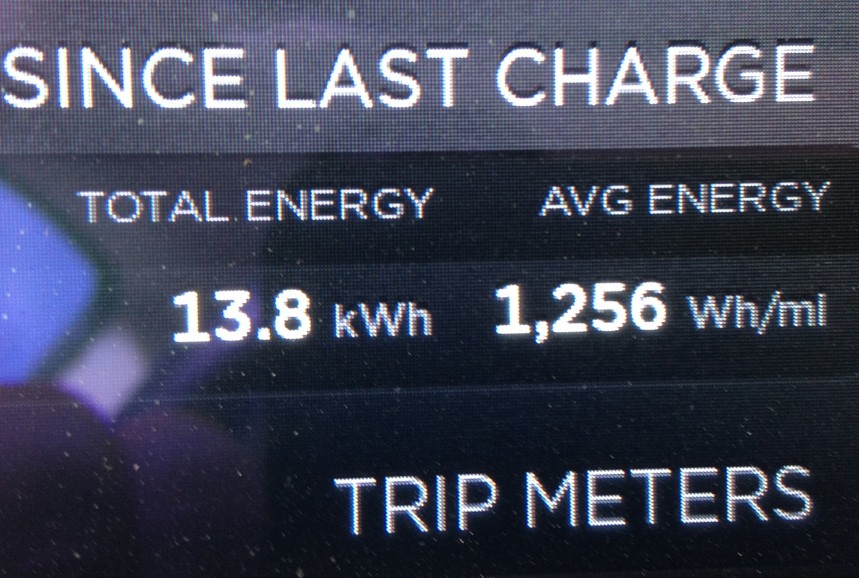 Power consumption came in at 1.2 kw / mile which translates to approximately 4 rated miles used per 1 actual mile of distance travelled.
There is a set of RV stalls within a 5 minute walk from the Streets. Unfortunately, there was only one stall with a 50 amp outlet which happened to be taken. We ended up pitting one mile away by the garage at Big Willow which had a couple of 240v 50amp outlets.
Travel
There are several possibilities of getting to and from the track.
ALSO SEE: Interactive Tesla Supercharger Map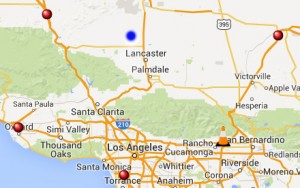 From the South / East
Hawthorne Supercharger has been the charger of choice for us thus far. It's 95 miles away, but because of significant elevation changes, coming to Willow Springs will consume over 110 miles of range, even when driving super conservatively. Coming back it will take only 90 rated miles.
Oxnard Supercharger just opened which is a little closer to the track at 87 miles away. Coming back will require only 66 rated miles making it a very attractive option.
Barstow Supercharger is 103 miles away from the track (EV Trip Planner estimated 105). The shortest route seems to be through Victorville, however it used 120 miles of range even while driving very conservatively likely due to the strong winds and elevation changes.
The Rancho Cucamonga Supercharger that's currently under construction, appears to be a good option at 93 miles away.
From the North or West
And traveling from the North or West, Tejon Ranch Supercharger is the best option. 60 miles away, requiring 73 rated miles to get there but only 55 back.