As Tesla heads into the final days of the third quarter, the electric car maker is attempting to ramp its electric car deliveries to reservation holders. Last week, Elon Musk noted on Twitter that Tesla has transitioned from one hell to another with regards to the Model 3 ramp. While Tesla is currently leaving production hell, the company is now experiencing what Musk describes as "delivery logistics hell."  
Just like in previous quarters, Tesla is adopting a series of unorthodox strategies to address the company's bottlenecks. The recent volunteer-boosted Model 3 delivery weekend, which tapped the company's longtime owners to help new reservation holders get familiar with their electric cars, was one of these strategies. That said, while the volunteer delivery assistance initiative seemed to have been successful, the company still has delivery challenges to overcome before the end of Q3.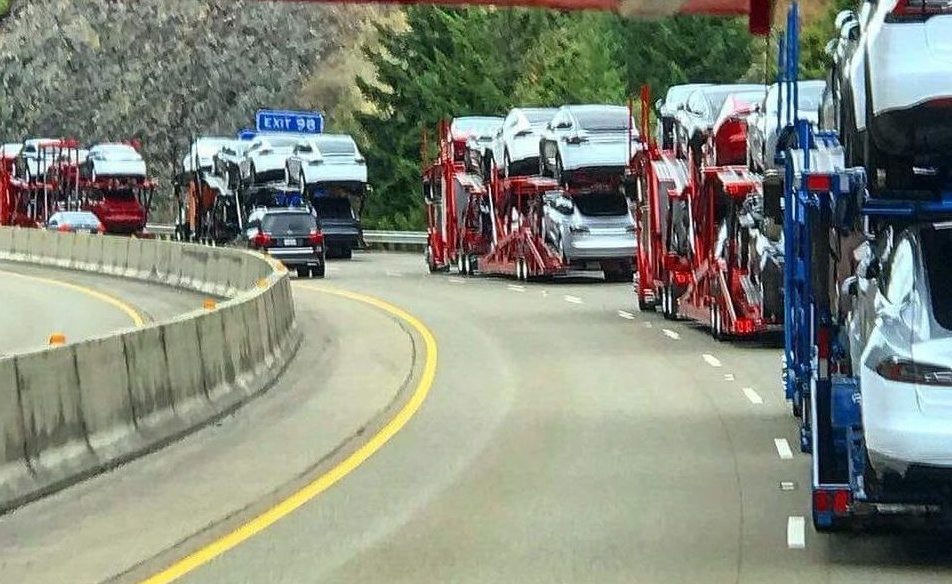 This was addressed on Twitter by Tesla owner-enthusiast Chris Barker, who noted that his Model S lease was almost done but his order for a Model 3 Dual Motor AWD was still delayed. Elon Musk promptly issued an apology, while stating that the company is adopting a system to expedite the delivery of its electric cars. According to the CEO, a shortage of car carrier trailers has resulted in the company building its own car carriers to alleviate the load.
Apologies, we're upgrading our logistics system, but running into an extreme shortage of car carrier trailers. Started building our own car carriers this weekend to alleviate load.

— Elon Musk (@elonmusk) September 24, 2018
Such a strategy is undoubtedly unusual for an automaker. Conventional automakers usually employ car carrier trailers to transport vehicles from the manufacturing plant to dealerships, where the vehicles would be stored until they are bought by customers. Tesla's business model does not utilize dealerships, and the company is in the middle of ramping its deliveries for the Model 3. As such, car carrier trailers filled with electric vehicles are deployed from the main Fremont factory directly to delivery centers, where they are received by reservation holders. Considering the mass number of vehicles that need to be moved and distributed, a shortage of car carriers is understandable.
Elon Musk has not provided any other details about Tesla's self-designed car carriers, but it would be quite interesting to see how the units were designed and rolled out, including any permits that were possibly filed for the construction and deployment of the transport carriers. That said, such a strategy is reflective of the company's tendency to adopt creative, outside-the-box solutions when it's faced with issues and bottlenecks. Last quarter, it was a production line built in a sprung structure. This time around, it appears to be car carriers developed and manufactured in-house.
In a letter to employees, Elon Musk has mentioned that Tesla is "about to have the most amazing quarter in (its) history, building and delivering more than twice as many cars as (it) did last quarter." Tesla board member Kimbal Musk also mentioned in a CNBC Closing Bell report that the number of Model 3 that would be appearing on American roads at the end of September would probably be shocking to some. If Tesla is running out of car carriers to transport its vehicles to delivery centers, then both Elon and Kimbal Musk's statements for Q3 2018 might very well prove to be accurate.