With the adoption of electric vehicles underway, and with more and more veteran automakers dipping their toes in electric cars, EVs like the Tesla Model 3 are bound to see some competition. This would be notable in coming years, with vehicles like Volvo's Polestar 2 expected to enter the market as early as 2020. Despite this influx of EVs, Tesla (NASDAQ:TSLA) bull and Loup Ventures Managing Partner Gene Munster argues that the Model 3 will likely remain unchallenged.
Currently, there are 17 EVs available in the US market. This is a notable increase from 2018, when there were only 11 that were available for purchase. By next year, there will likely be 24 all-electric cars that buyers could choose from. Munster argues that the majority of these vehicles could be divided into two categories: those that are priced above $70,000 and those that have a rated range below 130 miles. All of these, including the highly-anticipated Rivian R1S (which starts at the ~$70,000 range) or the Mini EV (which has a range of 135 miles), are not mainstream vehicles due to their cost or limited range.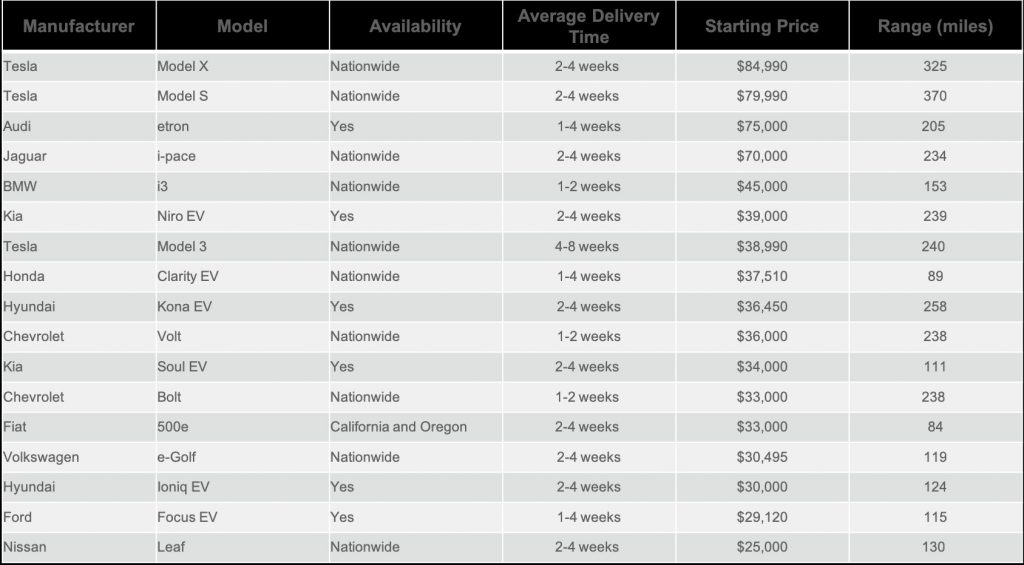 For an EV to be truly mainstream, Munster noted that the vehicle must be priced below $40,000 and have a range above 225 miles per charge. Only five electric cars in the US today meet this criterion: The Tesla Model 3 Standard Range Plus, the Chevy Bolt EV and the Volt, the Hyundai Kona Electric, and the Kia e-Niro. Munster noted that among these options, the Tesla Model 3 is the "clear winner in terms of value," and this is something that would likely continue to the coming year. Even with the upcoming competition in 2020, the Model 3 will likely be "unchallenged in its EV value proposition," the analyst wrote.  
Tesla's year-to-date EV market share stands at a dominating 75%. According to Munster, he expects this to decline to about 20-25% over the next ten years. Provided that the US auto sales stabilize at around 18 million per year, and provided that electric car adoption becomes widespread, Tesla's sales in the country could end up yielding around 3.6-4.5 million vehicles per year. This is notable growth, considering that Tesla is expected to deliver just over 200,000 vehicles in the US this year, as part of its estimated 360,000 global deliveries in 2019.

A key factor in this expected continued dominance is Tesla's increasingly apparent 7-year headstart in the electric vehicle market. Munster argues that this headstart allows Tesla to enjoy a lead against its competitors in terms of batteries that are more efficient compared to other EV manufacturers, a vertically integrated Supercharger Network that's easier to use compared to third-party charging stations, and dedicated full self-driving capabilities that are specifically tuned for the company's vehicle lineup. These factors complete the Tesla ownership ecosystem, and all of these are present in the electric car maker's entry-level offering, the Model 3 Standard Range Plus.
The narrative of Tesla's upcoming competition has proven prevalent over the past years, with critics of the company dubbing electric cars such as the Jaguar I-PACE, the Audi e-tron, and the Chevy Bolt EV as potential "Tesla Killers." As vehicles like the Model 3 continue to prove that Tesla is a moving target, and as companies like Jaguar and Audi exhibit teething problems with the I-PACE and e-tron, the gap between Tesla and its rival automakers continues to become more pronounced.
Disclosure: I have no ownership in shares of TSLA and have no plans to initiate any positions within 72 hours.