Tesla (NASDAQ:TSLA) is poised to hold its second-quarter earnings call after the markets close on Wednesday. With the electric car maker exceeding expectations on its vehicle production and deliveries, all eyes are now on the company as it tries to return to profitability, which it was able to achieve in the third and fourth quarter of 2018.
Bill Selesky, an analyst with Argus Research, stated that the story of Tesla's second-quarter immediately changed when it reported its production and delivery figures, which exceeded expectations. "We are still hearing that demand trends bode well for Tesla. What remains to be seen is whether Tesla will rein in its costs and expenses and improve its margins," he said.
Garrett Nelson, an analyst with CFRA Research, noted that investors would likely be focused on whether the company will keep its initial forecast of selling 360,000-400,000 vehicles in 2019. "The ability of the stock to move higher will really depend on the (sales) guidance. We are still skeptical that they will hit that goal," the CFRA analyst stated.
Overall, analysts polled by FactSet expect Tesla to report an adjusted quarterly loss of $0.39 per share, a notable improvement over the $3.06 loss the company reported in Q2 2018. Wall Street also expects Tesla to return to non-GAAP profitability by the fourth quarter.
Estimize, a crowdsourcing platform that aggregates estimates from Wall Street analysts, buy-side analysts, company executives, fund managers, academics and others, has noted that it expects Tesla to report an adjusted loss of $0.25 per share.
As for revenue, FactSet expects Tesla to report sales of $6.5 billion in the second quarter, an improvement over the $4 billion the company reported in Q2 2018 and the $4.5 billion in the first quarter. Estimize, for its part, expects Tesla to report sales of $6.6 billion.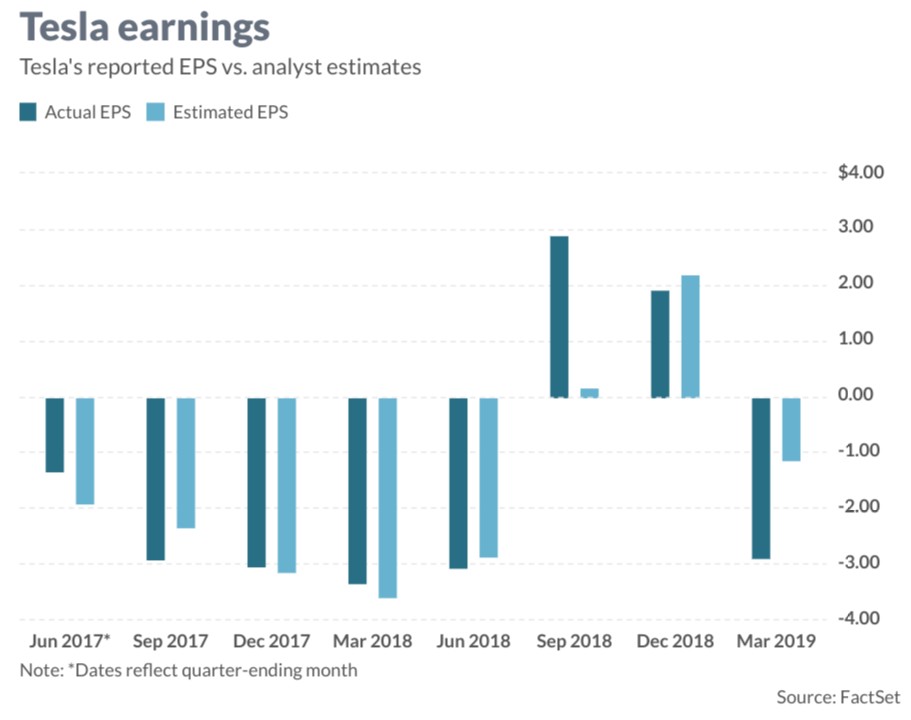 Tesla has been on what appears to be a path towards recovery in July. TSLA shares have recovered 14% this month, following a 21% recovery in June. Due to the steep drop in the electric car maker's shares following the first quarter, Tesla remains down 23% for 2019. This compares unfavorably with the S&P 500 index and the Dow Jones Industrial Average, which have gained 19% and 17%, respectively.
Selesky's statement about the Tesla story changing with the results of the second-quarter vehicle production and delivery report mirrors the sentiments of some of the company's supporters in Wall Street. In a recent note, for example, Baird analyst Ben Kallo stated that Tesla's further execution, starting with its second-quarter earnings report, will "help restore credibility and create a challenging short environment" despite the "overly negative" narrative surrounding the company.
Even Barclays analyst Brian Johnson, a Tesla bear, has issued a note stating that he sees the electric car maker heading to a nearly profitable Q2 earnings report. "Increasing 2Q estimates as TSLA did indeed 'move the metal,'" Johnson wrote.
As of writing, Tesla stock is trading +0.84% at $260.36 per share.
Disclosure: I have no ownership in shares of TSLA and have no plans to initiate any positions within 72 hours.