Audi appears to be doubling down on its e-tron offensive, this time promoting the all-electric SUV in front of a Tesla store in Germany. A photo of the marketing initiative was posted recently on social media, just days after reports emerged that the German automaker was placing e-trons in Tesla Superchargers across Europe, in what appeared to be an attempt at persuading Tesla owners to abandon their vehicles and shift to the 204-mile SUV. 
An image of Audi's more assertive e-tron push was posted online by electric vehicle enthusiast Provotroll1, who shared a photo of the all-electric SUV being marketed in front of a Tesla store in Stuttgart, Germany. Based on the image, the e-tron appeared to be attracting some attention from passers-by, with several people checking out the vehicle.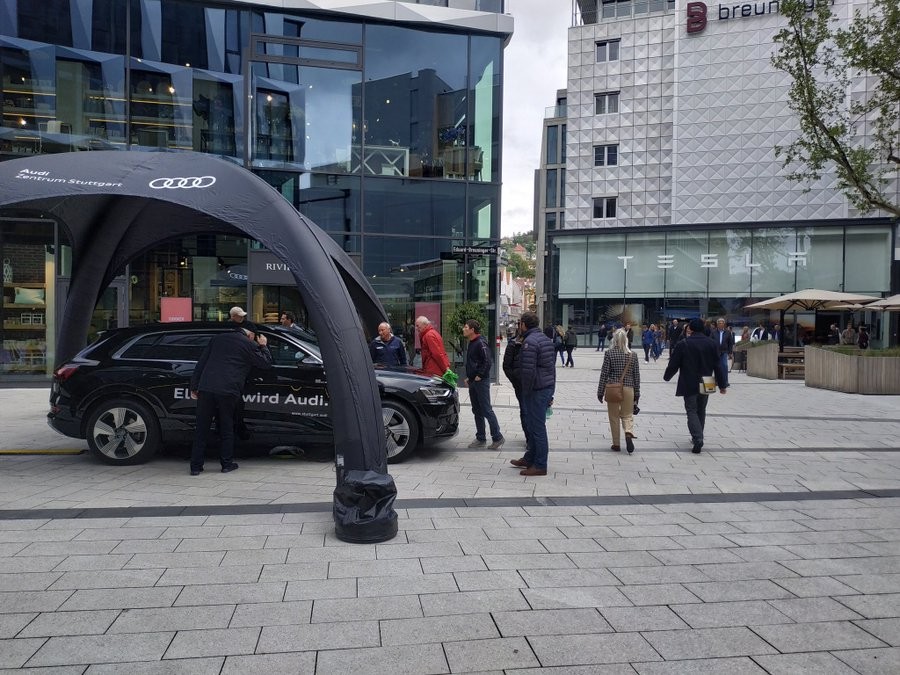 Audi's decision to place an e-tron booth in front of Tesla's store in Stuttgart will likely prove to be a more effective strategy than bringing the vehicle to Superchargers. The Supercharger Network, after all, is one of Tesla's key advantages over the e-tron, as Audi's all-electric SUV relies on third-party chargers for long-distance travel. Thus, bringing the e-tron to Superchargers actually highlights the vehicle's inferiority to Tesla's electric cars. 
Audi, for its part, has explained that the Supercharger-focused marketing efforts were the individual strategies of its dealers. "This was a one-time marketing action of one of our German dealers. All Audi dealers are independent companies," an Audi spokesperson stated.
This is not the case with the e-tron's marketing strategy in Stuttgart. By placing the vehicle in front of a Tesla store, Audi appears to be issuing a direct challenge at its younger competitor. This is particularly notable, considering that Stuttgart is an area where Audi holds a strong presence. Stuttgart is a key city for the German automotive industry as well, being the site of Porsche's main factory and Mercedes-Benz's headquarters. 
Despite undergoing a recall for a potential fire risk, the Audi e-tron has been receiving praise from noteworthy reviewers. Consumer Reports, for one, lauded the vehicle's quiet cabin and its premium interior materials, with journalist Mike Quincy stating that it was the "nicest EV I've ever driven" to date and that he "like(s) it more than any of the Teslas we've driven." Describing the vehicle's acceleration, which is notably slower than a Model X, CR Deputy Content Editor Jon Linkov noted that the e-tron has "more of an elegant pull-away." compared to the snappy acceleration of other EVs like Tesla's electric cars.