If rainbow road and rainbow charge port weren't enough, a new Tesla pseudo-easter egg has just been discovered this time revealing the company's plans to expand its Supercharger network into Mexico.
The news comes after a tipster sent us a photo of a relatively unassuming parking garage that was adorned with QR codes pasted to the wall behind each parking space. Our informant stated that the QR code pointed to a past tweet made by Tesla CEO Elon Musk.
Given the small size of the image and the distorted proportion of the QR code within it, we weren't able to validate the claim. But sure enough once we blew up the image and readjusted the QR code to resemble a square, a quick scan led us to Elon's Tweet from April 3.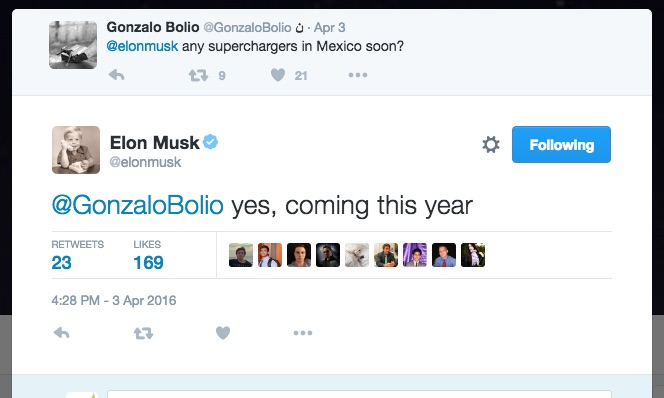 The tweet aimed at Musk asked whether any of the company's rapidly expanding network of fast charging Superchargers were coming to Mexico, to which he confirmed with a simple "yes, coming this year".
When we reached out to Tesla for comment about the photo, in specific whether the photo was a true depiction of the company's plan to install a Supercharger in Mexico, we were told by the Tesla spokesperson,
"Yes, we can confirm that we are planning on having our first Supercharger in Mexico in Cuernavaca City."
This information represents a pivotal moment for the fast growing electric car and energy company as it's the first time we hear Tesla confirming the site for its upcoming Supercharger in Cuervnavaca City – a location 50 mi (75 km) south of the country's capital of Mexico City where it currently has one store – and it marks the first time the company will break ground on its expanding charging network south of the border.
Tesla's Supercharger has become a critical component in the company's goal of providing worry-free long-distance travel to owners of its electric vehicles. With a worldwide network today of 628 Supercharging stations comprised of 3,738 individual high-speed chargers capable of replenishing 170 miles of range in 30 minutes, Tesla has created an immensely valuable charging network that serves as a backbone to the growing number of Teslas hitting the roads. Musk has also announced during the Model 3 reveal that the company would be doubling the number of Supercharging stations and quadrupling its destination charging partners throughout North America, Europe and the Asia-Pacific regions over the next years.
This increase in chargers will ultimately support the 500k vehicles it intends to produce in 2018, and 1 million vehicles by 2020.