In the world of retail marketing, sales per square foot is the most important metric of all. It is what determines which merchandise goes on the shelves and where those shelves are located within the store. With rents at major urban and suburban malls so high, retailers are always on the lookout for ways to maximize their income per square foot of space.
According to a report by CNBC, malls that have a Tesla store in them have higher sales per square foot than those without one. The 24 malls with Tesla stores average $940 per square foot in sales. That compares to only $835 per square foot for malls that do not have a Tesla store. The information is based on data compiled by shopping research firm Green Street Advisors.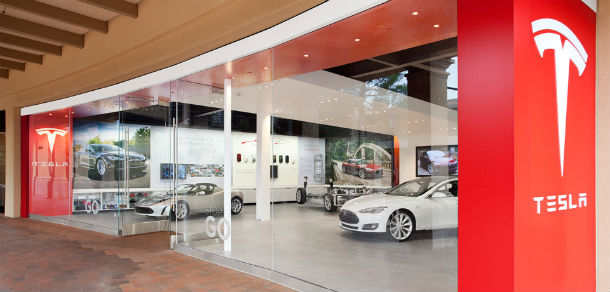 Tesla Store at the Newport Beach Fashion Island mall in Southern California
It comes as no surprise that mall sales at facilities with Tesla stores are similar to what the retail industry has experienced with another high profile Silicon Valley company — Apple. A report issued by Goldman Sachs in 2015 found that of the top 100 U.S. malls, 75% have Apple as a tenant.
Both Tesla and Apple sell high tech products that are in demand and come with high price tags. Both companies make every effort to position themselves as purveyors of premium products. Both have built a brand image that revolves around identification with a certain lifestyle. That cachet is what brings people in the door. It also attracts the kind of shoppers that other retailers want.
Does Tesla choose the top rated malls or are malls top rated because they have a Tesla store? The answer, of course, is both. Tesla has stores in 3 of the top ten rated malls in America, as ranked by Green Street Media — The Village at Corte Madera and Century City, both in California, and Hawaii's Ala Moana Center.
No matter which came first, the mall or the Tesla store, there is little doubt that a Tesla store in the immediate vicinity is good for business.