In advance of tomorrow's Q4 earnings call, Tesla investors and Wall Street analysts have seldom held more conflicting views about where the stock is heading. Shares in Tesla have advanced 50% in the past 3 months, setting historic highs along the way. Based on market capitalization, Tesla is now worth just slightly less than auto manufacturers Ford and General Motors.
Some analyst think the stock will go higher still. Morgan Stanley's Adam Jonas forecasts a price of $305 per share in the near future but many of his colleagues disagree. Bloomberg recently polled 14 analysts and found the majority of them see the stock going lower in the months ahead. The median response was $48 per share below where the stock is today. That is the most pessimistic view among Wall Street traders since Tesla went public 7 years ago and is reflected in Bloomberg's chart below.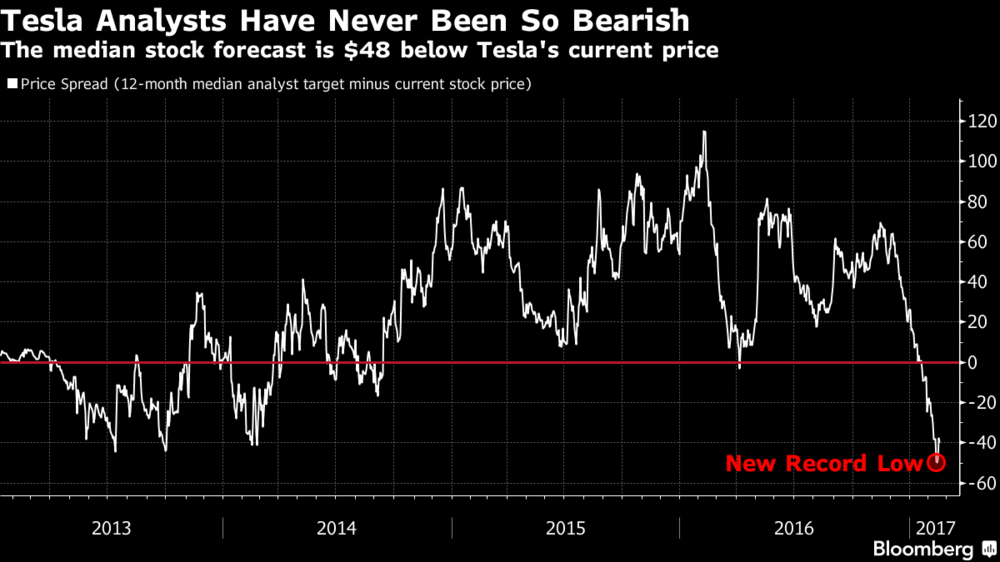 Of the six analysts who have updated their advice on Tesla in the month of February, none has raised the estimate. That is despite the company announcing that it would begin pilot production of the Model 3 this week, news that has been one of the triggers for the latest run up. We "see no fundamental reason for run-up," said UBS Securities LLC analyst Colin Langan. He sent a note to his clients last week in which he projected the price of Tesla stock to fall back to$160 a share over the next 12 months.
Why the disconnect? Traditionally, market watchers pay attention to something they call the Relative Strength Index, which measures the speed and change of a stock price either up or down. In essence, it is is a tool designed to strip out the emotional component that affects all stock valuations and insulate professionals from getting caught up in the herd mentality.
If the RSI climbs above 70, that  indicates a stock is "overbought." Such a level is widely considered to be a "sell signal." Conversely, anything below 30 is considered "oversold" and is considered a "buy signal." Tesla's RSI soared to 83 last week, the highest level in more than 4 years.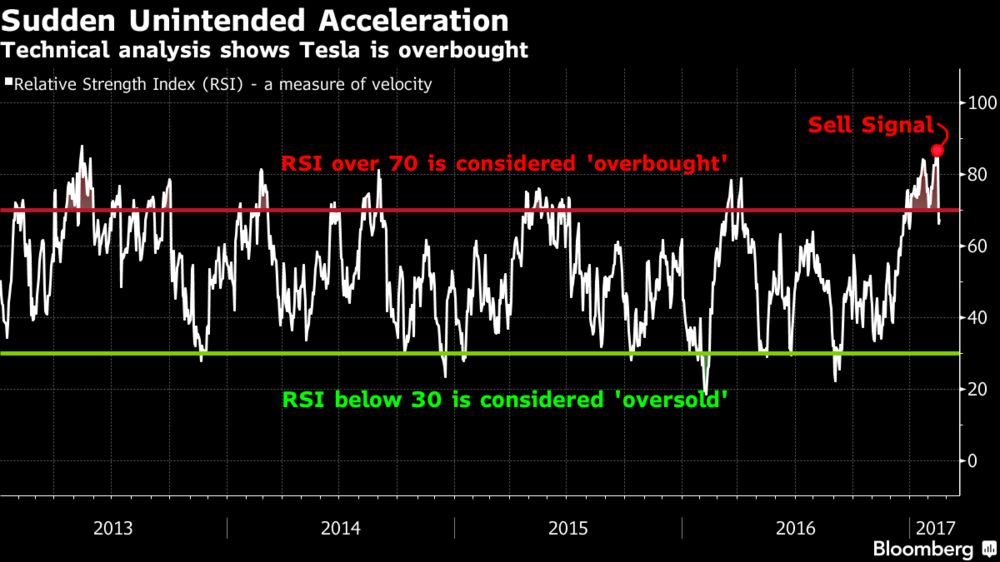 Tesla has a lot on its plate this year. In addition to getting the Model 3 into regular production, it is aggressively pursuing its grid scale battery storage business, expanding the Gigafactory, completing the integration of SolarCity into the business, rolling out its new Solar Roof product line, continuing the expansion of its Supercharger network, opening new stores, and building new service centers. It is also pushing into new markets in Portugal, Dubai, Taiwan, India, and Korea.
In the spring of 2016, Elon Musk predicted Tesla would have a market capitalization equal to Apple by the year 2025, or somewhere around $700 billion. Musk has never been shy about touting his projections for the future and many investors take his pronouncements as articles of faith. They see stock analysts as Luddites who just don't "get it" when it comes to Musk and Tesla.
"Tesla is a serial capital raiser," says Adam Jonas. "As such, its ability to sustain its operations and fundamental value is inextricably linked to the very performance of its share price, creating a self-reinforcing momentum." Whether that "self-reinforcing momentum" will continue to propel Tesla's stock price higher is anybody's guess.