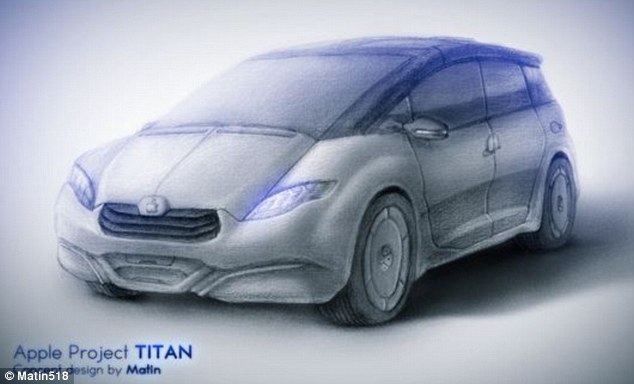 Leaks from inside Apple claim the company has given permission to Project Titan managers to triple the size of the staff from 600 to 1,800, most of which will be drawn from existing employees. Apple is also said to be targeting a "ship date" of 2019 for its first car, but according to the WSJ, a "ship date" marks the date in which the company's engineering staff gives final approval to a design, not when manufacturing begins.
During last week's Frankfurt auto show, senior executives from the world's automakers were all talking about what Apple and Google are planning. Connectivity is now the watchword for cars of the future, and both Apple and Google have an advantage over traditional car makers when it comes to their prowess in electronics and digital technology.
Most of the car company chiefs are worried they may turn into mere suppliers of sub-systems to Apple and Google in the future. Dieter Zetsche, CEO of Mercedes Benz, told the press in Frankfurt, "What is important for us is that the brain of the car, the operating system, is not iOS or Android or someone else but it's our brain. We do not plan to become the Foxconn of Apple," he said, referring to the Taiwanese company that manufactures the iPhone for Apple.
"Starting from sustainability, going over to digitalization, and ending up at autonomous driving — these three big things are really something that is a game changer for the automotive industry," said Stephen Winkelmann, CEO of Lamborghini. "Everybody has to tackle these challenges." Martin Winterkorn, CEO of Volkswagen added, "By the end of this decade we will have transformed all of our new cars into smart phones on wheels."
That was before Mr. Winterkorn got blindsided by the VW diesel emission cheating scandal. Now there are some who believe that scandal could severely weaken the company or perhaps put it out of business. Volkswagen's market valuation has lost almost $18 billion since the news broke last Friday. That could make it an interesting takeover target for some cash-rich company — like Apple.
There are rumors the Apple car might be a minivan-like vehicle. But there is no hard news escaping from inside the company about what sort of vehicle it has in mind. No one knows whether it intends to manufacture the car itself or let others be responsible for assembling it. The only thing insiders will say is that the car will probably not be fully autonomous — at least not at first. Among other things, the regulatory environment needed to support self-driving cars will probably not be in place for some years to come.
Gene Munster, an equity analyst with Piper Jaffray, says he expects any Apple car to have three distinctive features: a unique design, the ability to work with other Apple devices, and some autonomous capability.  Tesla cars already have most of the elements on that list. What new innovations will Apple bring to the party?