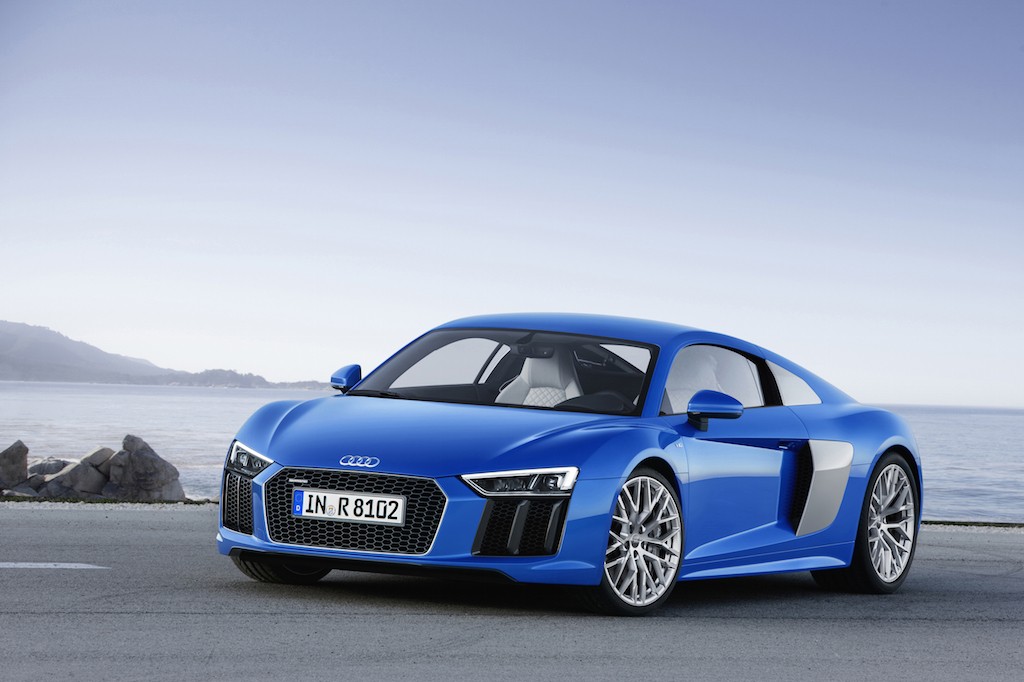 This week's Geneva Auto Show will make news with the debut of Audi's second generation R8 sports car that provides the foundation for the 2016 R8 e-tron, an all-electric car. The R8 e-tron is the company's first zero-emission vehicle and it looks like Audi may try to sell this "wunder-beast" via Tesla's direct-to-consumer (DtoC) sales model possibly.
The sports car produces 340 kW and 678.6 lb-ft of torque and achieves a 0-62.1 mph in 3.9 seconds, along with same electric range as Tesla's Model S and Roadster, appoximately over 250 miles. According to Audi, "new battery cells allow the range to be more than doubled compared to the first version" and is now more than 450 kilometers or 279.6 miles.
Audi does not disclose much information on the these "new battery cells" and the impressive electric range can be attributed to the frame's "high high proportions of aluminum and Carbon fiber–reinforced polymer (CFR)". The release does not give the exact car weight for the e-tron but the R8 gas version comes in at 3,206 lbs and a body shell of 441 lbs.
Jalopnik reports that the e-tron will be a custom built car starting in the summer of 2015, centered around customer requests and not series production.
That last part is interesting if you read into it. Basically, Audi will sell this "direct-to-consumer" with no dealer involved is my guess in the U.S. Or is it just an European car? It's possible this may stay in Europe, but custom order lends itself to global availability.
So is Audi and its parent company Volkswagen slipping one past the goalie? Seems like margins on this electric car could be really solid for Audi considering a certain "premium" will be charged for this alternative drivetrain, even though it resides on a production platform. Smart.
If Tesla Motors is paying attention and Audi does eventually sells via DtoC, how does the Elon Musk proceed on a PR or strategic level? It seems like you shine a light on Audi and ask the question – why does a foreign car maker get to play by its own rules while an American car company gets hammered by greed freaks in state legislatures with their two-dimensional hypocrisy on direct-to-consumer laws?
I won't go off on a rant because those "fake-free" enterprise morons sell America down the river each and every day. Joe Hune, Chris Christie, Johan de Nysschen, Mike Kehoe and the list goes on.
This new sports car is a great looking vehicle and I'm glad this electric sports beast achieves over 200 miles to a charge. That's good news for the electric crowd and even this sales strategy, to me, is good news. More direct to consumer models or shall I say personal liberty to buy consumer goods as you see fit is a good thing.