Okay, transforming your Tesla Model S into the James Bond The Spy Who Loved Me submarine has got to be one of the coolest easter eggs discovered to date. Other Tesla tips and tricks have emerged in the past but being able to dive 20,000 leagues under the sea in your very own spy machine takes the cake as one of the most creative and fun Tesla firmware discoveries since the car's release. Instagram user great.white.buffalo found the James Bond easter egg after inputing a secret access code into the Tesla Model S center console.
HOW TO >>>> Find the Tesla Model S Ludicrous Mode Easter Egg
According to our friends at Autoblog, the functional Lotus Espirit submarine movie prop was shipped to Long Island, NY after filming was complete back in the 1970's. There it sat in storage for decades until it was eventually auctioned off in 2013 for just shy of 1 million dollars to none other than Elon Musk himself.
Well, through a secret "007"access code, Model S owners can now transform their vehicles into the James Bond submarine car completely free of charge. Here's how to do it:
STEP 1
Hold down the Tesla T located towards the top center portion of the screen for 4 seconds and release. An access code prompt will appear.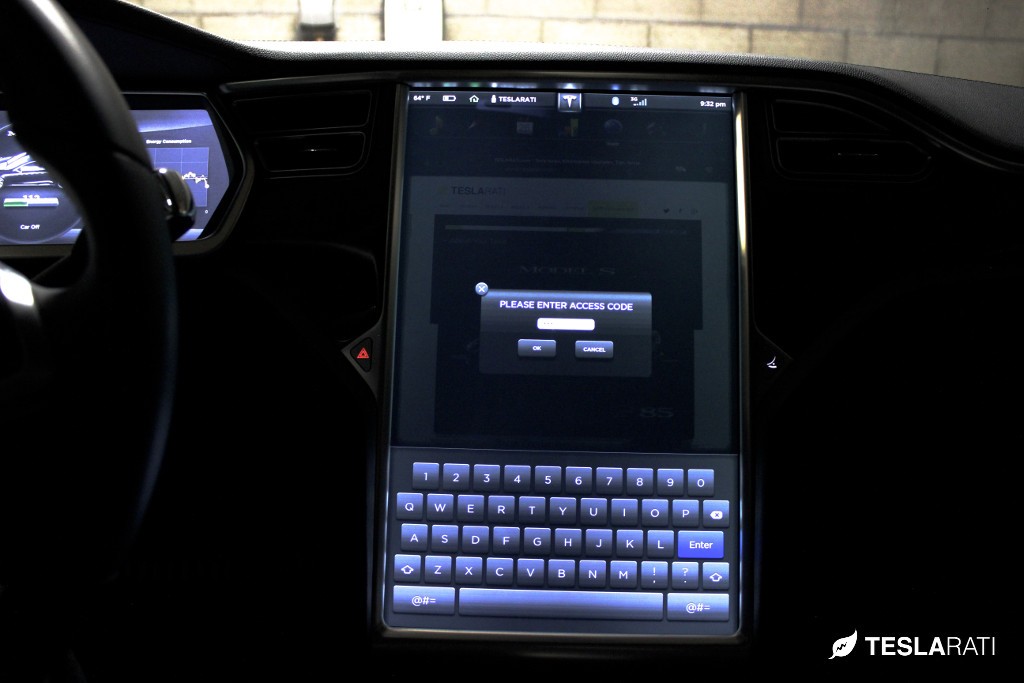 STEP 2
Input "007" into the access code prompt and then navigate to the Suspension setting.
This is where you will find that your Model S has transformed into the famed James Bond Lotus Espirit submarine car. (Available for Model S owners with the Air Suspension package)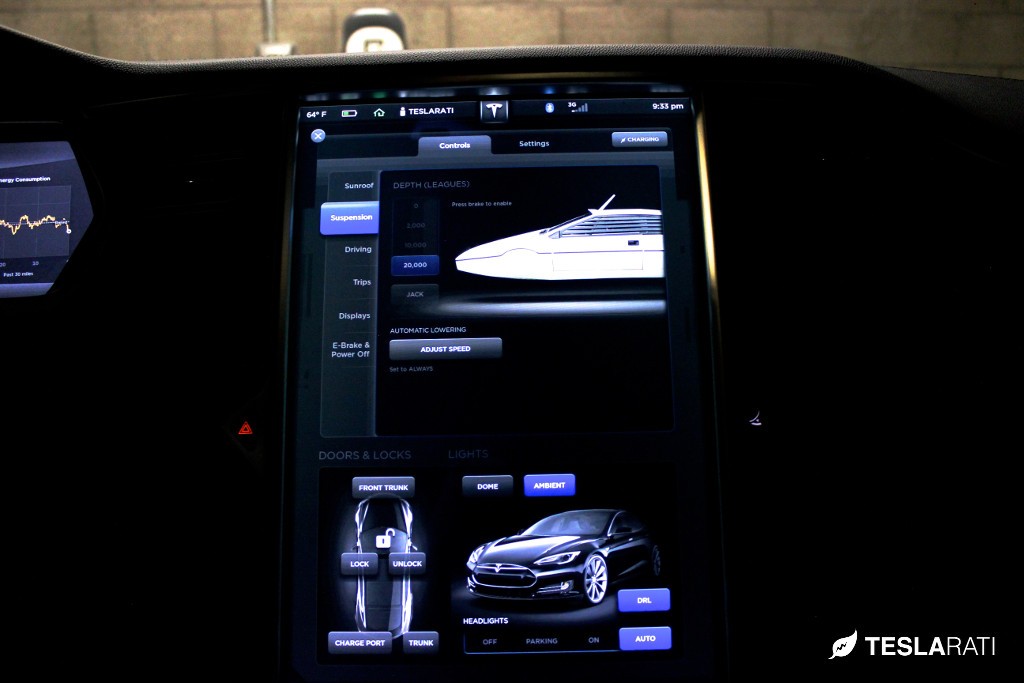 STEP 3
Submerge 20,000 leagues under the sea.
One can select the depth in which to "dive", ranging from sea level (0 leagues) to as much as 20,000 leagues beneath the sea. The Model S air suspension will actively raise and lower according to the depth selected. Very cool!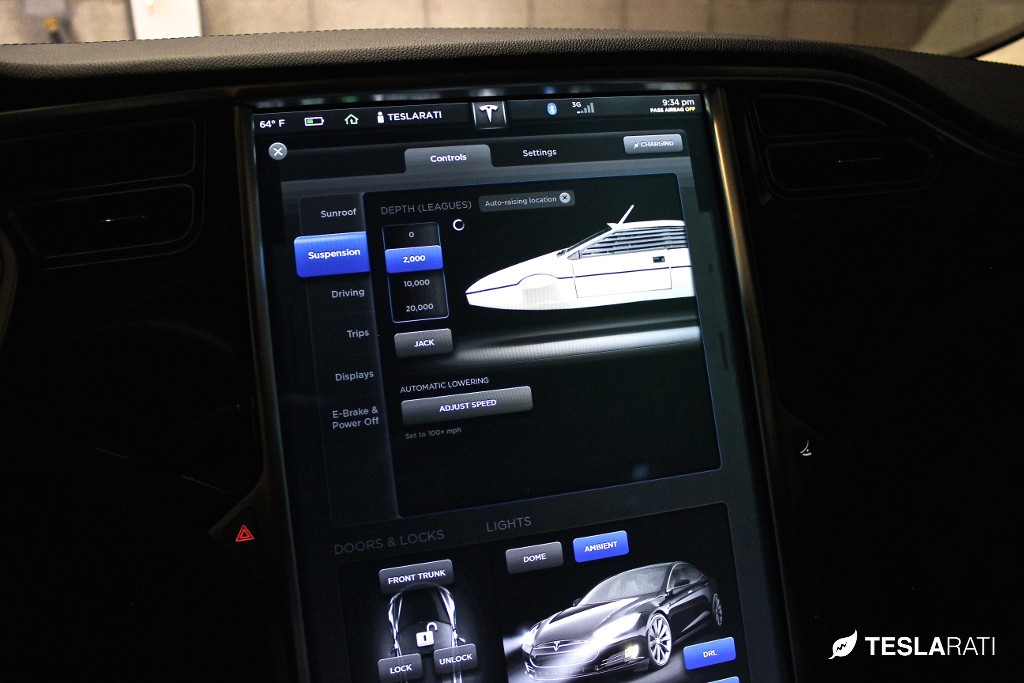 James Bond 'Land Mode' Easter Egg
Starting over from Step 1 by inputting "007" once again will miraculously outfit the submarine with the Model S wheel.
This 'land mode' easter egg was found purely by accident. The factory 21″ wheel is seen replacing the submarine fins. Changing the depth of dive will raise and lower the submarine giving the appearance of an urban low rider when offset against the large wheel.
For those with the factory 19″ wheels, leave us a comment below with a picture of your submarine wheel. We're wondering if the 19″ wheel will be reflected on the image.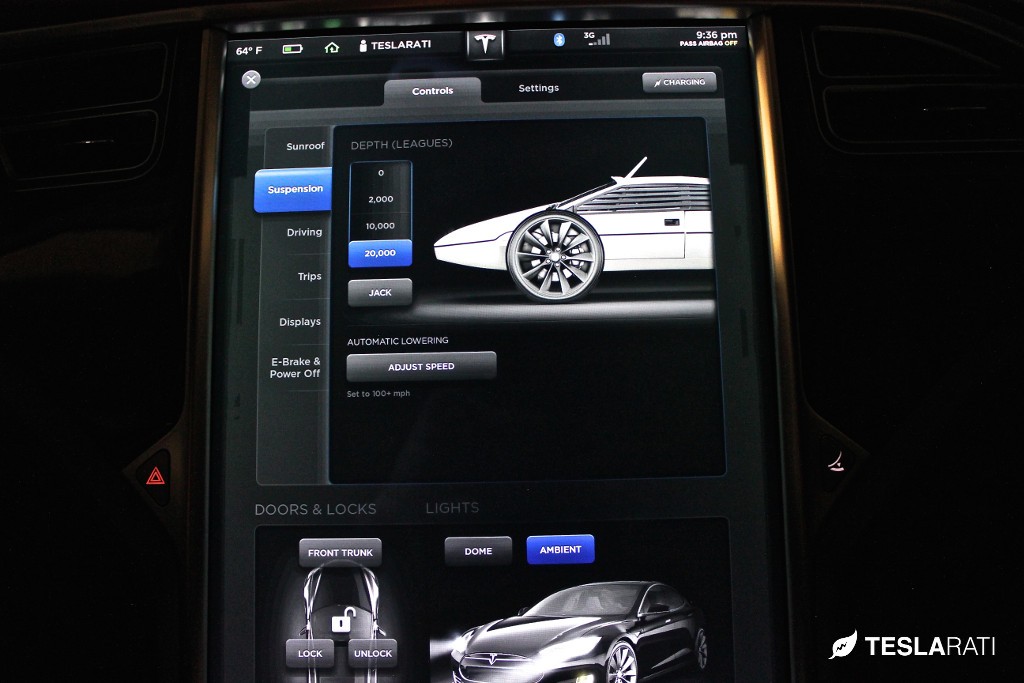 Happy Diving!
Here's a video of it in action.