By now, we've seen plenty of videos and pictures of Autopilot-enabled Teslas cruising around. In some cases, drivers are experiencing the shock and awe of trying it for the first time while trying to pretend to play it cool. In others, drivers are not afraid to admit they are more than just a little freaked out.
Now that the initial Autopilot reactions are well documented, let's discuss using it in real world situations.
When to use it – TACC
The Traffic Aware Cruise Control ("TACC") portion of the software has been live for several months on cars that have the requisite hardware. It is appropriate for use in any situation you would normally use cruise control, but with the added benefit of automatically increasing or decreasing speed based on the car in front of you. You are able to set a space tolerance relative to the car in front of you as well as your maximum speed.
When to use it – Autosteer 
Arguably the most anticipated part of the new Autopilot suite of driver's assistance features is Autosteer. This feature uses ultrasonic sensors, radar and a front-facing camera together to track and follow lane markings and other vehicles. It is appropriate for use on divided highways with clear lane markings. Let me say it again: divided highways. This means a barrier between you and oncoming traffic, no pedestrians and no parked cars.
When to use it – Auto Lane Change
While using the Autosteer feature in an appropriate setting, Model S will also change lanes for you. Simply check your surroundings, see if there is an opportunity to change lanes and activate the turn signal on the side of the lane you wish to enter. The car will also look out for obstructions and change lanes when safe. As always, keep a close watch and enjoy the assistance. One situation where TACC and Autosteer really shine is stop-and-go highway traffic. I've had an especially flawless experience when traffic was moving between 20-35 mph during rush hour. Lane changes, however, are not good candidates for this type of traffic volume. In my attempts, the car was wholly uninterested in changing lanes even when there was an amount of space that any regular city driver would consider enough.
When to use it – Autopark
For those with a fear of parallel parking, Autopark is for you. For everyone else, it's really fun to play with. A parking spot between two parked vehicles with a curb on one side is a candidate for Autopark. Simply drive your car slower than 15 mph and pass the spot. The car will recognize the spot and invite you to let it do all the work. If the car determines the space is not large enough, the option will not present itself. In my experiences, the car does a masterful job getting into spaces. It requires few backups and would easily pass the driver's test in Philadelphia which, by the way, starts with parallel parking. The wheel moves quickly and the whole parking job is done efficiently.
So what do you do with your hands?
This question comes up a lot and the options are plentiful.
For one, you can rest your hands on the wheel in the same position you find yourself most comfortable with when you drive normally. If you're a "ten and two" driver, it will look like this. My model here is using a light grip but did not disengage the Autosteer, which can be accomplished by tugging the wheel a bit.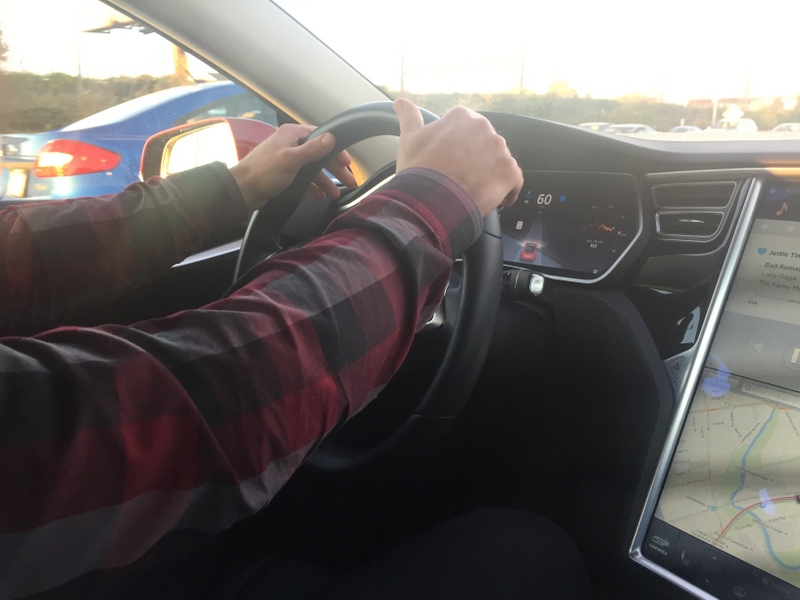 If you like to get low, it may look like this.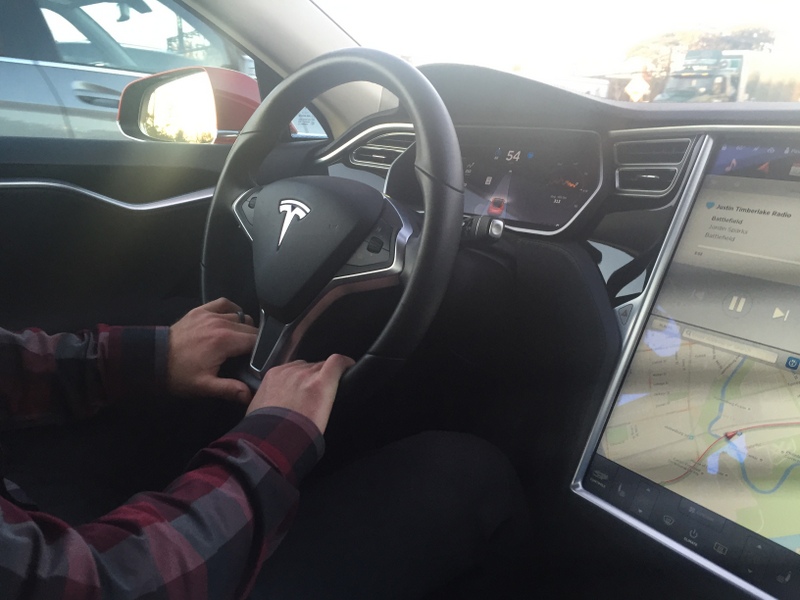 Or this.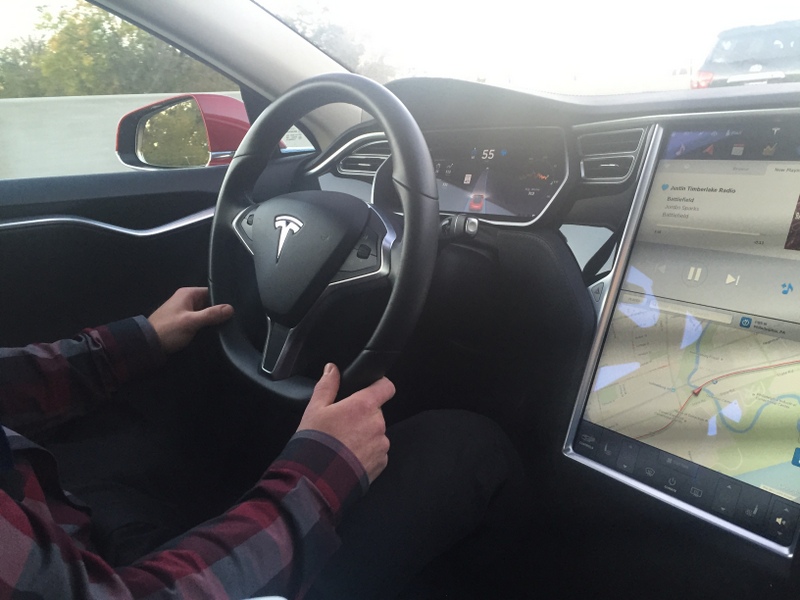 Just don't get lazy and do this for too long, the car will warn you both audibly and with a screen message to put your hands back on the wheel.