I live in the happiest country in the world Denmark. The land known for LEGO, MAERSK, Bang & Olufsen, Tuborg, Carlsberg and a hose of other well known brands. Unfortunately Denmark is also known as the country with the highest level of taxes, especially on automobiles where a 180% tax (before safety deductions) is not out of the ordinary.
Let me give you an example:
A new car being purchased from a Danish dealership costs 235.000 DKK or approximately $35k USD and 31k Euros. Of that total price, 87% of it is due to tax (registration and VAT).
Electric Vehicles in Denmark are Tax Free
In 2012 the Danish government passed a bill that would make all EVs tax-free in an effort to reduce CO2 levels and decrease the country's dependence on fossil fuels.
What is about to happen?
The registration tax exemption for electric vehicles is set to expire at the end of this year, and no one knows how this will impact the future of EV adoption especially if prices are to skyrocket dramatically.
What will this mean to the future of EV sales come 2016?
'Ludicrous' Tesla could cost $490k in Denmark
The cheapest Tesla Model S currently available is the rear wheel drive 70kWh for 580.000 including VAT ($86k). If the EV registration tax exemption were to be lifted by the Danish government, and full tax was imposed, the price for a Model S would be approximately 1.500.000 dkk ($223k). A fully loaded Tesla P90D with Ludicrous Mode on the other hand may cost as much as 3.300.00 dkk or $490k!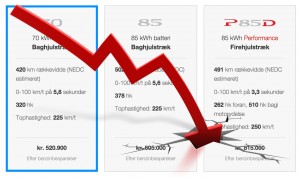 Having such a massive price increase could undoubtedly hurt Tesla sales within the Danish market. With close to 1200 Tesla's currently in the Danish EV fleet, reduced demand for the vehicle would likely also have a negative impact on the 2 Tesla Service Centers and 3 Showroom Stores located within the country.
There is however a glimmer of hope. Danish Tax Minister Karsten Lauritzen (V), in a comment to Ing.dk says:
"It will show after summer vacation which solution we find. In the meantime I will read up and discuss it with the other parties"
Let's hope that happens sooner than later and that they make the right decision.