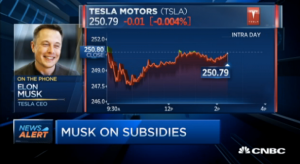 Media companies have been going through continuous upheaval for the last 10 years,  as newspapers and magazines find ways to provide online value to readers and advertisers. No real context or value was provided recently via the LA Times on Elon Musk's empire.
To paraphrase Elon Musk, he thought the article was very misleading and context was slim as the piece provides a picture of heavy  government dependence on subsidies for his three companies.
Here's an example of Hirsch's context on the initial seed money to start SpaceX:
Hirsh: Musk and his investors have also put large sums of private capital into the companies.
Large sums, seriously? You write for the LA Times, not TMZ.
If you read the piece, the LA Times article is full of facts and exact money figures of government credits and subsidies that has helped Elon Musk's three companies over the last 13 years.
So how can you not include that Elon Musk provided up to $100 million dollars of his own money to start SpaceX –and more later– and somewhere around $19 million, approximately, with two investment rounds for Tesla Motors when the electric carmaker was working out of a garage in Palo Alto.
This screed was something like 1500 words, he had some room for other figures but chose to leave them out.
So as the article talks about his empire,  Hirsch provides no real context to the industries tied to Musk's companies. One of SpaceX's competitors is Boeing and the little company out of Seattle, Wash. has received a LOT of government incentives and subsidies, but no facts or figures from Hirsch.
In early 2000s, this is what Boeing received from Washington state as it played hardball on a new plant (from Good Jobs First, citations at the link's bottom):
Governor Gary Locke got his way, and Boeing ended up with a package of research & development tax credits and cuts in Business & Occupation taxes (the state's substitute for a corporate income tax), sales taxes and property taxes that together were estimated to be worth $3.2 billion over 20 years.
Or, in 2014, German carmaker Volkswagen received $230 million from Tennessee to help fund a $600 million plant expansion in Chattanooga, expected to create 2,000 jobs. Tesla expects the gigafactory to produce 5,000 jobs when fully operational, in comparison.
Musk spoke to CNBC yesterday and touched on many topics, but he made sure to point out the biggest welfare queen (king?).
"The incentives that Tesla and Solar City are tiny, compared to what the Oil and Gas industry receives every year," Musk said. "If you add up all the past and future, it's a drop in the bucket compared to what the oil and gas industry gets every year."
Hirsch couldn't find room for the the oil and gas industry's subsidies from the Energy Policy Act of 2005, which gave the industry $1.9 billion a year in subsidies, 2014 dollars.
In California, Musk also mentioned to CNBC that the California zero emission vehicle credits program started twenty years ago when Musk's empire was a dorm room in Canada.
You could expect a two-dimensional article post from SeekingAlpha, but not the LA Times. Hirsch seems guilty of missing badly on context and having a narrative with no "Opinion" label anywhere.
Food for thought:
Fossil fuels subsidised by $10m a minute, says IMF http://t.co/c4nsZjXc32

— Elon Musk (@elonmusk) May 19, 2015