Tesla continues to push new initiatives to get the Model 3 delivered to buyers as efficiently as possible. In a recent announcement on Twitter, CEO Elon Musk revealed that the electric car maker has been trying out a new vehicle delivery system that uses enclosed trailers to transport vehicles straight from the factory to owners' homes. Musk noted that the new delivery system is "super convenient" and a process that ensures vehicles are handed to their owners in pristine condition, despite not having the usual plastic wrap.
The first images of Tesla's factory-direct delivery system were recently posted online by Devin Scott from Playa Vista, CA, a beachside enclave and tech hub of Los Angeles that's located roughly 2-miles from the company's Marina Del Rey delivery center. Scott noted that his vehicle's delivery became extra special since his Model 3 was delivered by none other than Elon Musk himself. 
We tried out a new delivery system using an enclosed trailer straight from factory to owner's home, so super convenient & car arrives in pristine condition without wasting plastic wrap https://t.co/exNyhb0zOT

— Elon Musk (@elonmusk) July 30, 2018
With Tesla starting to hit its stride with Model 3 production, producing thousands of vehicles per week, the company must ensure that it does not sit on inventory and end up creating a bottleneck in the delivery of these vehicles. Such a bottleneck appeared to have happened last week, when a Tesla owner reported that a family member was stuck in a delivery center for hours waiting for paperwork to be completed. In response, Elon Musk stated that Tesla is looking to eliminate paper contracts completely. Musk also noted that the company is trying to come up with a system where contracts for the vehicles can be signed digitally, allowing customers to get their cars with a simple tap.
Elon Musk personally delivers a Tesla Model 3 to a reservation holder. [Credit: Devin Scott/Twitter]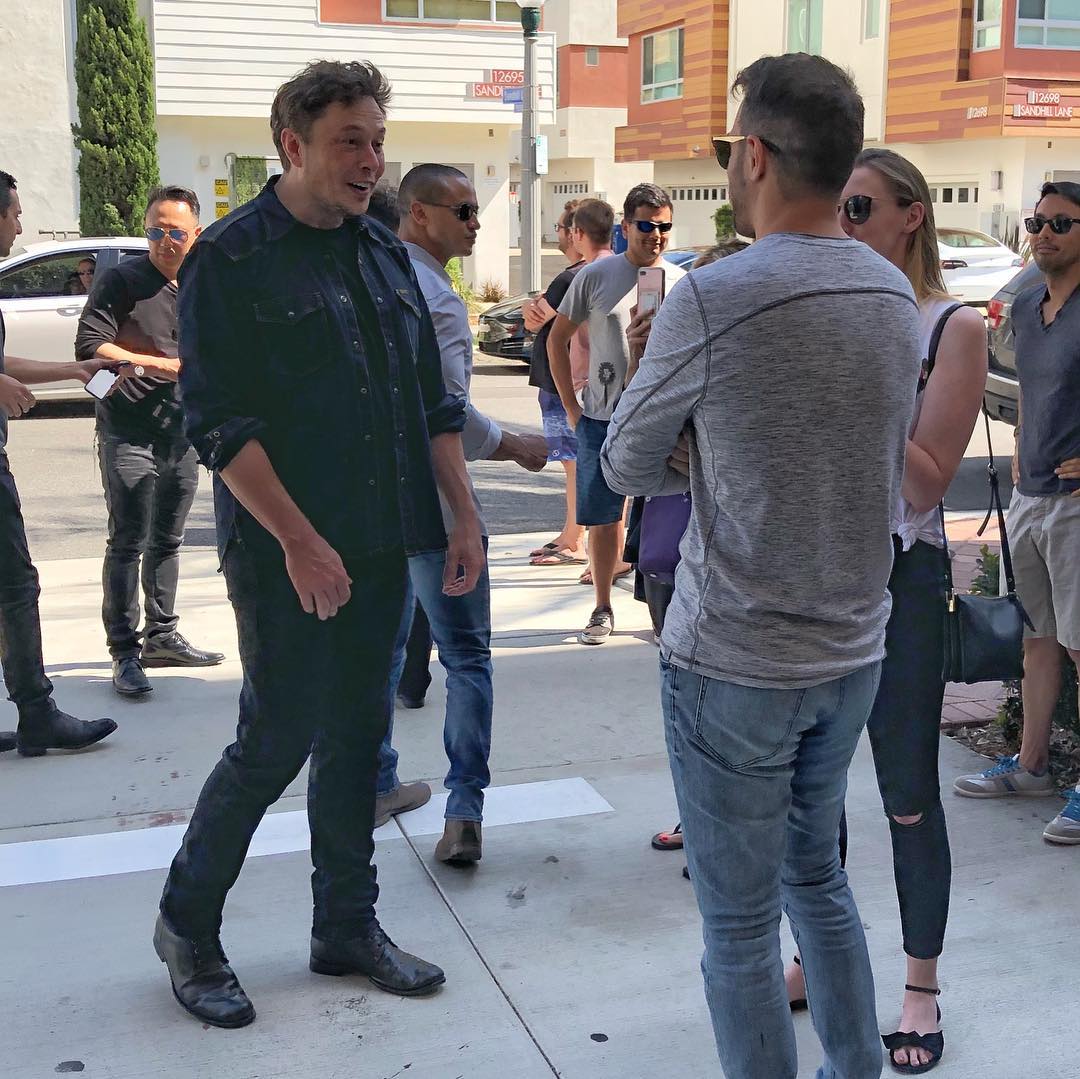 Earlier in July, Tesla also introduced a 5 Minute "Sign and Drive" system that expedites the delivery process for Model 3 reservation holders. Under the system, reservation holders are advised to study everything they can about the electric car before their delivery date. This way, Tesla's staff at the delivery center would only need to cover the basic functions of the vehicle before the customer is given the green light to drive away. As Tesla aims to improve its Model 3 production rate to 6,000 vehicles per week, the electric car maker's capability to deliver as many cars to reservation holders becomes incredibly important.
Tesla is aiming to hit profitability this Q3 2018. In order to accomplish this, the company would have to deliver as many Model 3 as possible to reservation holders. Considering that Tesla sold its 200,000th electric car in the United States this July, the company has also triggered the phase-out period for the $7,500 federal tax credit granted to buyers of new electric cars. With these factors considered, Tesla would likely push for as many deliveries as it can for the remainder of the year and into early 2019.