Elon Musk's workforce-reduction initiatives have resulted in Rivian, Amazon, and Apple hiring laid-off Tesla workers.
Major tech firms, including Apple, Amazon, and Google, have reportedly hired dozens of former Tesla employees, according to Punks & Pinstripes. More than 450 employees of Tesla left the company in the 90 days that ended on June 30. Punks & Pinstripes studied the data on LinkedIn.
A significant portion of the workforce relocated to work for other electric vehicle manufacturers. According to LinkedIn statistics, 90 former Tesla employees have joined Rivian and Lucid Motors. Only eight ex-Tesla employees seemed to have transferred to more established automakers like Ford and General Motors.
Redwood Materials, a battery recycling company led by Tesla co-founder JB Straubel, and Zoox, an autonomous vehicle startup backed by Amazon, also claimed some personnel from the electric vehicle maker.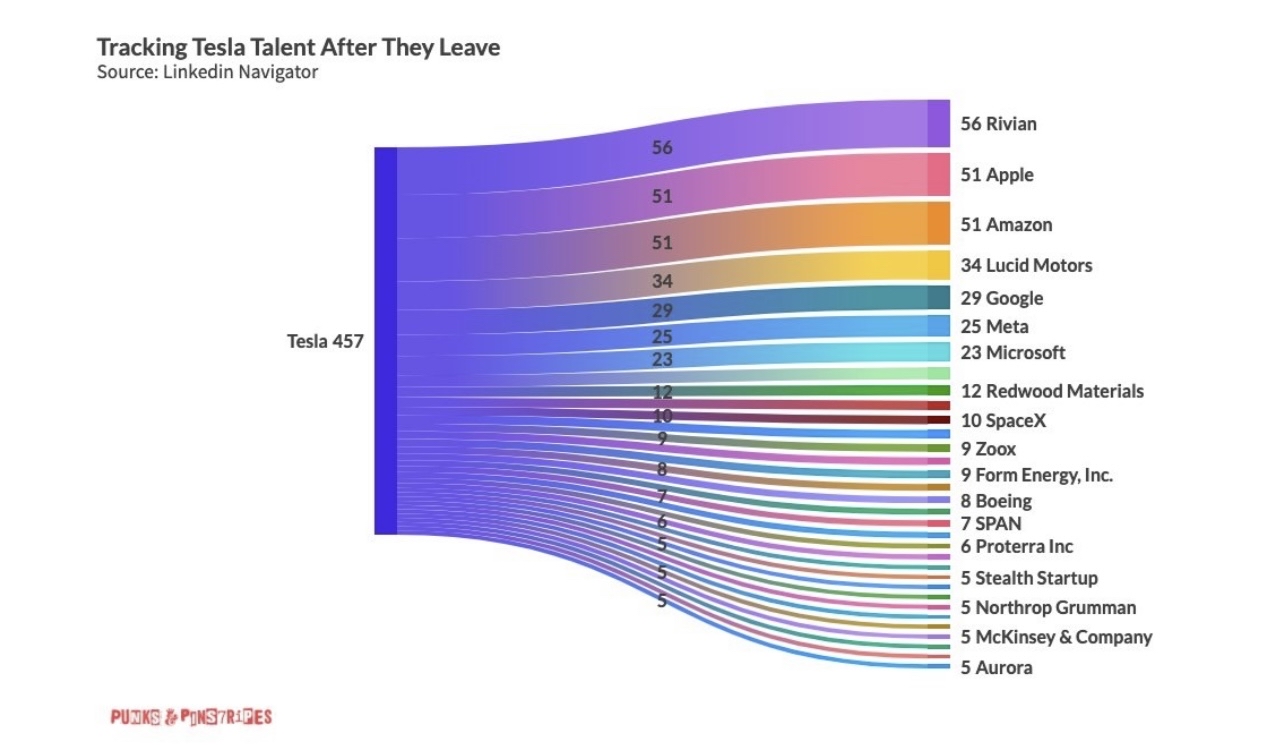 At the beginning of June, Elon Musk reportedly informed company executives via email that the firm may decrease its workforce by 10%. Since then, Elon Musk's intention to eliminate 10% of Tesla's personnel had resulted in some roles being terminated.
There are over 100 ex-Tesla employees now working for Apple and Amazon. And in the past, Apple has hired top Tesla personnel too. Amid rumors about Apple's electric car project, codenamed Project Titan, the tech titan hired Christopher Moore, the former director of software for Tesla's Autopilot.
Recruiters at prestigious tech businesses have already expressed interest in Tesla employees. After Musk encouraged employees to come back to work full-time or resign, recruiters at Amazon and Microsoft sent out a call to Tesla employees who could be considering leaving the firm last month.
When employing new workers, Tesla has specific requirements. Musk has high expectations for his team members at Tesla and he tends to set ambitious goals for the company. Musk claimed he places more weight on applicants with real-world experience and practical testing backgrounds above degrees.
I'd love to hear from you! If you have any comments, concerns, or questions, please email me at christine@teslarati.com. You can also reach me on Twitter @Christi86567288, or if you have news tips, you can email us at tips@teslarati.com.