As we prepared for two upcoming Tesla road trips through the windy roads of Big Bear Lake and Mammoth Lakes, both in California, we began our hunt for a Model X bike rack that would help us transport our electric bikes. A quick Google search led us to Tesla's branded Model X Hitch Rack, sold through their online store, along with a few other popular racks by Yakima and Thule. Both of which were highly rated by consumers on Amazon and outdoor retail chain, REI.
Our search revealed that Tesla's Model X Hitch Rack was in fact just a Yakima FullTilt Bike Rack except with a $130 mark up due to the Tesla logo. We love Tesla but not enough to justify paying 33% more to have their branding. But one thing we did decide on is to stick with the same manufacturer and select Yakima over Thule. Okay, cool. Let's get the bike rack. But wait a minute. How does one actually Supercharge with bikes in tow especially if the stall requires one to reverse into?
Flashbacks of the infamous red Model X taking up three Supercharger stalls immediately ran through our minds. Don't be that guy. Also, with cooler, camping gear and equipment packed into the trunk, and bikes mounted, how does one actually open the rear hatch without having to off load all of the bikes? In short, you can't. Unless the Model X bike rack was a swing away type.
Tesla Model X Yakima FullSwing Bike Rack
Figuring out that we needed a bike rack that would allow us to easily Supercharge but also open the rear hatch, we decided on getting the Yakima FullSwing Bike Hitch Rack which was not only cheaper by nearly $100 under Tesla's branded Yakima Model X bike rack, had all of the same features – scuff free zip straps, anti-sway cradle, and their SpeedKnob, which we'll describe later –  but also had the added convenience of being a swing away type rack.
Installation
Installing the bike rack was no more difficult than installing anything into a hitch receiver. If your Model X has the tow package and you haven't installed the hitch receiver yet, you may want to follow our guide on how to install the Tesla Model X hitch receiver first to understand how the assembly works.
The FullSwing bike rack slides right into Tesla's 2″ hitch receiver and then clicks into place. Once in place, use what Yakima refers to as their Tool-Free SpeedKnob to fully secure the rack to the receiver by turning the big red knob clockwise until it's fairly tight. What this feature does is eliminates any jiggle between the bike rack assembly and the receiver. In essence, it's a feature that will allow you to enjoy the silence of your Tesla and spare you from losing your mind if you were to hear a persistent rattle, clank and squeak over hundreds, if not thousands, of miles while traveling with bike in tow.
How does it work?
Swinging the bike away from the vehicle can be achieved without using any tools whatsoever and can be done in approximately 30 seconds. The first step is to loosen a large lever behind the main assembly that secures the swing out arm to the rack itself. Loosen it counter clockwise until it is no longer threaded into the assembly. There's no concern of over-loosening as the lever will dangle without falling off of the assembly.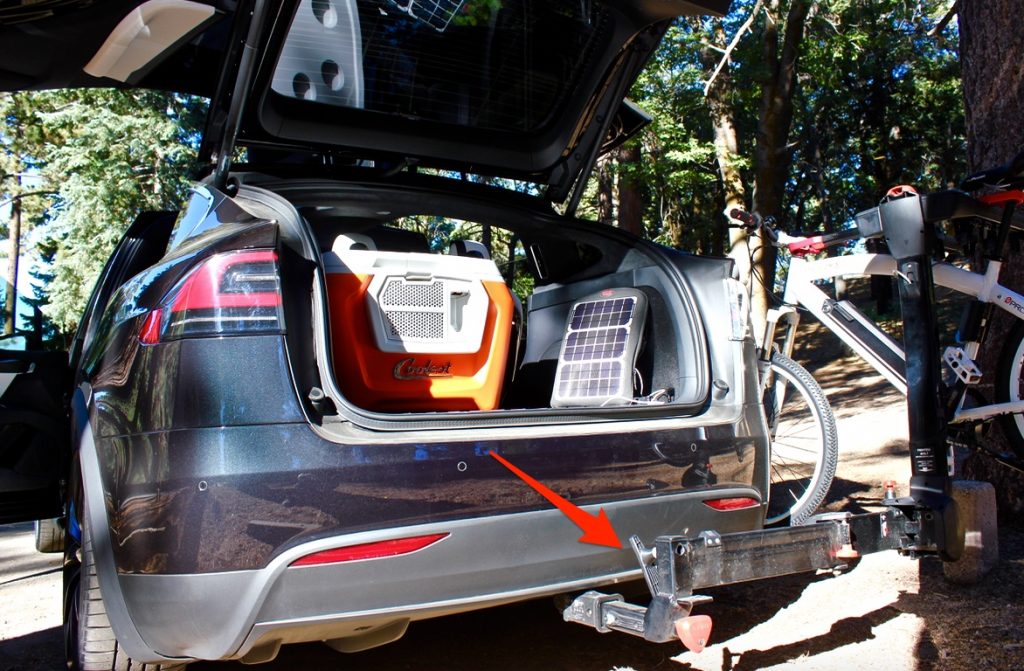 Once the lever is unsecured, pull the red pin on top to dislodge the swing out arm from the main assembly. At this point, the entire bike rack will swing away from the vehicle. It's worth noting that there's two hinges and a red pin that's used to secure the second outward hinge so that the bikes are perpendicular to the swing out arm. This pin ensures that the rack with bikes will not over-swing and slam into the side of the vehicle. This is especially useful when parking against a slope and the bikes have a natural tendency due to gravity to swing open.
Here are a few additional photos we captured showing the convenience of having a swing away type bike rack: one while on our camping excursion, and the other captured while installing the rear camera from our Model X BlackVue dash cam set.
Supercharging
Ironically, we purchased the bike rack not only for the added convenience of being able to open the rear hatch with bikes in tow, but because of concern over Supercharging. Rather, not being able to back into a Supercharger without coming into contact with the chargers themselves.
It turns out that Supercharger cables are just long enough to allow one to plug-in with bikes in tow and charge without putting too much tension on the cord itself. Though the extended bike rack protrudes from the vehicle, there's still enough room between the end of the bike rack and the Supercharger to allow for backing in.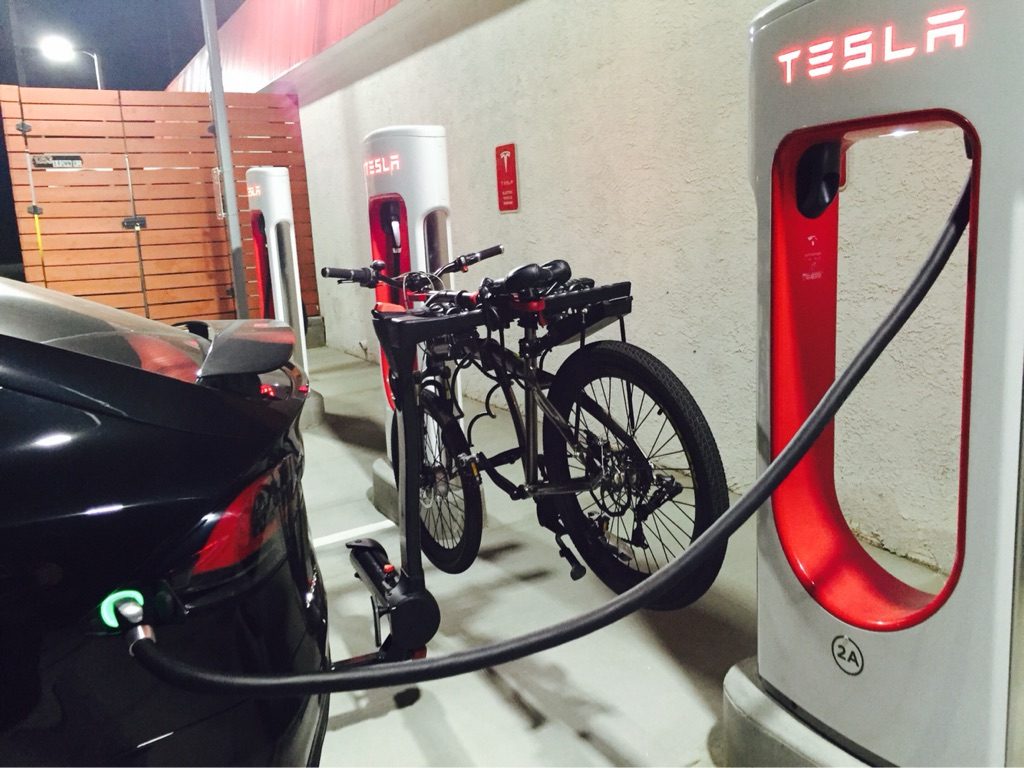 Conclusion
If you're looking for a bike rack for the Tesla Model X or Model S and want the added convenience of being able to retrieve items from the trunk with bikes mounted, then we'd recommend using any swing away type bike rack. We happened to pick the Yakima FullSwing 4 bike carrier simply because Tesla decided to use Yakima for their own branded rack, and we're glad we did.
The FullSwing rack is not only $100 cheaper than Tesla's rack but provides more usability. That's a win-win if you ask us.
(Model S owners that might be interested in installing this same rack, be sure to check out our review of the Model S hitch rack assembly first)