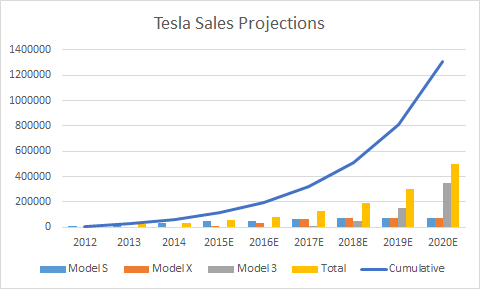 The only thing we know for sure about the upcoming Tesla Model III is that it will have at least 200 miles of range because that's the target Elon Musk has announced. He may underperform when it comes to bringing products to market on time, but when they get there, they meet or exceed every design parameter.
Musk has also announced the Model III will be about 20% smaller than the Model S, which suggests it will weigh somewhat less. How much less is open to debate, as getting the cost down to an affordable $35,000 selling price will probably mean less use of expensive alloys and more use of good old fashioned steel. Those price concerns imply a smaller battery than either of the ones currently available in the Model S.
That question then becomes, how small a battery will give the Model III the range it needs at the price promised? The answer, according to Siddharth Dalal at Seeking Alpha, is somewhere between 50 kWh and 60 kWh. Keep in mind, the company says there will be several versions of the Model III — eventually. One will likely be a sedan but an SUV or crossover is also definitely in the works. Elon Musk says there may be various performance versions of the car from mild to wild, just as there are for the Model S.
Musk tells us the smaller motor from the 70D will probably power the base version of the Model III. "That smaller drive unit in many ways is a precursor for the Model 3. Because it represents a significant improvement in cost, and in steady state power, and a number of other factors. It's a second generation motor, essentially, and that's a good pathfinder for Model 3 on the powertrain side."
Could a 50 kWh battery and a single small electric motor give the Model III the power and range it will need to be competitive? Quite possibly. The Model III will not go into full production until 2018. The GigaFactory will be in full operation by then, so the cost of batteries should be on the decline as a result. Another question is whether the Model S battery pack will fit in the Model III. If so, a P70D could do for the Model III what the P85D did for the Model S.
If Tesla is really going to be selling 500,000 cars by 2020, a lot of them will have to be Model III's and most of those will need to be affordable, entry level cars for mainstream buyers. They will be the Civics and Corollas of the Tesla line — efficient, affordable, and reliable family transportation. Of course, if the product mix is  spiced up a bit by the occasional P70D SUV, that would be alright, too.
Chart via Seeking Alpha.