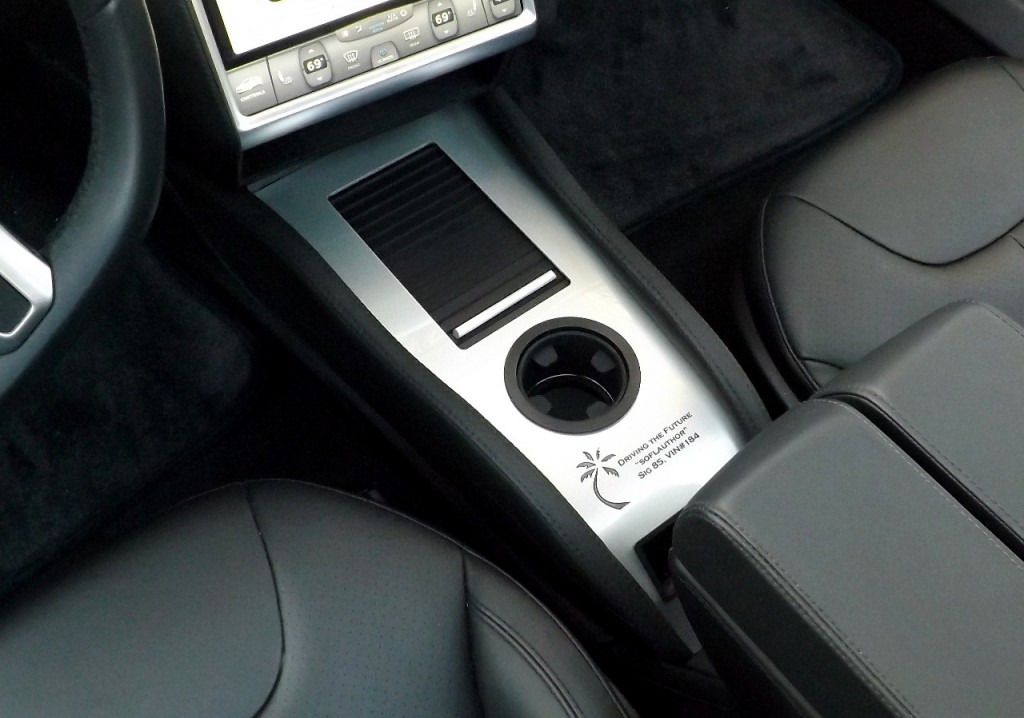 Personality!
Tesla owners are known to have some of the most creative and personalized license plates, from WATTSUP, FREE NRG and our all-time favorite, GAS B OVR, they all make for a great expression. Having a vanity license plate is a surefire way to add personality while making a bold statement in an otherwise silent car, but did you know that you can also personalize the center console of your Tesla Model S?
Following the huge success of the Tesla Center Console Insert (CCI), selling over 1,000 units since its debut, Teslaccessories (now under the EVannex umbrella) is giving Model S owners the chance to add further personality to their cars through a personalized center console, or P-CCI. Whether you're looking to add your company insignia, a favorite quote, or a sentimental message to your Tesla, it's all possible through the P-CCI.
Also see: Tesla Model S Center Console Insert (CCI) Review
100% Custom + Extra Goodies
The Personalized CCI (P-CCI) has a special acrylic deck that gives the appearance of a brushed aluminum look. The unique style and color really matches the brushed aluminum accents throughout the Model S interior. Teslaccessories offers a choice of CCI deck colors for those looking for even more personalization in their center console.
The P-CCI also comes outfitted with the non-slip upgraded cup holders, brushed aluminum pull handle and 2nd cup holder solution all free of charge. We like the sound of that!

Ideas for your P-CCI Quote
"Got batteries? I do."
"If this is the future, I'm not that worried."
"Live, Love, Laugh"
"I got some junk in my Frunk."
"Live Well. Laugh Often."
"ZERO Emissions"
"I Love you to Mars and back."

"Yes, this grin is permanent."
Got a great quote? Leave us your favorite quote below or Tweet us @Teslarati
Photo Credit: Teslaccessories