Rivian has touted its unique portable kitchen that's set to pair with the company's all-electric R1T pickup truck a few times already, and now they've released a short promotional video showing the accessory in action. This comes on the heels of an announcement sent to the Rivian preorder community listing three locations where the company's vehicles will be on display.
"We're hitting the road…," the communication from Rivian read, as posted on Reddit. "The R1T and R1S will be doing a little sightseeing this fall. If you haven't seen your future wheels up-close, there are a few opportunities coming up. We're heading to Atlanta, Seattle and San Francisco next. More details to follow, including dates and how to RSVP." Rivian's flagship vehicles have already traveled to several locations around the US for customer previews including Los Angeles, New York City, and Denver.
Our team set off for Sedona, AZ to test our camp kitchen prototype. Conclusion: Everything tastes better when you're staring at Coconino National Forest's famous red rocks. Read all about it on our blog: https://t.co/gzbxD0m56t pic.twitter.com/pUvHRLc3zk

— Rivian (@Rivian) August 21, 2019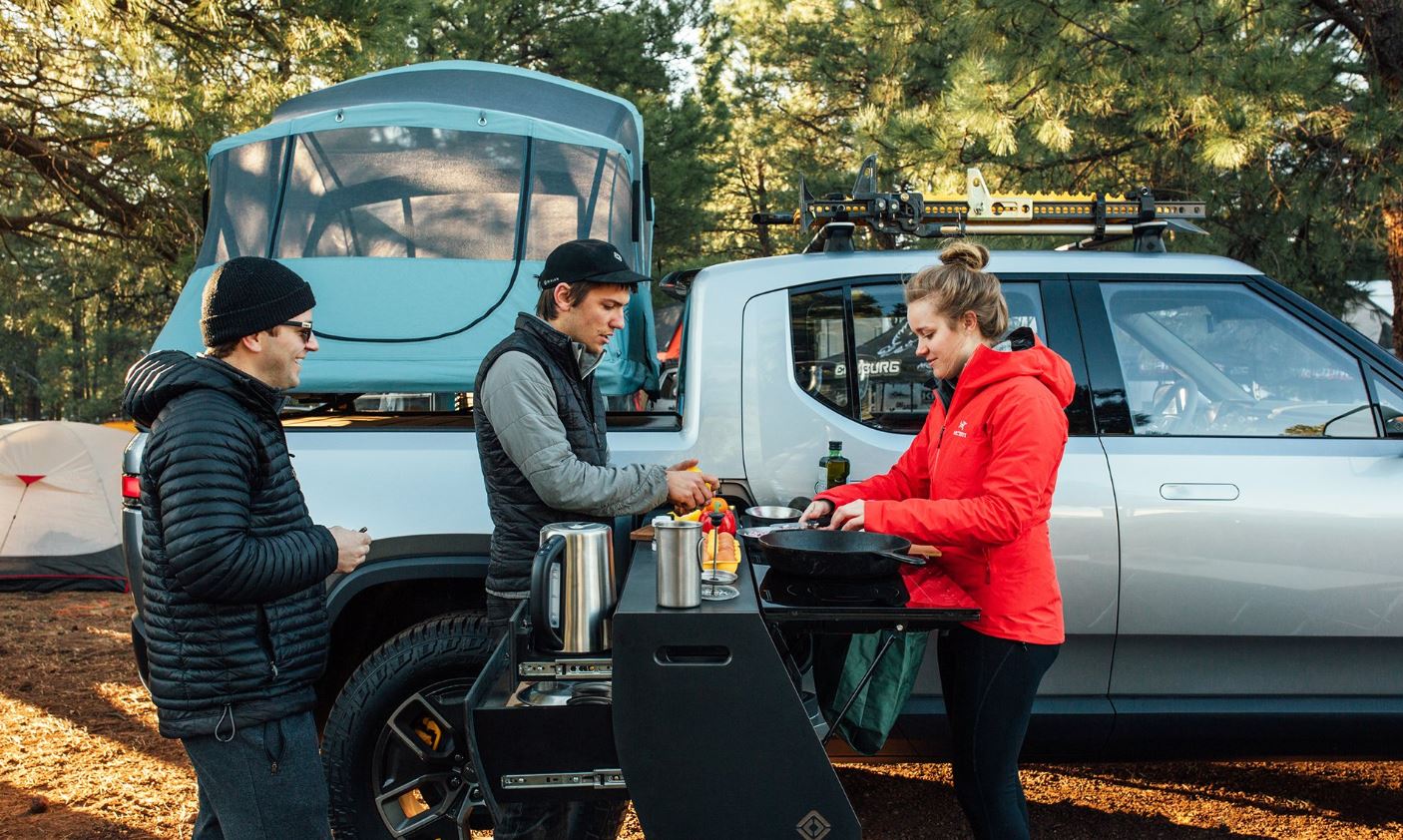 The R1T kitchen set was originally debuted at the Overland Expo in Flagstaff, Arizona this year, and its popularity has convinced the company to offer it as a standard accessory available for purchase when its production vehicles are launched in 2020. As seen is Rivian's recent video titled "Cooking in the Wild," two team members (and camera crew) took a trip to Sedona, Arizona over Memorial Day weekend to demonstrate the R1T in all its overlanding glory. During their adventure, they prepared meals using the numerous features of the kitchen's space and energy-conscious design, then set up camp on top of the truck bed in a specialty tent designed for such occasions.
Rivian's portable kitchen includes an induction stovetop and electric kettle, both designed to tuck away into the kitchen's frame for maximum usability with minimum storage requirements. Drawers with cork inserts that stabilize utensils and cooking supplies while driving are also included. The kitchen set additionally includes a dish drying rack made from bamboo that folds out of a built-in sink. Finally, there's a 5-gallon water tank to supply any drinking, cooking, or cleaning needs. The primary construction material of the set is Richlite, an ultra-durable, heat-resistant blend of recycled paper and resin that has received several sustainability certifications, including Greenguard Certification for low emissions, Rainforest Alliance Certification, and Forest Stewardship Council Certification.
A company "story" was also published alongside Rivian's kitchen-centered adventure, and the purpose behind the accessory was made quite clear. "Powered by the same battery pack that powers the R1T, our camp kitchen is designed to make cooking in the outdoors easy and fun. To prove it, we sent members of our team out for a test. Watch the film below to follow their adventure, and keep scrolling to see how we went from a wild idea to an incredible meal under the stars," the site description read. Rivian's design process for the set included getting out of the office and hanging with people who cook in the wild, as indicated on the video's page.
Watch Rivian's team show off their R1T adventure in the Arizona wild below: