Porsche has revealed interior details for its all-electric Taycan, giving the world a first look at the multiple touchscreen displays and 911-inspired cabin layout, but with a modern twist. 
In a press release, Ivo van Hulten, Director Interior Design Style at Porsche AG, explained that the Taycan features a blend of traditional and digital interior accents. "Less is more applies here too. The Taycan interior combines design elements typical for the brand with a new type of user experience, and impresses with its simple elegance," he said. This is a prominent theme in the Taycan's interior, with the vehicle's controls being mostly accessible from a series of displays. 
Here are the Top 5 things you need to know about the Porsche Taycan interior. 
Driving Modes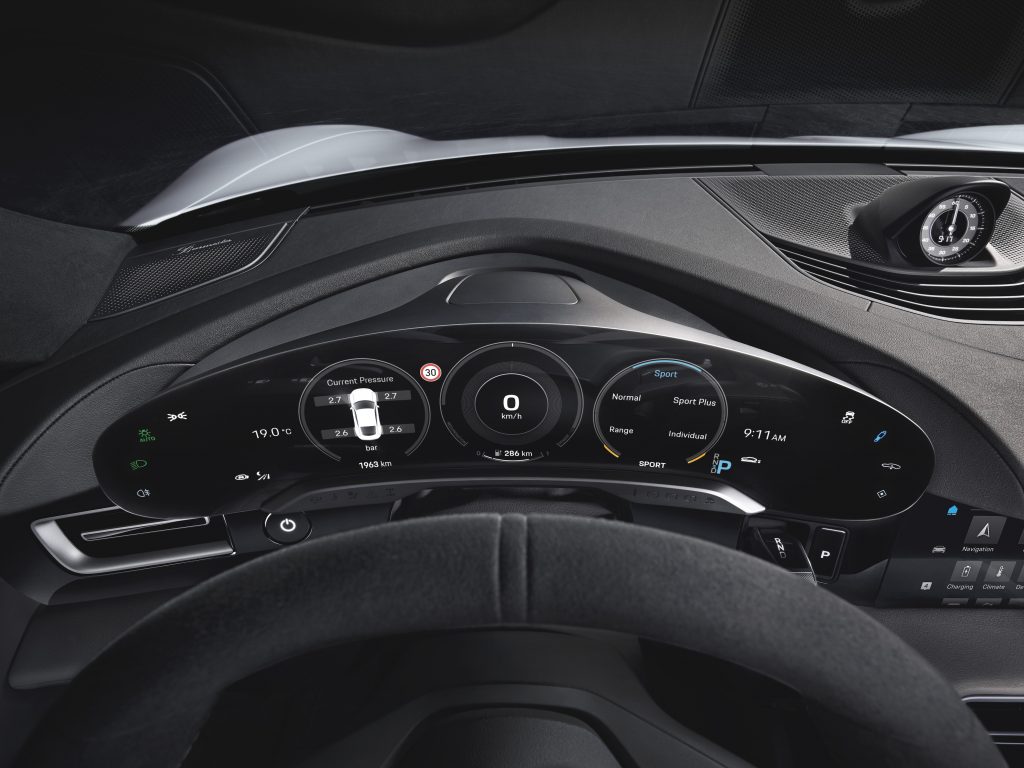 Its instrument cluster consists of a curved, rounded 16.8″ screen with touch-enabled buttons on the side. The instrument cluster will have four modes:
Classic, which shows the car's power meters;
Map Mode, which replaces the center power meter with a map layout;
Full Map Mode, which replaces all the gauges with a navigation map across the instrument cluster
Pure Mode, which only displays essential information such as speed, traffic signs, and navigation.
5 Touchscreens
Apart from the touch display on the curved instrument cluster, a central 10.9″ infotainment display acts as the main control for the vehicle's onboard controls that also includes Apple Music integration. An identical display carries over to the passenger and available as an option. Additionally, an 8.4″ touch panel with haptic feedback is located directly below the center touchscreen and within the driver's reach while the arm remains in a resting position. A fifth, 5.9″ display is also available for rear-seat passengers to adjust climate control settings among other comfort functions.
"The driver can quickly access all apps via a clearly structured and customizable home screen. Apps
include navigation, telephone, media, comfort and Porsche Connect," notes Porsche in its press release.
Vent-less Climate Control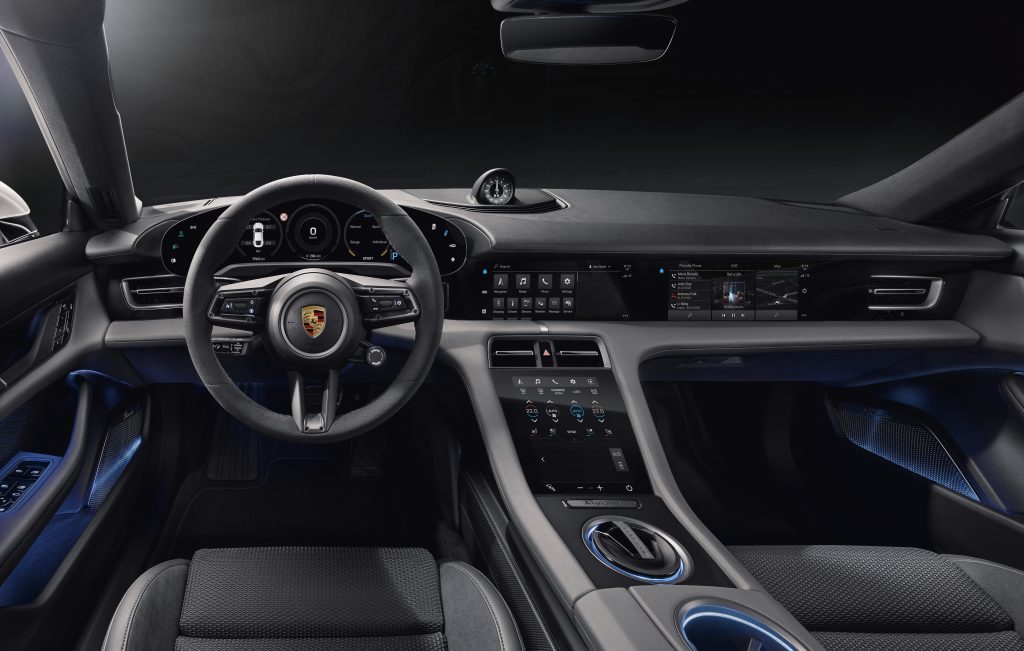 Porsche opted to do away with traditional air-conditioning knobs and buttons with the Taycan, with the company opting to have the vehicle's climate controls exclusively accessible through the 8.4″ touchscreen in the center console. Airflows could be switched from "Focused" for fast, directional cooling, to "Diffused," for draught-free air conditioning.
Voice Control
Porsche noted that it opted to drastically reduce the buttons and knobs of the Taycan with its fully-customizable digital touchscreen displays. Apart from the multiple displays in the interior with 911-inspired digital gauges, Porsche also emphasized the use of a voice assistant to access the vehicle's functions. Users of the vehicle could access this custom voice assistant by saying "Hey Porsche."
Interior Color Choices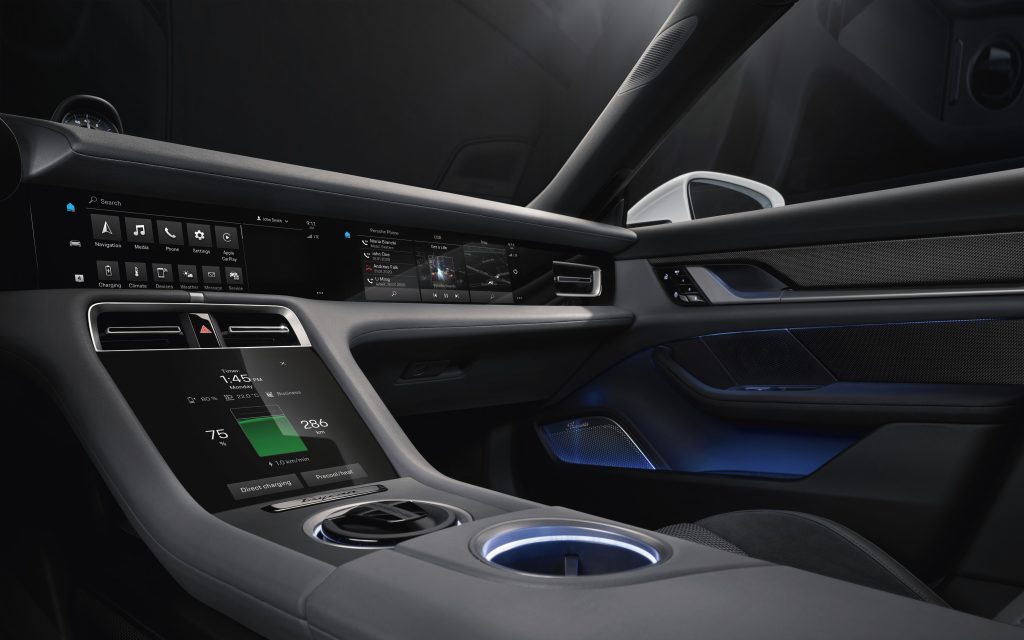 Porsche is bringing its trademark customization options for the Taycan. Buyers of the vehicle could opt for classic leather for its interior, though sustainably-tanned Club Leather, which uses olive leaves in the tanning process, will also be available. Leather-free interior options will be offered as well, such as a  "Race-Tex" material that uses microfiber that's partially made of recycled polyester. Impressively, the Taycan's floor coverings are made from recycled fishing nets. 
Buyers of the Porsche Taycan could expect a wide range of accents that can be customized for their vehicles. Porsche has so far announced four interior colors that are exclusive to the Taycan: Black-Lime Beige, Blackberry, Atacama Beige, and Meranti Brown. An optional interior accent package also gives customers the choice of having contrasting color schemes in Black-Lime Beige, Blackberry, Atacama Beige, and Meranti Brown. Door accents and the center console could be wood trim, matt carbon, embossed aluminum, or fabric.