Whether you live or work in the city, or drive in for entertainment, there are notable nuances with driving a Tesla Model S into a busy metropolitan area. Finding parking, navigating tight streets, locating public charging stations and learning etiquettes with charging overnight are areas that I'm quickly adjusting to.
Driving into the City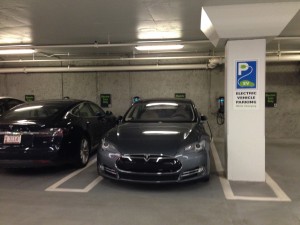 I drive my Model S as much as humanly possible and under most circumstances. Whether it's taking long road trips or navigating through narrow city streets, there hasn't been many situation which I've shied away from. Driving into the city (Boston) for dinner was no different.
Since I didn't know the city streets very well, I posted to the local New England forum on TMC and asked for help. TMC is a great resource for Tesla owners that are looking for advice from other Tesla owners. My quest to find a "Tesla owner approved" local parking spot directed me to a garage not too far from the restaurant – Boston's Post Office Square.
Parking was tight, as expected, but I managed to find comfort knowing that I parked next to another Model S owner. I plugged the car into a ChargePoint unit, went off to my long dinner and came back to an extra 60 miles of range. Best of all this was all free since Massachusetts law prohibits re-sale of electricity.
I didn't need the extra 60 miles of extra range to get home, but because there were several open EV spots available, I didn't feel as bad using one for a longer duration of time. It's important to note that this wouldn't be the case during the day when charging stalls are a more sought after commodity. Keep this in mind and don't occupy an EV charging stall when there's only one available and you're not in need of a charge.
Overnight in the City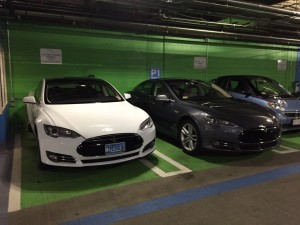 My second experience with the Model S in the city came by way of a conference held at the Boston Seaport Hotel. The conference required me to stay overnight so I did my own research via Plugshare and found a charging location with five J1772 chargers. It turned out there were only three Chargepoint systems installed for the five EV parking spots. Parking was extremely tight but I was able to take my time, as there was no other cars around, and get the Model S placed perfectly into the parking spot.
I couldn't help but wonder why there were three ChargePoint systems but five EV specific parking spaces. The ChargePoint system claimed to have two chargers on each post. There was clearly a J1772 plug on each of the systems but they were all in use.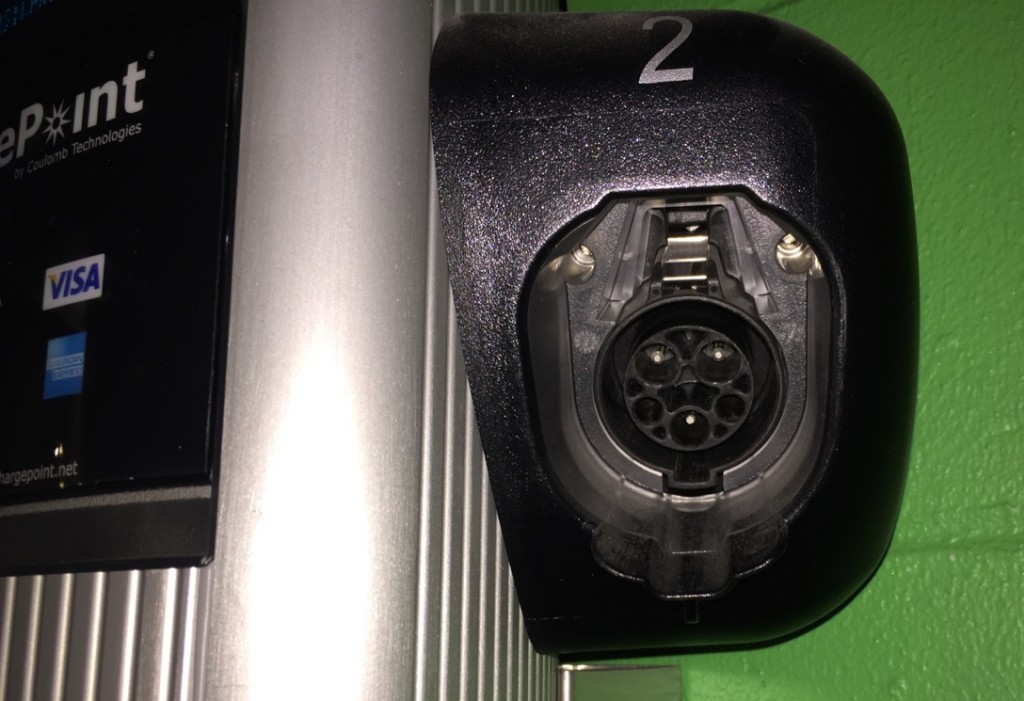 Upon further inspection I could see a label for "Charger #2" but unfortunately I had no adapter that would work for it. I later realized that this was just the receiving end for the J1772 plug and meant to be a holder for the plug. I poked around a bit more and swiped my ChargePoint card on the scanner for "Charger #1". A secret door popped open and provided a standard NEMA 5-15 outlet (standard US wall charger).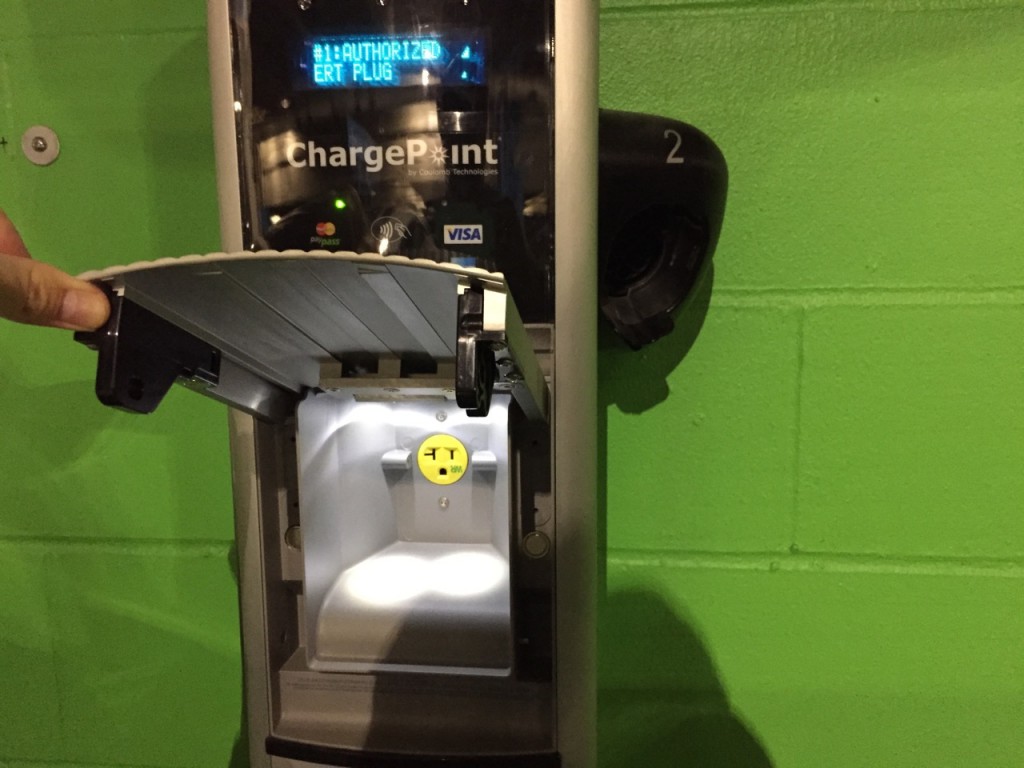 Fortunately I came prepared with an extra UMC. I didn't have much of a choice with my charging options so I decided to plug into the very slow charging NEMA 5-15 and leave it overnight. I'm not quite sure why ChargePoint decided to name the higher power charging solution "Charger #2", or why the  NEMA 5-15 is hidden, but having a sticker or signage explaining these details could go a long way.
Lessons Learned
Driving into the city with a Model S comes with a few lessons learned as follows:
ChargePoint seems to be the prevailing charging network provider (at least for much of Boston).
Charging can be free depending on local laws governing re-sale of electricity.
EV parking spaces are generally placed at very premium locations and reside on the floor your entering the parking garage from.
City parking spots are tight to begin with so the additional size and width of the Model S makes it even more difficult to maneuver. Be careful when parking!
City parking structures are usually underground so cell phone service is generally inaccessible. Don't rely on keyless entry when parking in the city.
Do you have your own strategy when taking the Model S into the city? I'd love to hear it in the comments below.