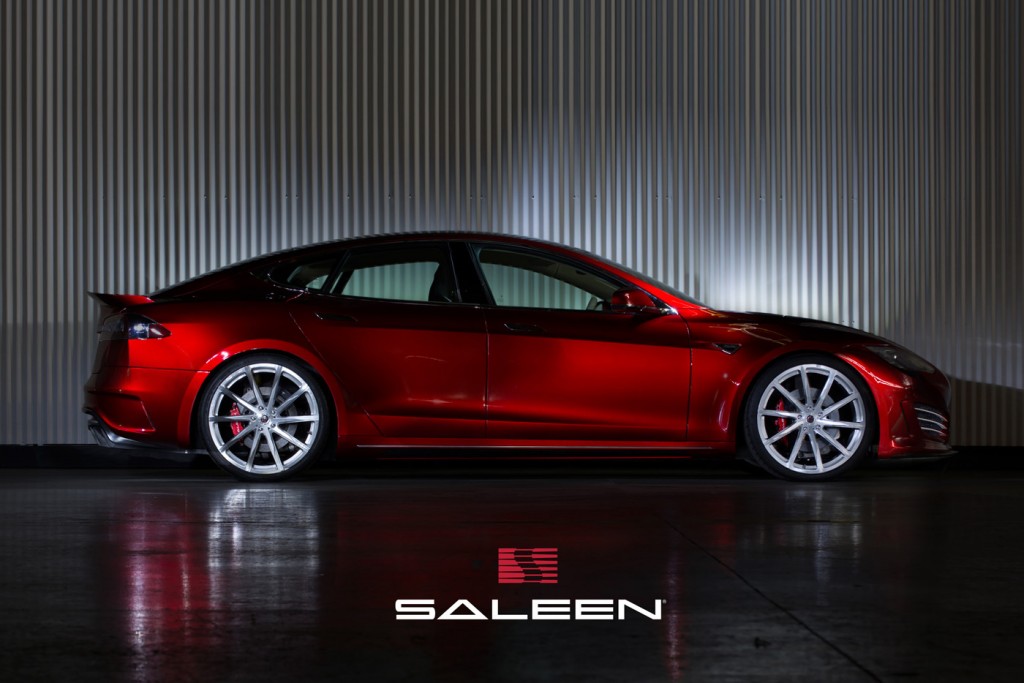 Saleen FOURSIXTEEN Features & Specifications
Saleen, known for building the exotic S7 supercar and tuned Ford GT40, has debuted its new FOURSIXTEEN at famed Pebble Beach, CA Concours d'Elegance. Their announcement that they would make their entrance into the world of electric vehicles with a tuned version of the Tesla Model S took the world by storm not too long ago, but no one knew the details, until now. The Saleen FOURSIXTEEN full features and specifications list has been published. Most prominently displayed is the large 22″ race-inspired forged aluminum wheels and completely redesigned front-end of the Tesla Model S that removes the traditional "nose cone". But beyond the cosmetic lies a re-engineered cooling system and upgraded drivetrain said to provide even quicker off-the-line acceleration and track performance. A fully adjustable race-ready coilover suspension system rounds out the Tesla double wishbone suspension system.
Updated: Sep. 5 2014
Saleen has just released a video that shows off a distinctive Formula One sound to their FOURSIXTEEN. "This is what the future sounds like," explains Steve Saleen, CEO of Saleen Automotive, "Anytime you watch a movie or TV show about the future, vehicles make a distinctive sound. That is what we achieved with our FOURSIXTEEN. I think George Jetson would approve."
POWERTRAIN
Liquid-Cooled Three Phase, Four Pole AC Induction Motor with Copper Rotor
Drive Inverter with Variable Frequency Drive and Regenerative Braking System
Single Speed Fixed Gear with 9.73:1 Reduction Ratio
85 kWh Microprocessor Controlled, Lithium-Ion Battery
10 kW Capable On-Board Charger with the Following Input Compatibility: 85-265 V, 45-65 Hz, 1-40 A
10 kW Capable Universal Mobile Connector with 110 V, 240 V, and J1772 Adapters
SALEEN SIGNATURE SERIES POWERTRAIN BLACK LABEL
Three phase, four pole AC induction motor with copper rotor
Horsepower 416
Torque @ 0 RPM 443
Saleen High-Efficiency Drivetrain Cooling System
1-speed Automatic Gearbox
9.73:1 Final Gear Ratio
11.39:1 Final Gear Ratio (optional)
MAXGRIP Locking Differential (optional)
Model Designation Serialized Plaque
---
SUSPENSION
Double Wishbone, Virtual Steer Axis Coil Spring Front Suspension and Independent Multi-Link Coil Spring Rear Suspension
S4 High Durometer Swaybar Pivot Bushings
S4 Increased Diameter Lightweight Front Swaybar
S4 Track Calibrated, High Performance, Monotube Coilovers
S4 Track Calibrated, Increased Rate Coil Springs
Variable Ratio, Speed Sensitive, Rack and Pinion Electronic Power Steering
Anti-Lock Disc Brakes (ABS) with 2-Piece Ventilated Rotors with Aluminum Hats and Electronically Actuated Parking Brake
SALEEN SIGNATURE SERIES S4 HIGH PERFORMANCE SUSPENSION BLACK LABEL
S4 Track Calibrated, High Performance, Monotube Coilovers
S4 Track Calibrated, Increased Rate Coil Springs
S4 Increased Diameter Hollow Front Swaybar
S4 High Durometer Swaybar Pivot Bushings
S4 Fully Adjustable Coil-Over Suspension (optional)
Saleen Specific Stability Control System (optional)
---
EXTERIOR
Saleen Front Fascia with Integrated Dual Cooling Vents, and Aero Management Vents
Saleen Carbon Fiber Air Splitter
Saleen High Downforce Spoiler
Saleen Hood with Static Air Channel and Style Vents
Saleen Rear Fascia with Integrated Rear Aero Management Vents, and High Intensity Reflectors
Saleen Carbon Fiber Diffuser
Saleen Side Skirts with Carbon Fiber Accents
Backlit Side Turn Signals, Front Side Markers Lights, and Rear Reflex Lights
Flush Mounted Door Handles
Headlights—Xenon with Automatic On/Off
LED Rear Taillights and High-Mounted LED Stop Lamp
Saleen Badging on Hood, Fenders, and Decklid
SALEEN SIGNATURE SERIES AIR MANAGEMENT BLACK LABEL
Saleen Front Fascia with Dual Cooling Vents, and Aero Management Vents
Saleen Carbon Fiber Air Splitter
Saleen Hood with Signature Body Lines
Saleen Side Skirts with Carbon Fiber Inserts
Saleen High Downforce Rear Spoiler
Saleen Carbon Fiber Decklid Accent
Saleen Rear Fascia with Rear Aero Management Vents, and High Intensity Reflectors
Downforce Boosting Rear Diffuser
---
FUNCTIONAL
Bluetooth Connectivity
Dual Front USB Ports for Media and Power
High Definition Backup Camera
Keyless Entry
Power Outlet—12 V
Rear Window Defroster
Wi-Fi Ready
Windshield Wipers—Rain Sensing, Adjustable Speed
---
WHEELS AND TIRES
Saleen Lightweight 21" Forged Aluminum Wheels
High Performance 245/35ZR21 Front Tires
High Performance 295/30ZR21 Rear Tires
SALEEN SIGNATURE SERIES WHEELS & TIRES BLACK LABEL
Forged Aluminum Split Five Spoke Wheels 21"x9" (f) 21"x10" (r)
Forged Aluminum Multi Spoke Race-Inspired Wheels 22"x9" (f) 22"x10" (r) (optional)
High Performance 245/35ZR21 (f) 295/30ZR21 (r) Tires
High Performance 255/30ZR22 (f) 295/25ZR22 (r) Tires (optional)
---
INTERIOR
Audio—200 Watt, Seven Speaker Stereo System with AM/FM/HD Radio
Center Armrest with Two Cup Holders
Climate Control—Automatic, Dual Zone
Cruise Control
Driver Seat Detection Sensor for Start/Stop Functionality
Front LED Map Lights and Rear LED Reading Lights
Front Trunk and Rear Cargo Area with Keyless Open
Glove Compartment
Manual Rear Liftgate
Micro-Filter Ventilation System with Replaceable Filters
Open Center Console Storage Area
Power Tilt and Telescopic Steering Column
Power Windows Featuring One-Touch Up and Down
Saleen Black Leather and Alcantara Performance Seating with Contrasting Stitching
Seats, Front—Twelve Way, Power Adjustable, Heated
Seats, Rear—60/40 Split Fold-Down
Steering Wheel—Three Spoke, Multi-Function with Tactile Controls
Sun Visors
Touchscreen—17" Capacitive with Media, Communication, Cabin, and Vehicle Controls
Tire Pressure Monitoring System
SALEEN SIGNATURE SERIES INTERIOR BLACK LABEL
Saleen Black Leather and Alcantara Seats with Contrasting Stitching
Saleen Embroidered Floor Mats
Saleen Embroidered Model Designation Trunk Mat
Model Specific Serialized Dash Plaque
Steve Saleen Personally Signed Dash
Leather Wrapped Steering Wheel
Saleen Steering Wheel Badge
Saleen Key Chain
Saleen Owners Document Portfolio and Warranty Guide
Saleen Four Bucket Black Leather Performance Seating with Improved Bolstering, Contrasting Perforated
Leather and Alcantara, and Black Front Seat Shells (optional)
Saleen Leather and Alcantara Covered Door Panels (optional)
Saleen Leather Covered Dash with Contrasting Hand Stitching (optional)
Saleen Alcantara Covered Headliner (optional)
Saleen Center Console with Storage (optional)
---
SAFETY & SECURITY
Acoustic Front Row Safety Belt Warning
Airbags—Head, Knee, Pelvis, Driver and Passenger Side-Impact Airbags in the Front Plus Two Side Curtain Airbags
Anti-Theft Alarm and Immobilizer System
Crash Sensor for High Voltage Disconnect
Driver and Front Passenger Seat Sensors
Driver Seat Position Sensor
Interior, Manual Release Mechanism for All Doors, Front Trunk, and Rear Cargo Area
Rear Door Child Safety Locks
Rollover Crash Sensor
Seatbelts—Three Point Driver, Front Passenger, and Both Rear Seats
Traction Control with Electronic Stability Control
---
SALEEN COLORLAB EXTERIOR PAINT COLORS CODE BLACK LABEL (optional)
Plum Insane Metallic SP
Burnout Black Pearl SP1
Tire Smoke White Pearl SP2
Lizstick Red Metallic SP3 (shown in pictures)
Sour Apple Green Metallic SP4
Orange County Orange Metallic SP5
Maliblue Metallic SP6
Speedlab Yellow SP7
Shark Skin Metallic SP8
Beryllium Copper Metallic
############################## NEWSWIRE ##############################
Saleen Automotive Inc. (OTCQB: SLNN) Monterey, CA – (August 17, 2014)
From the same automotive performance brand that brought the true American Supercar, the S7, Saleen has once again set precedence for a vehicle of epic proportions. The Tesla Model S based Saleen FOURSIXTEEN performance electric car was shown for the first time at the 2014 Pebble Beach Concours d'Elegance.
"Tesla has created an entirely new class of American automobile", explained Steve Saleen. "There are many similarities to this and how Ford created the 'pony car' class in 1964 with the Mustang, which is how these vehicles stand out from the rest of the pack."
Standing out from the pack is Saleen's specialty. Whether it's their winning racing pedigree, expertly engineered Saleen vehicles, or instantly recognizable design. The Saleen legacy is perfectly packaged into the FOURSIXTEEN Model S and hinges on the mantra for the performance luxury electric car that 'status quo won't do'.
Purposefully advanced design From the outside, the FOURSIXTEEN is a harmonious blend of aerodynamic aggressiveness and subtle classiness. Applying the same championship Saleen DNA used over the last three decades, Saleen has created a car that can drive the streets of Monaco and set records at Laguna Seca. From the Saleen crafted front fascia to the carbon fiber rear diffuser, the FOURSIXTEEN aerodynamic design is as inspired as it is functional.
Front aero management vents helps ensure that the Saleen FOURSIXTEEN model maintains a low pressure field as air acceleration increases around the chassis. Assisting the lower aero management is the unique V-shaped hood architecture efficiently directing hot air away from the drivetrain cooling system all while generating valuable downforce across the front section.
The rear fascia design finalizes the aerodynamic system as air moves across the cabin and onto the Saleen designed high-downforce decklid mounted spoiler. Mid-chassis air is directed across the carbon fiber accents stretching between the taillights. Supplying rear wake diffusion is a Saleen diffuser design that boosts aerodynamic downforce capability.
Electrified Performance Just like the rest of the Saleen lineup, this car is more than just an eye catching aerodynamic package. Propelling the new FOURSIXTEEN is the 3-phase, four pole AC induction motor and copper rotor with the upgraded Saleen drivetrain including an all-new 11.39:1 final gear ratio for quicker acceleration. Also new for the FOURSIXTEEN is a Saleen specific MAXGRIPTM locking differential that allows each wheel to efficiently apply rotational force and maximize traction and grip in performance environments. All of the Saleen engineered driveline components increase efficiencies in torque management, give a track capable throttle response, and provide faster acceleration. Overall the FOURSIXTEEN is a well-balanced vehicle and sounds great too!
Electric motor cooling has also been made more productive from the Saleen high-efficiency drivetrain cooling system. Comprising the system is a larger volume radiator, upsampled cooling fans, and a high-flow water pump to help maintain consistent temperatures in more stressful performance applications.
"Electric drivetrains are unique in that they can generate an incredible amount of torque at zero RPM", detailed Sven Etzelsberger, VP Advanced Engineering. "Our challenge was really to find methods to manage the energy that is generated by the electric motor and rotor assembly. With the FOURSIXTEEN we have successfully found a comprehensive solution to increase performance and harness power in an efficient manner."
Suspension Saleen's design and engineering teams worked together to ensure a functional suspension that doesn't sacrifice ride quality. The Saleen specific S4 track-calibrated suspension includes a monotube coilover, which works in conjunction with an S4 sway bar setup to increase cornering agility without sacrificing ride quality. The FOURSIXTEEN suspension system can also be ordered in a fully adjustable configuration, allowing the driver to easily increase stiffness for a day at the track and revert to a more streetable setting with simple adjustments.
The Stability Control System has also undergone a track tested performance enhancement. A software change gives the FOURSIXTEEN better cornering response and drivability by allowing the driver to maintain power as traction and vehicle weight distribution change.
Working together with the stability control software, wheel, tire, and S4 suspension system are the Saleen-specific brakes. The standard brake package in the FOURSIXTEEN include 14" 2-piece aluminum hat vented rotors and multi-piston front calipers with performance brake pads. An optional upgrade is the carbon ceramic disc brake system for maximum braking, cooling, and weight reduction. Saleen designed wheels fill out the wheel openings and add an air of performance luxury. All of this combined with the ZR-spec tires make sure the car will hug the corners, accelerate true in the straights, and stop effortlessly when needed.
Supercar inspired interior The interior refinements of the Saleen FOURSIXTEEN are abundant. From the handpicked leather palette to the carbon fiber dash accents, the cabin environment is as supercar stylish as it is functionally chic. Starting with the seating, black leather is contrasted by perforated leather accents and Alcantara suede inlays providing a true luxury atmosphere.
"Our theme of an electric four-seat supercar really comes to life with the interior of this car", said Sean Smith, Design Director. "Our design team spent a lot of time evaluating different materials, fitments, and finishes to accomplish the refined interior design of the FOURSIXTEEN while still keeping the modern sports car inspiration intact. I think the result is appropriate for this new class of electric American performance cars."
A new center console has also been integrated into the interior redesign. This functional aspect gives the driver and front passenger additional center storage, a personal electronic device pocket, and a much needed cupholder all within arm's reach.
Continuing the track-inspired exterior enhancements, the front and rear seating have been remolded to produce four full bucket seats complete with added bolstering to create a discerning interior that is fittingly built around the driver and passengers. Marrying the seating design to the rest of the cockpit are the Saleen tailor-made door panels and a full leather-wrapped dash both artistically complimented with hand sewn contrast stitching. The final stroke of interior craftsmanship draws attention to the seat shells which have been color matched to the black leather, creating a dynamic modern feel in the rear cabin.
Availability, Pricing and Additional Information MSRP for the FOURSIXTEEN model is set to start at $152,000 for the complete vehicle, which includes the base P85Model S sedan. This is priced before existing state and federal EV incentives which can range from $7,500 to $15,000 depending on the buyers state (i.e. A California resident would pay $142,000.00).
Warranties are also included on all new Saleen vehicles, components, and labor. Each newly purchased Saleen FOURSIXTEEN will include a 4-year / 50,000 mile warranty to match the manufacturer backed limited warranty.
Purchases for this all new electric vehicle can be placed by contacting Saleen directly for an expedited ordering process of the Saleen FOURSIXTEEN. Orders are now being taken for the FOURSIXTEEN with delivery 6-8 weeks following order confirmation and receipt.
Alternatively, individual FOURSIXTEEN components are also available for Model S owners that are looking to just add a touch of performance or styling to their current vehicle without the desire for a serialized version. Installation can be scheduled through the Saleen Performance Parts division. For more information visit www.saleen.com
###