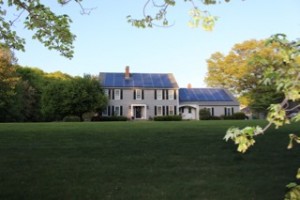 After experiencing some growing pains with my SolarCity installation, I'm happy to say that I've been up and running since February 23rd of 2015 and ready to share my experiences with how the system is monitored and billed.
Savings
The savings on your electricity bill begin immediately after installation of your SolarCity system, and affects both the supply and delivery portions of your bill.
Savings can be pretty dramatic depending on the size of the system and, obviously, how much sunshine your region experiences. The following utility bill is a great example of how I was able to reduce my energy dependence from the grid by over 90%.

However, despite the reduction in energy needs from my utility company, the cost is not directly proportional to the amount of energy used. Here's why.
Billing
Having such a drastic reduction in kWh needed from the grid actually comes with a price. Almost everyone who signs up with SolarCity opts-in to a Power Purchase Agreement (PPA) which means you pay nothing upfront (for the gear, install etc.), but you pay SolarCity for every kWh their system generates. That rate can be variable or fixed. I pay a fixed rate of $0.1420 per kWh generated for 20 years. That may sound high to you but considering my local electricity rate is $0.2470, I'm saving 43% per kWh.
It takes SolarCity some time to get up and running with their billing system. For me it took them 3 months to send me the first bill and because of that I received a hefty bill (thankfully late winter months) for all 3 months in one shot. After that, the bills arrive monthly (note that SolarCity requires EFT/Autopay to be set up).
The bills are simple and only state the amount of kWh generated, the rate you pay, and the total amount owed.

SolarCity collects data generated through their system via a standard internet connection, which they also use for billing purposes. On the first (large/3 month) bill I received, I noticed a difference of 10% (additional cost for me) between the billed amount and the amount the system had reported being generated so I naturally brought this to their attention. The customer service folks that I spoke with weren't of much help and just told me to read each the meters at the beginning and end of each month if I truly want an accurate reading of how things get billed. So, that's what I did.
Since inception I've saved $320 (over roughly 3 months) or about 42% off what I would have paid National Grid. And the system cost me nothing to install (I actually got a $1,000 Tesla-owner check from them).
They also have an estimated cost savings on the front page when you log in but it's totally incorrect:

The mistake they made here is that they're assuming your electricity rate doesn't change over time. My electricity rate rose significantly after I signed up for SolarCity and because of that I'm getting a larger savings than what they're reporting.
Monitoring
Monitoring happens online through MySolarCity.com. The interface is geared more towards new referrals than for actual owners of their system. The section I use most often is the Power Guide.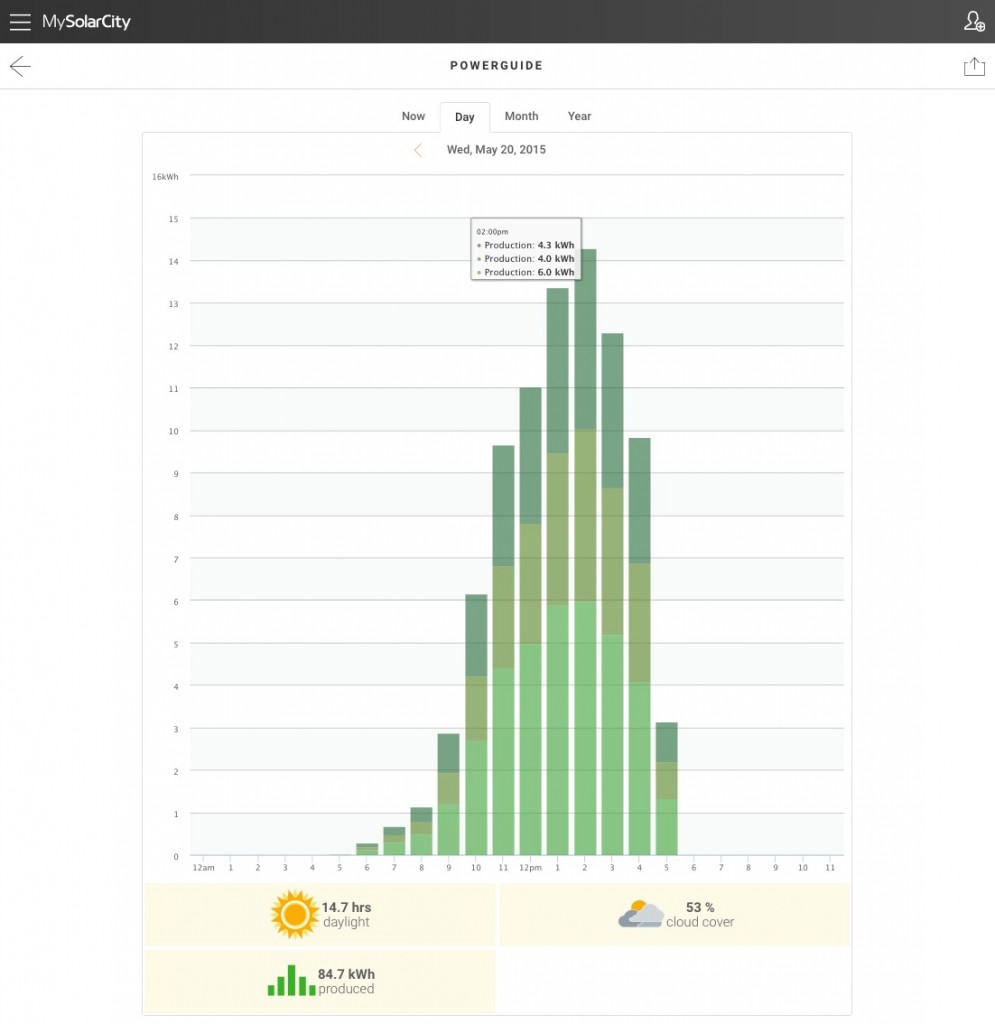 Power Guide gives an hour by hour break out of your energy generation along with the weather pattern for that day (ie. how much daylight, cloud coverage …). Hovering over each colored bar will show you the energy generated per inverter. The data can be downloaded in a CSV format and then imported into Numbers or Excel for your own post processing.
If you have multiple inverters, the CSV data for the day is a bit of a pain to analyze since it also includes the energy generated every 15 minutes per inverter.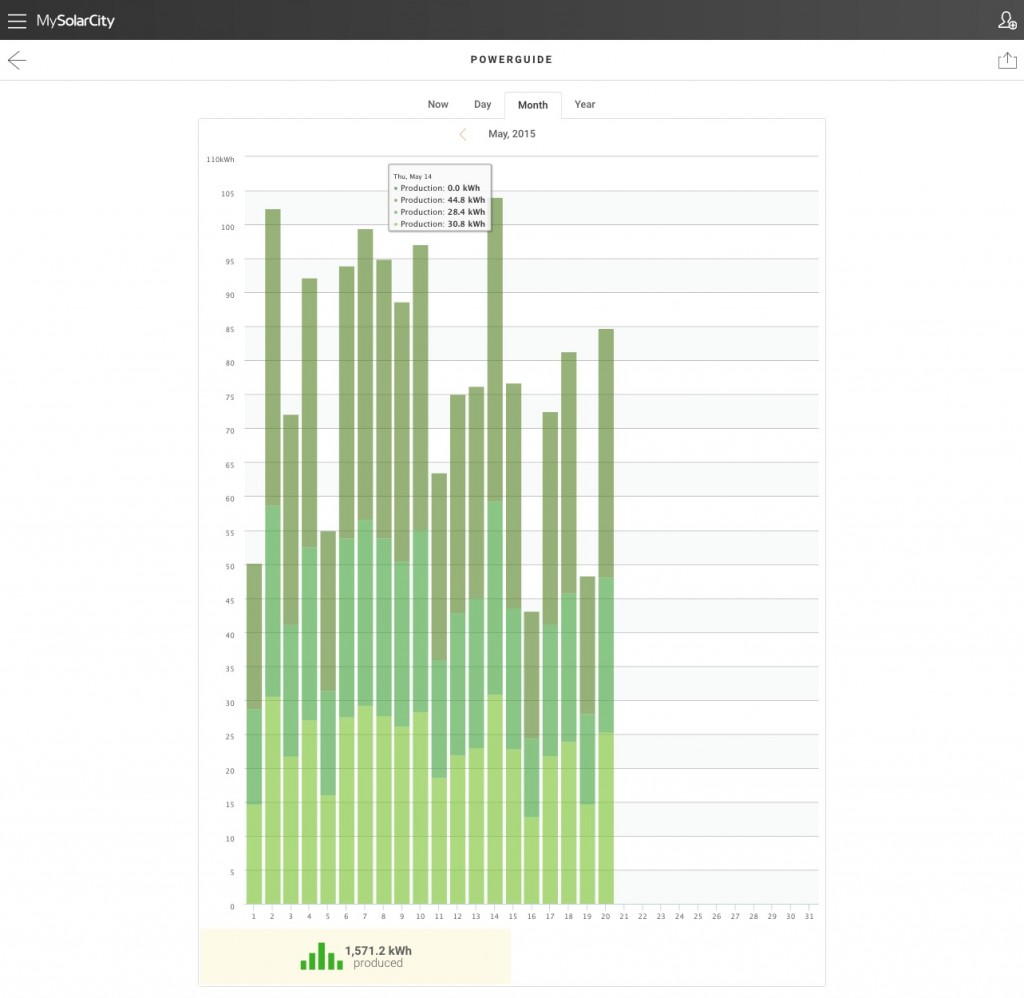 Power Guide also includes a summary for the year.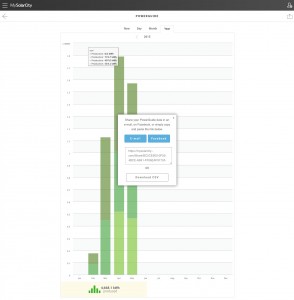 The platform also provides a view of your energy generation as it happens in real-time which updates continuously.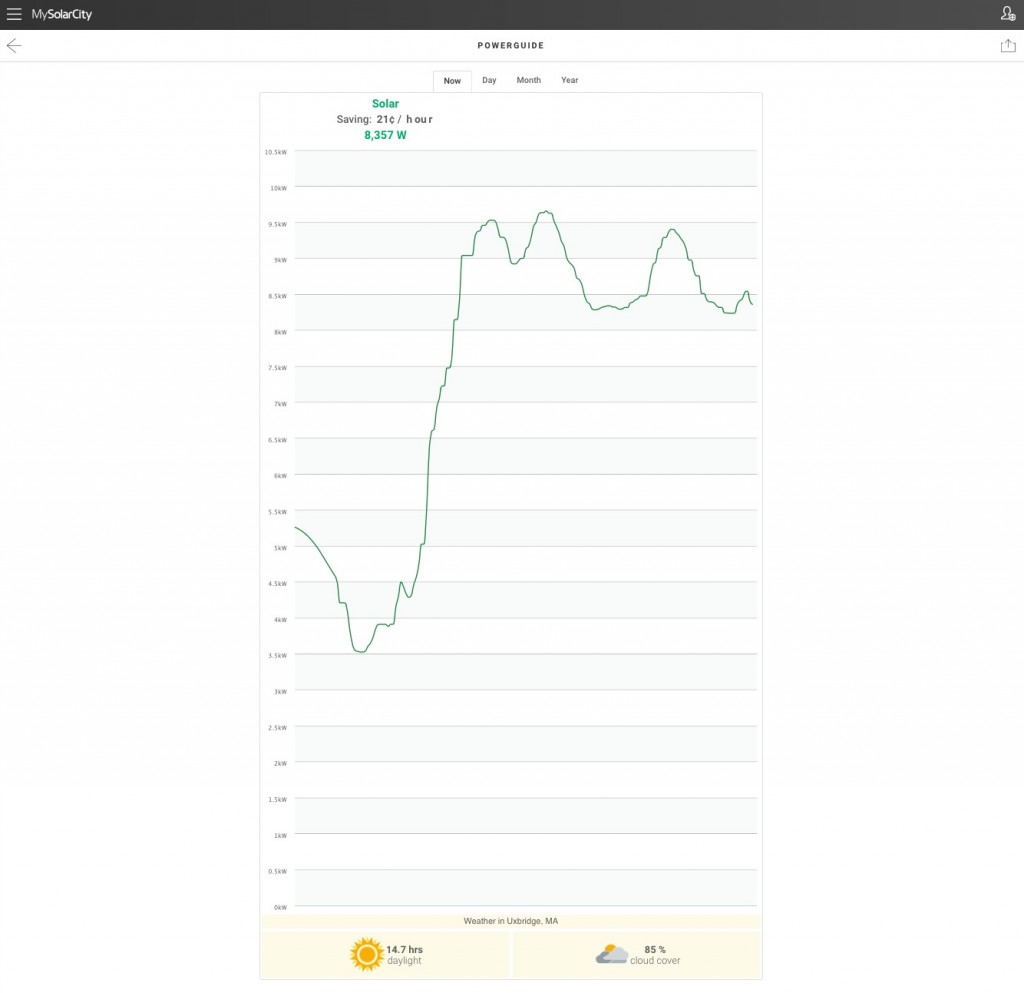 Having this features allows you to watch the sun rise and set as viewed through the perspective of your panels which is kind of fun.
It's not totally accurate as I'll see data from certain days which look completely off.
API – Not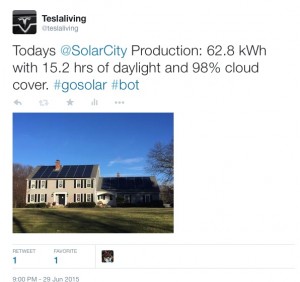 I've set up automated tweets for detection of  Tesla Superchargers in real-time and decided to the same by sharing my SolarCity data through my home-grown program that fetches the data from Power Guide and then tweeting it.
It would be really nice if SolarCity decided to create a simple REST API that would allow owners to fetch their data.
Summary
SolarCity makes a lot of sense when it comes to cost savings and they're able to provide this with no upfront cost to the owner. One needs to analyze the effective savings based on the cost incurred when generating energy through the SolarCity system versus your electricity cost, and then decide if the savings is worth the hassle. I'd recommend filling out their contact form and sign up for a consultation to get started.
The billing and monitoring side of SolarCity could definitely use some improvement, and hopefully this will improve over time as the business continues to grow.
I hope this post and series has been helpful. Let me know if you have any questions or thoughts in the comments below.