Hurricane Dorian is currently growing into a potentially devastating Atlantic storm some 1,200mi (~2000km) off the Florida Coast and local spaceflight facilities – including SpaceX's launch pads and Starship campus – are at high risk.

As of the latest storm advisories, Hurricane Dorian is likely to grow into a Category 3 or 4 storm prior to making landfall somewhere along the East Coast of Central Florida. Dorian's ground track forecast is unusually uncertain just four days out from landfall, but the Space Coast's Kennedy Space Center (KSC), Cape Canaveral Air Force Station (CCAFS), and other local spaceflight facilities (including SpaceX's) are at high risk and are preparing for a worst-case scenario.
HURCON V – I
As of 0800hrs Wednesday morning, Brigadier General Doug Schiess – Commander of the 45th Space Wing at Cape Canaveral Air Force Station and Director of the Eastern Range at Patrick Air Force Base – initiated HURCON V preparations across Cape Canaveral Air Force Station (CCAFS) and surrounding areas. This precaution is triggered when storm winds in excess of 50 knots (58mph) are measured fewer than 96 hours to landfall. While CCAFS hurricane operations begin 96h out from landfall, KSC's preparations begin after HURCON IV, indicating that storm winds in excess of 50 knots (58mph) have been measured 72 hours out from landfall. All facilities then follow a HURCON IV – I warning system that defines a series of preparation events and personnel evacuation plans.
A HURCON IV issuance will see all personnel report for duty as usual while specialized teams will begin implementing organization-specific checklists, vehicles are fueled, and storm Ride-Out Team (ROT) personnel will be identified. From there as the storm approaches non-essential personnel will be evacuated, facilities will be secured, and roads will be closed. ROT personnel will remain on-site and will begin the evaluation of the premises once the storm has passed.
SpaceX follows KSC's lead, battens down Starship hatches
As SpaceX leases Launch Complex 39-A from KSC it is expected that they will follow all precautions initiated by KSC as they did almost two years ago amid launch preparations during HURCON III conditions while facing down Hurricane Irma. SpaceX has released an official statement confirming the obvious: the company is working closely with KSC and CCAFS to monitor weather conditions and plan to take all necessary precautions before, during, and after landfall.
SpaceX may not be new to preparing its Florida launch facilities for hurricanes and tropical storms, but Hurricane Dorian poses entirely new challenges due to the fact that the company has recently begun operating a fairly extensive Starship production facility in Cocoa, Florida. The vast majority of Cocoa's work is done entirely out in the open, rarely protected by more than a spartan windbreak or temporary tent. According to local photographer Greg Scott, SpaceX has paused all Starship production work for the moment and is working all-out to secure its facilities as the potentially catastrophic Cat 4 Hurricane Dorian fast approaches.
The total lack of hurricane-rated protection puts SpaceX's Starship facility at exceptionally high risk. The Cocoa production facility is thus facing many obstacles with hurricane preparedness as the majority of Starship production takes place outside and is completely vulnerable to the elements. Aerial photos depict what a daunting – if not utterly impossible – task it will be to secure all of the current production pieces of Starship Mk2.
Along with the main section structures and the completed nose cone section of Starship, many smaller fabrication pieces including large steel rings, a large bulkhead, and an array of assembly tools will need to be secured. Luckily a newly constructed wind guard structure covered in a white canvas material seemingly just reached completion and may be used to house the largest section of Starship if teams can manage to move it inside before storm conditions arrive.
Although it is surely going to suffer some damage from hurricane-force winds, the tent structure should offer some limited protection for any hardware that can be moved inside it. While Starship is being fabricated to withstand the stresses of launch and re-entry conditions, it may not be able to stand against the fury of a hurricane in its current fragile state.
Been here before…
SpaceX has faced damage to Starship prototypes at the hand of wind before. The first prototype – now known as Starhopper – constructed at their testing facility in Boca Chica, TX originally featured a tall nose cone portion that was ultimately lost. A storm that brought 50mph (80 km/h) wind gusts blew through and knocked the fairing piece off of its concrete stand and resulted in a completely crumpled heap of steel mess. The loss of the nose cone ended up being purely aesthetic and caused little to no setback to Starhopper testing – delayed instead by issues with Raptor engines.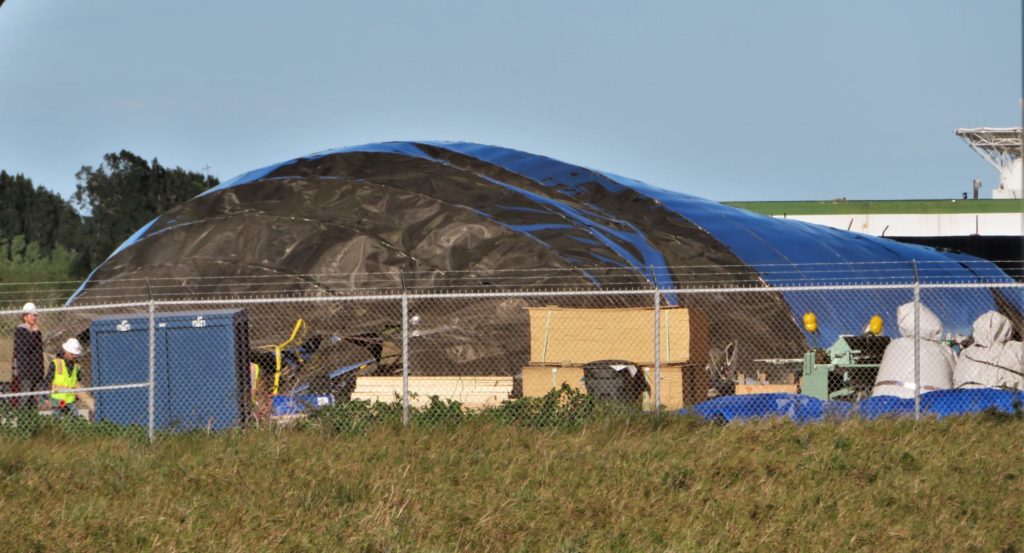 Any damage suffered in Cocoa as an effect of Hurricane Dorian will almost certainly cause setbacks for SpaceX. Even if SpaceX gets extremely lucky and suffers no direct damage from a glancing blow, disruption to local infrastructure (power, waste, water, industry) could significantly hamper production operations. In the event that Dorian makes landfall at or near Cape Canaveral, Starship Mk2 and the many Super Heavy-related steel rings and facilities situated around the Cocoa campus could easily be destroyed or damaged beyond salvage, owing to the fact that they are made out of relatively thin and lightweight metal and have expansive, sail-like surface areas.

On the plus side, if any of the above does occur, SpaceX is simultaneously building a second near-identical prototype – Starship Mk1 – at its Boca Chica, Texas facilities. Disruption is undesirable, but SpaceX and its Starship program will likely (and hopefully) be largely unharmed. Additionally, SpaceX's next Falcon 9 launch out of Florida is an internal Starlink mission scheduled no earlier than late October, leaving at least 1.5-2 months for clean-up and any necessary repairs.
Check out Teslarati's newsletters for prompt updates, on-the-ground perspectives, and unique glimpses of SpaceX's rocket launch and recovery processes.