According to SpaceX, Crew Dragon's upgraded 'Mk3' parachutes have successfully completed more than a dozen tests in a row, a feat accomplished by SpaceX engineers and technicians in a single week.

Although SpaceX will likely continue to test the upgraded parachutes over the next several weeks and months, Mk3's success up to now – including a demonstration of an emergency landing scenario – likely means that the company is well on track for NASA to certify Crew Dragon for its first astronaut launch.
Known as Demo-2, SpaceX's first crewed demonstration mission is tentatively scheduled to launch no earlier than the first quarter of 2020 and is almost entirely dependent upon NASA (and SpaceX, to a lesser extent) completing review and qualification paperwork. On October 8th, SpaceX CEO Elon Musk indicated that SpaceX itself – including all Crew Dragon and Falcon 9 hardware – would likely be ready to launch before the end of December 2019.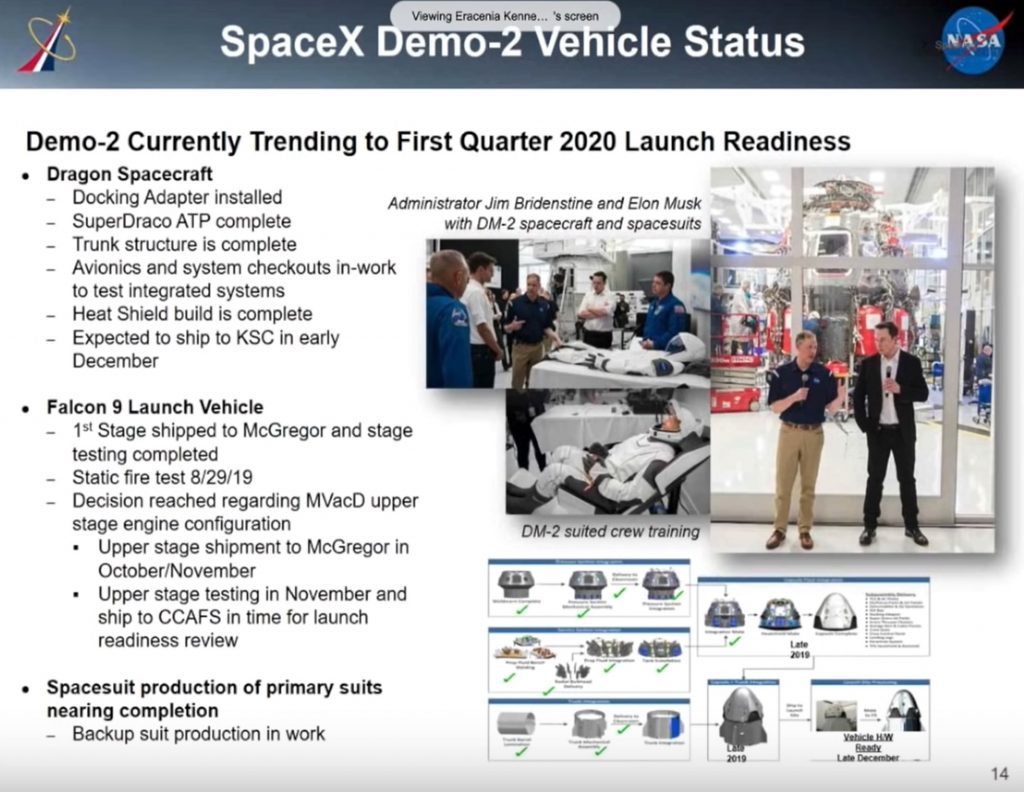 During an October 30th briefing from Commercial Crew Program manager Kathy Lueders, NASA essentially confirmed Musk's estimate for Crew Dragon hardware readiness, estimating that the Crew Dragon Demo-2 spacecraft will be ready for flight around the end of December. The mission's Falcon 9 booster has also completed testing in Texas, while SpaceX plans to ship the Falcon 9 upper stage to Texas for acceptance testing in November.
In recent months, NASA has indicated that the parachute systems of both Boeing's Starliner and SpaceX's Crew Dragon were a prominent concern after chute failures occurred on several occasions. In response, SpaceX redesigned Crew Dragon's parachutes – supplied by Airborne Systems – to account for the failure modes experience, while also advancing the state of the art of computer modeling of parachute deployment and behavior.
In response to past failures, SpaceX chose to further upgrade and strengthen Crew Dragon's parachutes, moving to a 'Mk3' variant with stronger Zylon risers (strips connecting Dragon to its parachute rigging), among other tweaks. Notably, in an October 2019 press conference with Musk, NASA administrator Jim Bridenstine noted that SpaceX had plans to field and test those Mk3 parachutes at least 10 times before the end of 2019.
"We could see as many as 10 drop tests between now and the end of the year and depending on how the next 10 drop tests go, we will know how many more drops tests we are going to add."

Jim Bridenstine, October 10th, 2019
In fact, during the latest stage of testing, SpaceX says it successfully completed thirteen consecutive tests of Crew Dragon's new Mk3 parachutes, all of which were completed in less than two weeks. This essentially blows Bridenstine's expectations out of the water, as SpaceX has surpassed his predicted 10 tests and done so barely three weeks into the tentative 12-week window he set. SpaceX now has plenty of time to either continue testing Crew Dragon's parachutes or refocus its efforts on other equally important qualification challenges.
Prior to those thirteen consecutive successes, SpaceX suffered two failures during single-parachute Mk3 testing. The first two development tests of the Mk 3 design used loads much higher than the parachutes would ever see in operation in an effort to better understand overall design margins and system performance. After a period of rapid iteration with parachute provider Airborne Systems, the faults responsible for those two stress-test failures were resolved and subsequent drop tests confirmed that Mk3's suspension lines – the numerous lines connecting the parachute to Crew Dragon – are far stronger than those on Mk2.
Perhaps most crucially, the most recent test – shown in the video shared by SpaceX on November 3rd – was the first multi-chute Mk3 demonstration and simultaneously proved that Crew Dragon will be able to safely land its astronaut passengers even if one of the spacecraft's four parachutes fail to deploy. Despite those consecutive successes, SpaceX and Airborne will continue testing Mk3 parachutes as rapidly as possible and aim to provide NASA the data it needs to qualify Crew Dragon's parachutes for crewed flight before the end of 2019.
Either way, the next several months are set to be a frenetic period for NASA's Commercial Crew Program. As early as November 4th, Boeing aims to attempt a pad abort test of its Starliner spacecraft, while SpaceX is set to static fire a Crew Dragon capsule on November 6th. If both tests are successful, SpaceX aims to launch Crew Dragon's In-Flight Abort (IFA) test in early-December, while Boeing hopes to launch Starliner on its first uncrewed Orbital Flight Test (OFT) no earlier than December 17th.
Check out Teslarati's newsletters for prompt updates, on-the-ground perspectives, and unique glimpses of SpaceX's rocket launch and recovery processes.