In the midst of the 2019 World Satellite Business Week, SpaceX President and Chief Operating Officer Gwynne Shotwell and SES Satellites CEO Steve Collar announced the latest launch contracts in a long and fruitful relationship.

No earlier than 2021, SpaceX will launch all seven O3b mPOWER communications satellites on two separate Falcon 9 missions, placing the full constellation in a medium Earth orbit (MEO) around 8000 km (5000 mi). Complimenting 20 O3b satellites already in orbit, the seven mPOWER spacecraft will expand the constellation's bandwidth capabilities by more than a factor of 70, adding 10 terabits per second (Tbps) – almost 1.5 Tbps per satellite – once in orbit.
Collar stated in a press release that "[SES is] delighted to have SpaceX as partners for our historic O3b mPOWER launch, and together, we will extend high-performance connectivity to all who have limited access to it today." SES looks to extend the already proven concept of its O3b MEO constellation with a new mPOWER constellation, comprised of seven high-throughput, low-latency, adjustable satellites that will serve customers in various markets including telecom, cloud-based, and mobile communications. 
The new O3b mPOWER constellation will provide private global connectivity at ten times the throughput, flexibility, and dynamic control of the current O3b constellation. John-Paul Hemingway CEO of SES Networks describes SES as "the only satellite network services provider to operate a global, multi-orbit fleet utilizing an extensive fleet of GEO and MEO satellites." He also stated that "[SES] believes that the economic and productivity benefits of the cloud should be easily available to all enterprise, maritime and aeronautical customers as well as government organizations, regardless of location."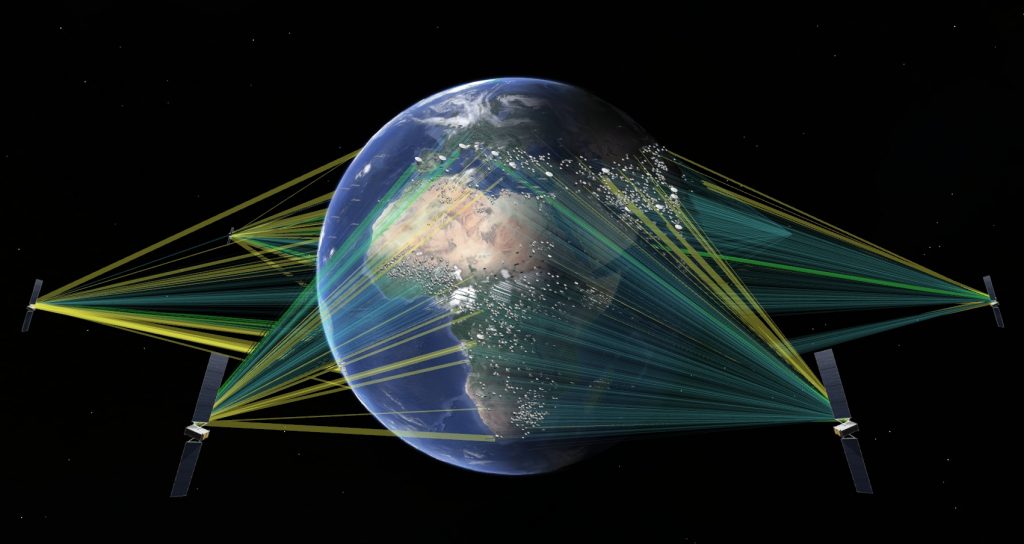 SES and SpaceX have a well-established relationship thanks to many previous launch contracts, ranging from SpaceX's inaugural geostationary satellite launch (SES-8) to SES-10, the world's first satellite launch on a flight-proven, commercial rocket (Falcon 9). Shotwell stated that "we are pleased that SES has once again selected Falcon 9 to launch their powerful, groundbreaking communications system,– fully supporting our efforts to make rocket reusability a reality. We are proud to play a part in SES bringing revolutionary connectivity solutions to the market." 
The O3b mPOWER constellation is expected to launch form Cape Canaveral, Florida on two SpaceX Falcon 9 rockets no earlier than 2021.
Check out Teslarati's newsletters for prompt updates, on-the-ground perspectives, and unique glimpses of SpaceX's rocket launch and recovery processes.