SpaceX has silently announced that Falcon 9 won a contract for a South Korean military communications satellite, currently scheduled to launch from the company's Cape Canaveral Air Force Station (CCAFS) LC-40 pad no earlier than November 2019.

Subcontracted from Lockheed Martin to Airbus Defense and Space in 2016, the satellite – known as Anasis II (formerly KMilSatCom 1) – is based on a common bus built by Airbus and could weigh anywhere from 3500 to 6000 kilograms (7500-13,200 lb). Falcon 9 will be tasked with launching Anasis II to geostationary transfer orbit (GTO), after which the satellite will use its own onboard propulsion to circularize the orbit and begin operations. Although the Korean contract brings SpaceX one step closer to its goal of 18-21 launches (excluding Starlink) in 2019, it also raises the question: what mystery missions are missing from public launch manifests?
Manifest Mystery
As previously discussed in both Teslarati articles and newsletters, comments from SpaceX executives in February and May 2019 reiterate the company's expectation of 18-21 launches in 2019, excluding Starlink. Hofeller's "more than 21 launches" admittedly came more than two months before a catastrophic Crew Dragon failure threw the spacecraft's launch manifest into limbo.
Three months later, SpaceX President and COO Gwynne Shotwell reiterated the idea that SpaceX could beat its 2018 launch record (21 launches) or at least get close. Curiously, she specifically noted that SpaceX's purported 18-21 launch manifest excluded Starlink missions, of which SpaceX has already launched one. In short, SpaceX has completed 7 launches in 2019 (6 if Starlink v0.9 is excluded). The company's public manifest – unofficially cobbled together by fans – shows 9 more launches scheduled for a total of 15 non-Starlink launches in 2019.
To meet Shotwell's expected 18-21 non-Starlink launches, anywhere from 3 to 6 missions are apparently missing from publicly-managed launch manifests. It's unclear if SpaceX actually has enough launch-ready customers to achieve those ambitious targets. Additionally, SpaceX is currently on track to complete 8 launches total (1 Starlink) in the first half of 2019. In 2017 and 2018 (two years without interruption), SpaceX consistently launched an equivalent number (or more) missions in the first half of the year when compared to the second half, and both years have maxed out at 9 launches in H2.

SpaceX will have to beat that H2 record to reach 18 launches in 2019 even if Starlink missions are counted. Meanwhile, SpaceX says that as many as 1-5 additional Starlink launches are scheduled for 2019, bringing the total number of missions as high as 20-27 in differing best-case scenarios. Practically speaking, between SpaceX's Pad 39A and LC-40 launch facilities, the company could easily maintain a biweekly or even weekly cadence (13-26 launches in H2 2019). The real constraint, however, is hardware availability – i.e. whether SpaceX has the rocket pieces and flight-ready satellite(s) it needs to launch a given mission.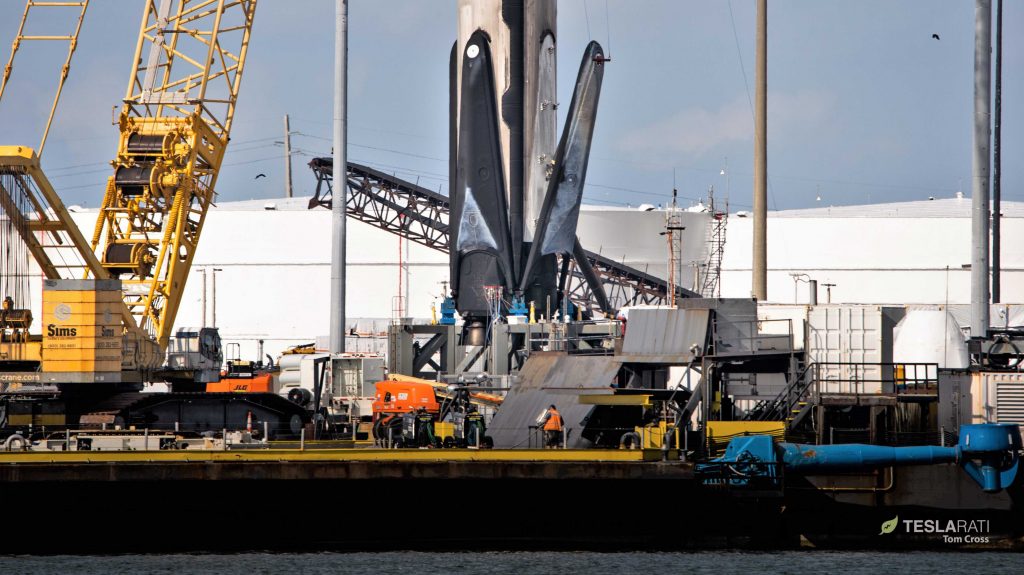 Can SpaceX do it?
This is an extremely hard question to answer, as all details that really matter are of the organizational, company-secrets sort that SpaceX just doesn't publicize. From a technical and practical perspective, the answer is a reasonable confident "yes." If Falcon Heavy Flight 3 (STP-2) is completed successfully, SpaceX will have an impressive fleet of at least 8 flight-proven Falcon 9-class boosters. Even assuming that no progress is made beyond the current Block 5 turnaround average of ~110 days (~3.5 months), SpaceX's current fleet should be able to immediately support four launches and an additional 8-12 before the end of 2019.

The primary limit, then, would be SpaceX's ability to produce Falcon 9 upper stages and fairings, as well as the stamina and quality of the company's managers and employees. Even then, the question of SpaceX's 3-6 mystery launches will remain unanswered until either the customer or launch provider choose to open up. For now, we wait…
Check out Teslarati's newsletters for prompt updates, on-the-ground perspectives, and unique glimpses of SpaceX's rocket launch and recovery processes.