On January 15th, SpaceX's Falcon Heavy rocket lifted off for the second time in 75 days to launch another batch of US military payloads into orbits tens of thousands of kilometers above Earth's surface.
Six and a half hours later, the US Space Systems Command (SSC) confirmed that Falcon Heavy had again completed the exceptionally difficult launch without issue. To deliver the USSF-67 mission's payloads directly to geosynchronous orbit (GSO), the giant SpaceX rocket had to sacrifice one of its potentially reusable boosters and complete a complex six-hour ballet of rolls, burns, and spacecraft deployments. And for the second time in a row, Falcon Heavy did so without apparent issue.
In an SSC press release [PDF], Maj. Gen. Stephen Purdy, program executive officer for Assured Access to Space, said that the group "had another fantastic launch today on a Falcon Heavy." He added that "while the launch itself was impressive," he was "most proud of the fact that we placed important [national] capabilities into space." And an impressive launch it certainly was.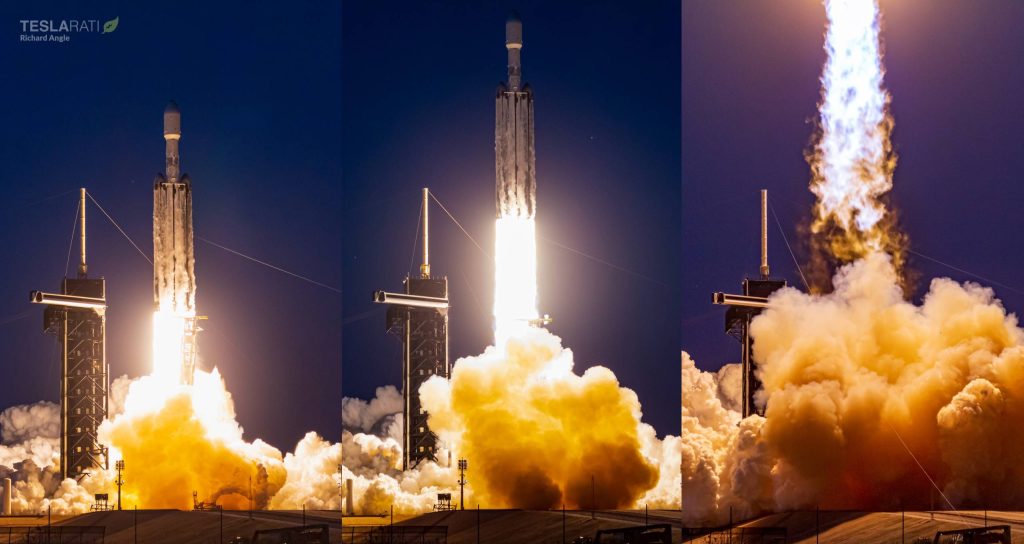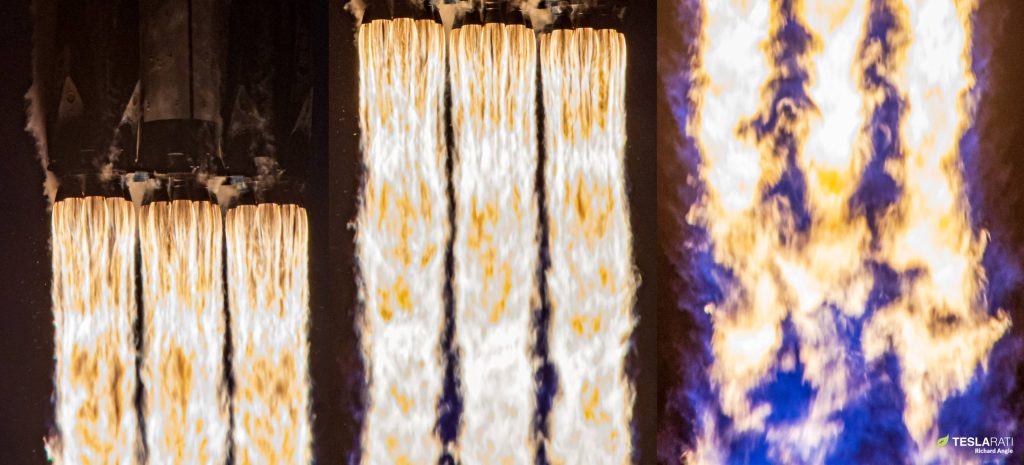 A Falcon (Heavy) spectacle
As previously discussed, USSF-67 was Falcon Heavy's first twilight launch. The extraordinary cadence of SpaceX's workhorse Falcon 9 rocket, which Falcon Heavy is derived from, caused twilight launches and the incredible light shows they can produce to become a fairly routine phenomena. But just under five years after its February 2018 debut, there had still never been a Falcon Heavy launch 'jellyfish' or 'nebula.' That thankfully changed on Sunday.
The rocket lifted off just ten or so minutes after sunset and soared into the fading purple skies. Those skies were still relatively bright at ground-level, reducing the amount of contrast, but the resulting light show was still spectacular as Falcon Heavy and its immense exhaust plume ascended back into the sunlight. The artificial sunrise lit up that pillar-like plume with the colors of sunrise and, eventually, bright daylight.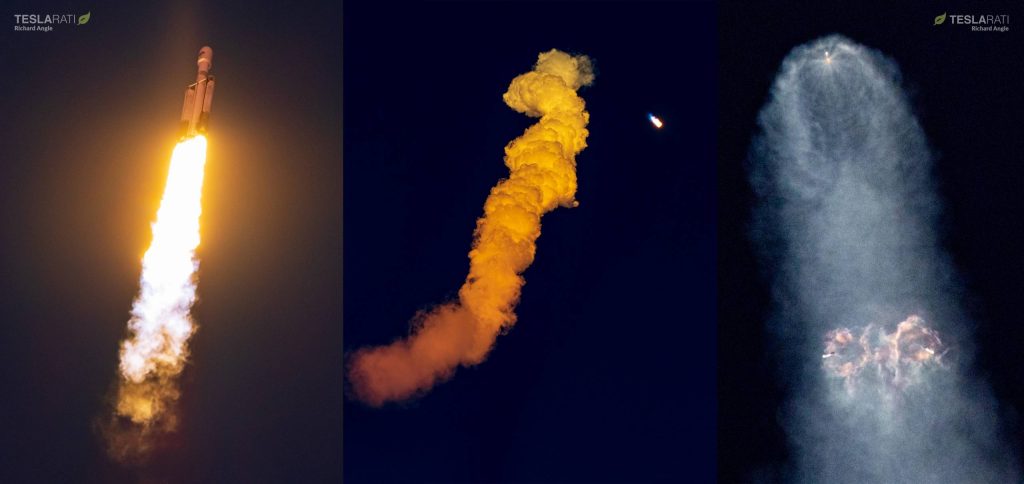 Close-up views enabled by tracking telescopes captured the true drama, which began shortly after Falcon Heavy's twin side boosters separated from the rocket's main core stage and upper stage, flipped around, and ignited their engines to fly back to the Florida coast they'd only just lifted off from. As the nine-engine center core continued towards space, each booster fired up one and then three Merlin 1D engines for their boostback burns.
A view from Astronomy Live captured the moment of boostback burn ignition, during which the side boosters visibly blasted 'craters' the Falcon Heavy center core's much more powerful plume. As those plumes interacted, the fluid dynamics and light produced by multiple Merlin 1D engines combined to create chaotic whisps of orange, red, and yellow – akin to an exploding nebula. The moments prior were also spectacular as the two side boosters, lit up by direct sunlight against the nearly black sky, began gently floating away from the center core and spinning around with bursts from several nitrogen gas thrusters – a brief moment of serenity before the violence of engine ignition.
On a chariot of fire
But as Maj. Gen. Purdy noted, the purpose of USSF-67 – spectacle aside – was to carry a number of important payloads into orbit.
"After both side boosters touched down, SpaceX ended its live coverage at the request of the Space Force, reiterating the mission's secretive customer and nature. The USSF hasn't confirmed much about the USSF-67 mission's payloads, but Falcon Heavy is known to be carrying a geostationary communications relay satellite called CBAS-2 and likely built by Boeing. CBAS-2 is joined by Northrop Grumman's third Long Duration Propulsive EELV or LDPE-3A, a combination of a propulsive kick stage and a satellite. LDPE-3A is carrying a collection of rideshare satellites and payloads and is designed to operate for months in orbit. Using USSF-44 as a guide, the total USSF-67 payload could weigh roughly 3.75 to 4.75 tons (8,250-10,500 lb)."

Teslarati.com – January 15th, 2023
The same SSC press release provides more detail, noting that LDPE-3A carries two hosted payloads – Catcher and WASSAT. Catcher is a space weather instrument developed by the Aerospace Corporation, while WASSAT is a prototype [PDF] of a wide-angle observation instrument designed to track other satellites in GSO. LDPE is also hosting "three payloads developed by the Space Rapid Capabilities Office (SRCO)," including "two operational prototypes for enhanced situational awareness, and an operational prototype crypto/interface encryption payload providing secure space-to-ground communications capability."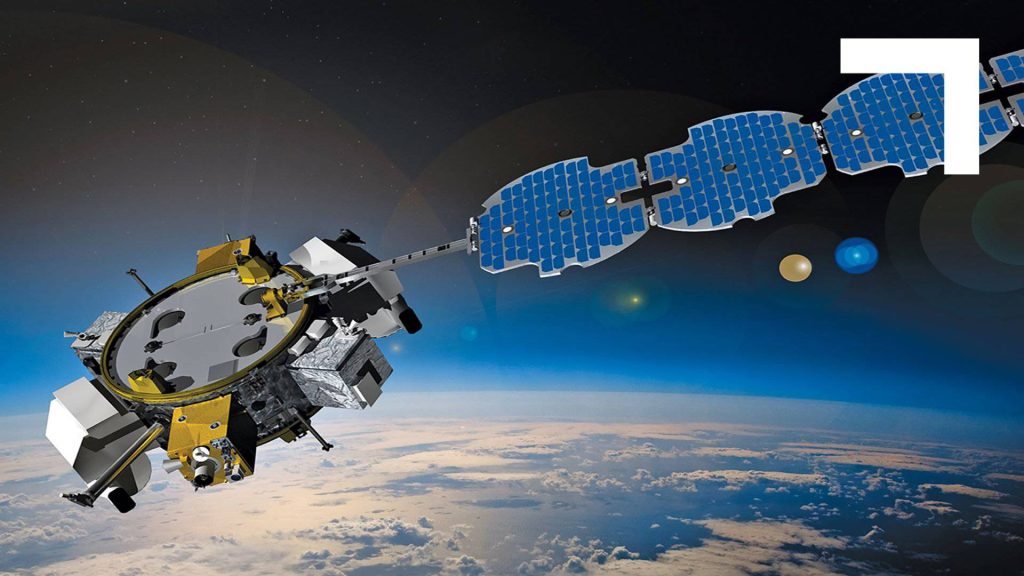 Two down, one to go
For Falcon Heavy side boosters B1064 and B1065, both of which supported USSF-44 and USSF-67, their missions are far from over. Their second successful side-by-side landing has cleared the boosters to be reused on a third US military launch called USSF-52. Originally known as AFSPC-52, the mission was Falcon Heavy's first operational US military launch contract and the first time the rocket beat competitor United Launch Alliance (ULA) during a competitive procurement.
Next Spaceflight reports that USSF-52 is scheduled to launch no earlier than April 10th, 2023, less than three months from now. Once that mission is complete, Falcon Heavy will have no more US military missions on contract, although more will almost certainly be rewarded sooner than later. USSF-52 is sandwiched between two other Falcon Heavy launches. Next Spaceflight also reports that Falcon Heavy could launch the ViaSat-3 communications satellite as early as March 2023 and the Jupiter-3 (EchoStar 24) communications satellite as early as May 2023, making for a busy 90 days.
For that trio to happen as scheduled, SpaceX will have to beat Falcon Heavy's record 75-day turnaround, which has coincidentally (?) occurred twice: first between Arabsat 6A and STP-2, and again between USSF-44 and USSF-67. Including USSF-67, SpaceX has up to five Falcon Heavy launches scheduled this year.