A new survey that polled nearly 500 Tesla owners, reservation holders, and enthusiasts found several key differences between Model S and Model X owners. This is my largest Tesla-focused study to date and is a follow up to last year's 22-question owner's satisfaction survey. The latest study finds both new interesting data and reaffirms Tesla's high customer satisfaction rating, while also taking a peek at Model 3 demand.
Model X vs. Model S Owners
Differences in satisfaction between Model X and Model S owners show, Model X owners are 20% more likely to have had "non-routine" maintenance done. Despite this occurrence, 95% of Model X owners report that their vehicle "held up extremely well". Both Model S and X owners alike rate the service department at 89% satisfied.
Overall, Model X owners spent on average 29% more on their vehicles than Model S owners, with the average price of their Model X purchase ringing in at $125,000 compared to $97,000 for Model S buyers. Both Model S and X owners had an average age of 53 years old. Model X owners showed a significant bump in household annual income versus Model S owners, ticking in at an average of $503,000 and $267,000 respectively.
Despite the fact that income levels of both Model S and X owners place them near the top 1% of household incomes in the United States, 94% of current owners claim that this is the most expensive vehicle they have ever purchased.
When asked how much one would pay for a 30% battery upgrade in 3 years, both Model S and X owners said they would pay over $5,900 for a battery upgrade. Assuming an average battery size of 83 kWh, based on the average of a 75 kWh and 90 kWh pack, we can assume a 30% increase in capacity would be somewhere on the level of 25 kWh. This would put the retail price for the upgrade at ~$235 per kWh, which seems reasonable given Tesla CEO Elon Musk's prediction that battery costs could dip as low as $100 per kWh by 2020.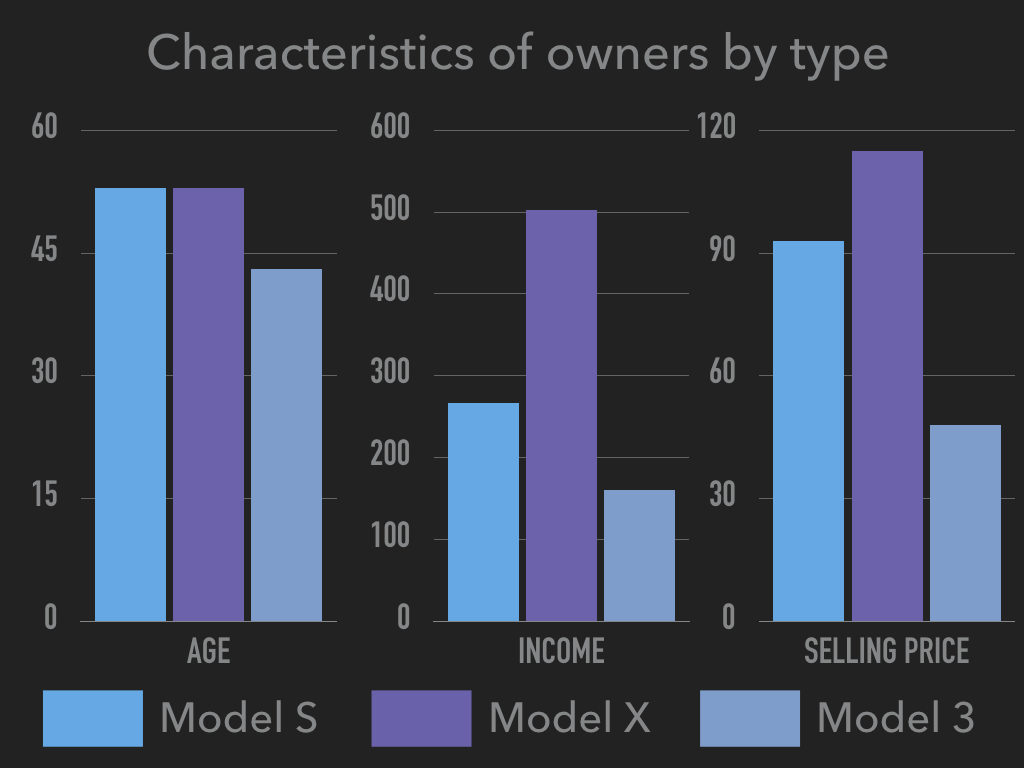 Model 3 Owners
Of Model 3 reservation holders, they expect to spend just over $48,000 on their Model 3. By comparison, preliminary data from crowdsourced database Model3Tracker.info shows that existing Tesla owners will spend 7% more than first time owners and pay an average price of $55,084, based on contributors intended Model 3 configurations. 
Model 3 reservation holders held an 82.5% satisfaction rate with the reservation process.
The average age of a Model 3 reservation holder polled was 43 years, with an annual household income of $160,000. On average, Model 3 reservation holders indicated that they have been following Tesla for over 5 years.
Overall Results
Overall, 97% of respondents believed that Tesla is on the right track and 92% of owners believed that they will purchase a Tesla in the future. Additionally, 56% of owners plan on purchasing a Tesla Energy or SolarCity product in the next 2-3 years. This helps bring insight to the combined merger between SolarCity and Tesla that was completed in 2016.
To receive the full results of the survey you can message us on Facebook or follow our Facebook page where we will be dropping some additional results. If you would like to be included in future Tesla owners/fans studies, you can enroll yourself here.