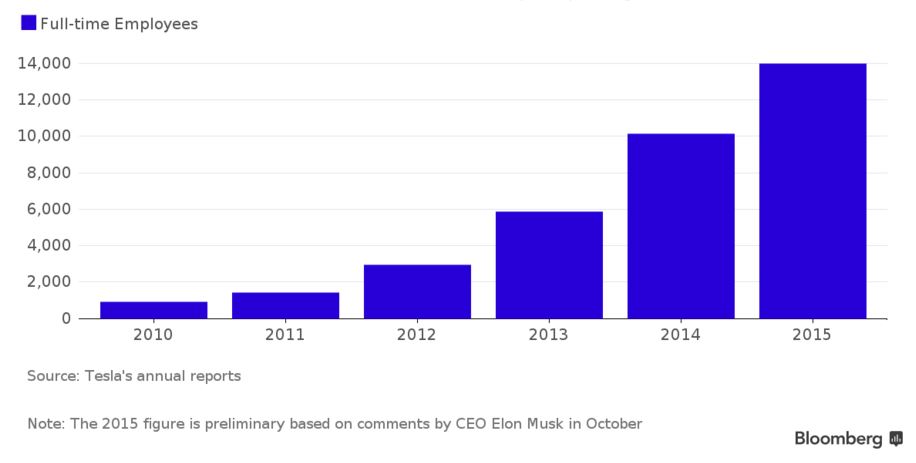 As of Monday, December 7, there are 1,656 job openings listed on the Tesla website. Some are for radar engineers, a manager for Tesla's newest service location in Mexico City, and product specialists in world cities from Milan and Amsterdam in Europe to Shanghai and Chengdu in China.
"During 2016 Tesla will face a balancing act of funding its rapid growth aspirations and showing the market its ability to deliver profits," said Ben Kallo, an analyst with Robert W. Baird & Co. tells Bloomberg. "Workforce expansion across all divisions is necessary," he says, as Tesla seeks growth in it auto and battery businesses, while achieving the positive cash flow in Q1 of 2016 Elon Musk has promised analysts.
Since 2010, the number of people working for Tesla has increased 15 fold to more than 14,000. Some wonder entry from other car companies into the EV autonomous driving market — from Apple and Google to Faraday Future and Atieva — are making it hard for Tesla to find well qualified talent.
Absolutely not says Arnnon Geshuri, Tesla's vice president of human resources. He says Tesla is flooded with job applicants, with everyone at the company essentially acting as a recruiter for top talent. "In the last 14 months, we've had 1.5 million applications from around the world. People want to work here."
We are looking for hardcore software engineers. No prior experience with cars required. Please include code sample or link to your work.

— Elon Musk (@elonmusk) November 20, 2015
Just a few weeks ago, Elon Musk took to Twitter to recruit talent for its autonomous driving systems, calling it a "super high priority." He said back in October that the Autopilot software team is comprised of only about 50 people while the Autopilot hardware team consists of roughly 100. "Generally with software you can get amazing things done with small teams. And a small team will do much more radical improvements than a big team," Elon says.
For now, Tesla continues to attract the top talent available for all positions. People just naturally want to work for the best, most progressive company in the business. For every person like Robert Rose who moves from Tesla to a competitor like Google, there are a dozen more superbly qualified candidates waiting for the chance to contribute to Tesla's success.