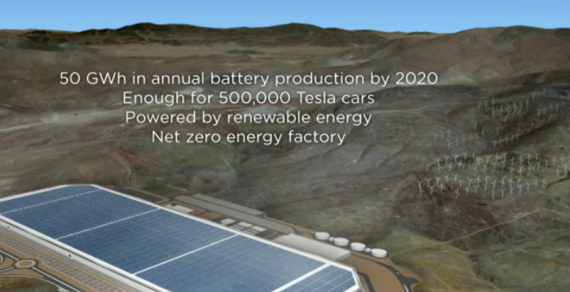 According to a new report from the Reno Gazette-Journal, when the State of Nevada granted Tesla a package of tax breaks last year, it tied them to regular reports to verify the state was getting the benefits Tesla promised. The package means that Tesla will operate essentially tax free for a decade and then enjoy a substantial tax discount for another 10 years. It includes:
$725 million in sales tax abatements over 20 years.
$332 million in real and personal property tax abatements over 10 years.
$195 million in transferable tax credits.
$27 million in payroll tax abatements over 10 years.
$8 million in electricity rate discounts over eight years.
State legislators are closely monitoring the situation. "The information I've been watching is whether they've been making the investments we were promised and whether they are employing Nevadans like they promised," Sen. Ben Kieckhefer, R-Reno, said. "And we see from the reports from GOED that those thresholds are being met." Tesla is obligated to employ at least 50% Nevada residents. So far, the average number of workers being hired has averaged 583 per week, of whom 73% are state residents. There are currently 82 full time employees at the site.
State legislators also want to make sure that Storey County is adequately compensated for the extra public service and educational expenses it will incur because of the activity generated by the Gigafactory. Tesla is obligated to pay the county $881,203 annually to cover those expenses. The county is required by state law to file annual reports with the legislature but so far has failed to do so.
Assemblywoman Theresa Benitez-Thompson said the county needs to do a better job filing its reports. "My intuition would be that there's been progress in the general community and that the community is happy about what's going on," she said. "But we really do need these reports to give us more finite detail on what's happening with these abatements and what revenue we are not collecting."
Perhaps the members of the legislature should take comfort in these words from GOED chief Hill. He says his agency no longer has to recruit business to the state. His calendar is full of companies reaching out on their own after hearing about the Tesla project. "We met recently with a really large company — a very household name — looking at an opportunity in Northern Nevada," Hill said. "They said if Tesla hadn't picked Nevada, they wouldn't even have considered it. That opened their eyes."
Home values in the surrounding "bedroom communities" of Sparks and Fernley have jumped 18 percent and 15 percent respectively since the project was announced. The unemployment rates in Storey, Lyon and Washoe counties have also dropped in the past year.
The state of Nevada has every right to make sure the incentives they offered to attract the Gigafactory to Nevada provide the expected economic benefits, but there seems little danger they won't materialize. Plunking a $5 billion factory down in the middle of what was a trackless desert is sure to have a strongly positive economic impact. All the necessary reports will have to filed and studied, of course, but in the end the incentives given to Tesla will probably be the best decision Nevada has made since it legalized gambling.