Tesla has begun testing a U.S. version of its latest Model S P90D sedan on the streets of Seoul, South Korea as the company gears up for entry into this new market. News of this follows our previous report indicating that Tesla had officially opened up its online reservation form to South Korean buyers of the Model S, Model X and Model 3.
Reservation holders will be given the opportunity to test drive a Model S towards the end of this year. However, ahead of opening up test drives to the greater consumer market, Tesla must first conduct real-world testing of the vehicle's Autopilot system and gauge its suitability within city streets. The company will also be exploring opportunities that may allow Tesla to plug in at existing charging stations found throughout Seoul.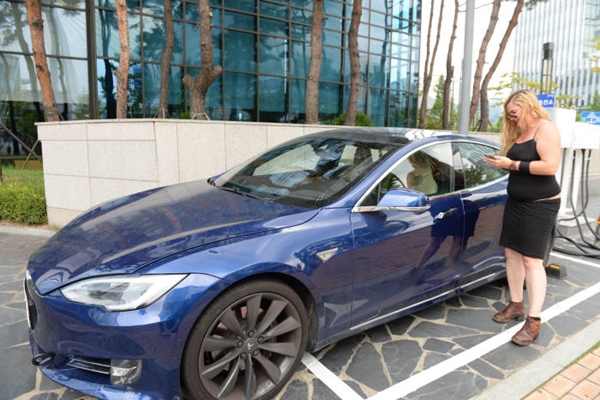 The blue Model S P90D seen in the picture was first spotted in the Pangyo district by local media company The Electronic Times. A reporter from the outlet caught up with the woman driving the Tesla in order to obtain more information. The woman identified herself as being a Tesla employee who was present on business.
According to the Korean news outlet, Tesla has been carrying out self-driving and charging tests over the past week, and will continue to do so until the end of the month. At the moment, South Korea does not have a single Supercharger station within the country. Ensuring compatibility with other charging networks would alleviate concerns over inaccessibility of its fast-charging Supercharger network. One possible solution to charging that could skirt the need for an expensive and time consuming Supercharger build out is to provide Tesla owners with appropriate charging adapters, similar to what the company has done with its CHAdeMO adapter.