Tesla Motors celebrated the opening of their first Supercharger station in Chengdu, China this past week further deepening their roots into the Chinese automotive market. The Chinese government has been encouraging the use of electric vehicles as a solution to combat the country's air quality problems, but adoption of this form of transportation has been mainly thwarted by difficulties with building out a robust charging infrastructure.
In a deal secured with commercial real estate developer China Yintai Holdings, known for its development of high-end shopping meccas throughout the country, Tesla Motors has been expanding its footprint in the northern and eastern regions of China through the roll out of storefronts and its Supercharger stations. This latest Supercharger opening in Chengdu, China on September 19th marks the carmaker's official entry into the western region of China.
The celebration held by Tesla Motors at the Chengdu Yintai Centre, inaugurated its six new Supercharger stations along with delivery of six new Model S to their respective owners. Tesla did not disclose the identify of the new owners but it has been widely reported by local Chinese media that consumers of the luxury electric vehicle have come from banking and financial backgrounds.
China is expected to be one of the largest markets for Tesla Motors and its success within the country's bustling transportation market will play a critical  role in meeting its long term production goals of 500,000 vehicles per year.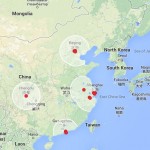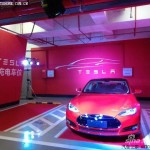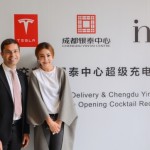 Source: Chendu CN