Tesla has launched a new corporate sales page aimed at marketing Model S and Model X as the perfect company car. The page makes an appeal to vehicle fleet managers with one very straight forward message: owning a Tesla comes with business benefits and incentives.
The latest program comes on the heels of last August's hire of fleet industry veteran Michael Stafford as Corporate Sales Manager for Tesla North America. Part of Stafford's role was to develop a fleets sales program that appeals to the corporate sector and fleet management companies.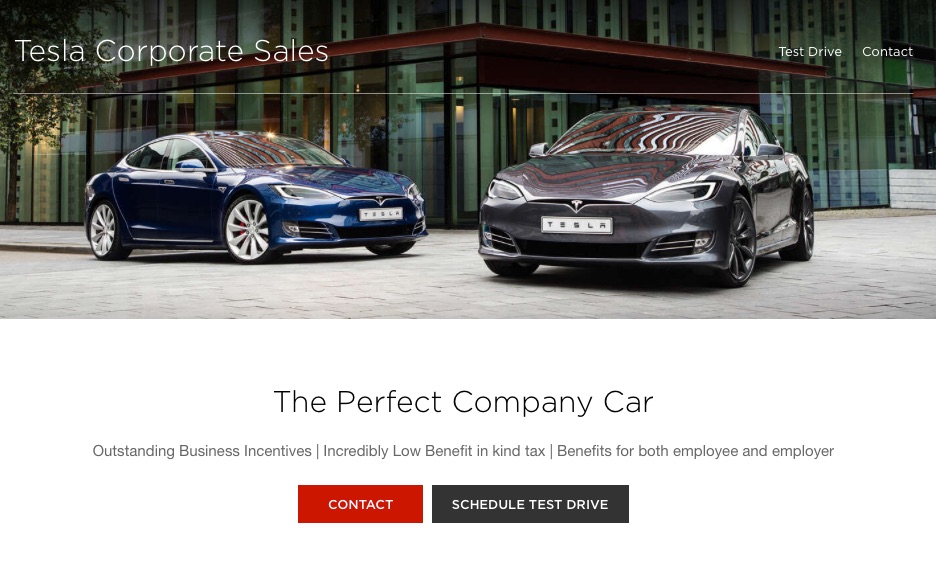 Tesla's approach to mapping out a compelling financial use case for Model S and Model X is sure to resonate with fleet managers that are seemingly always pressured to cut budgets. Citing several customer testimonials on the company's Corporate Sales page, such as one from Model S owner Min Bhogaita, Tesla makes the case that it's cheaper to have an electric fleet that incurs savings over time. "Even though Tesla is about 40% more expensive in terms of upfront price, I will be making a great saving over the three years. It's actually costing me less overall." says Bhogaita.
Cost savings come from lower price of fuel and little to no maintenance needed. Tesla vehicles do not require the traditional quarterly oil change and service. Instead, the company utilizes a fixed-fee program that covers annual service and mobile service dispatches. The lack of moving parts in electric vehicles minimizes wear and tear which further lowers the cost of maintaining the company cars.
Tesla also markets the opportunity to reduce time and effort spent on fleet management as a business incentive. This allows fleet managers to keep their vehicles on the road longer, while also reducing the number of staff needed to maintain the fleet.
If having a Tesla-fleet makes sense for services like Tesloop and Model S taxis in Amsterdam , it stands to reason that the financials would also hold true for corporate fleets.