Tesla has begun to send official email invitations to attend its upcoming truck unveiling event, to be held on Thursday, November 16 from the company's Design Center in Hawthorne, California.
The invitation teases with a new photo of the semi-truck that's taken from the front three-quarter angle. While we're not able to see much of the vehicle beyond the large wind deflector that's mounted above the main cabin and the attached tractor, the silhouette resembles the shape of a presumed Tesla's Semi that was captured in a recent spy photo.
Details for the Tesla Truck event are as follows:
Date and location
Tesla Truck Unveil on Thursday, November 16 at the Jet Center Los Angeles in Hawthorne, CA.
Doors open at 7 PM
Food and drinks will be served beginning at 7 PM
Remarks will begin at approximately 8 PM
Reminders
Invitations are non-transferable and IDs will be checked upon arrival
The event will be held both indoors and outdoors, we recommend light outerwear in case of cooler weather
Parking and Charging
Parking and shuttles will be available in the Lowe's parking lot, near the intersection of W 120th Street and Wilkie Avenue. There will be no event parking available at the Jet Center.
A parking pass will be required to enter the parking lot. Tesla will email attendees a parking pass and an event map prior to the event.
Vehicle charging will not be available on site. Due to high traffic at the Los Angeles (Design Center) Supercharger location, please plan for limited charging.
The closest Supercharger locations are in Culver City and Redondo Beach.
Accommodations
Please note, guests are responsible for the cost of their travel to and from the event. Reduced rates are available at the following nearby hotels. We recommend booking your room as soon as possible.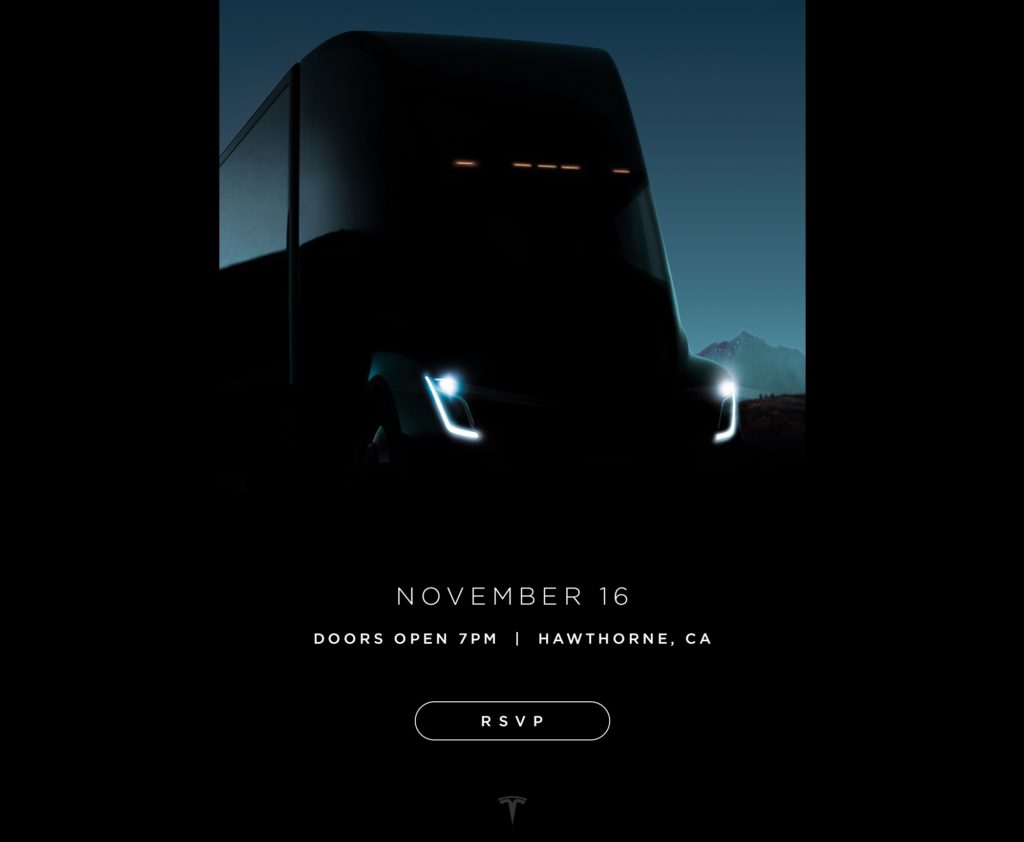 Photo credit: Ben Sullins of Teslanomics
Tesla announced in June of 2016 through the company's second Master Plan that it intended to expand beyond consumer vehicles and into the heavy-duty trucking industry. "We believe the Tesla Semi will deliver a substantial reduction in the cost of cargo transport, while increasing safety and making it really fun to operate." said Tesla.
Recent reports peg the electric hauler to have a battery range between 200 to 300 miles and capable of autonomous 'platooning'. Musk also revealed earlier in the year that the 'seriously next level' truck will take on the heavy duty long-range trucking sector and can be driven like a "sports car".
"A lot of people don't think you can do a heavy duty long-range truck that is electric. But, we are confident that this can be done." said Musk during Tesla's 2017 Shareholder meeting.
Tesla's Semi truck program is being led by industry veteran Jerome Guillen, Tesla's VP of Trucks and Programs. Having previously worked at Daimler and served as General Manager of New Product Development at Freightliner Trucks, Guillen will without doubt apply his extensive background in long-haul trucking to the company's newest endeavor.