Tesla recently announced that it would be doubling the size of its Supercharging network by the end of this year, as the automaker continues to set record vehicle deliveries each quarter and prepares for volume production of its highly anticipated Model 3.
"It is extremely important to us and our mission that charging is convenient, abundant, and reliable for all owners, current and future." said Tesla early last month when the electric car maker assured existing owners of its Model S, Model X and Model 3 reservation holders that they would "never wait to charge".
Tesla has announced an aggressive plan to mitigate Supercharger Apocalypse by way of a 3-pronged approach. First, Tesla will double the number of charging stations in its Supercharging network in 2017. Second, it is pushing to quadruple the number of destination chargers for drivers to use at hotels, retail locations and similar points of interests around the world. Third, it has implemented a cap on free lifetime Supercharging which limits owners that purchased a Model S or Model X after January 15, 2017 to 400 kWh of free Supercharger use per year, or roughly 1,200 miles of driving.
Evidence is mounting in support of Tesla's efforts to expand existing Supercharger sites, after photos posted by Tesla drivers from around the world reveal new construction taking place at popular Supercharger locations.
The Culver City Supercharger which serves a critical hub in the greater Los Angeles is seeing its first expansion from 12 stalls to a reported  18 stalls. It's a busy site frequented by ride sharing services and Model S and Model X drivers that are passing through Los Angeles' infamous 405 freeway.
Another busy Supercharger location at Harris Ranch, California which services weary travelers between Los Angeles and San Francisco is also getting a much needed upgrade from Tesla. Jack Bowers tweeted a photo showing the arrival of a larger PG&E transformer at the site to support the expansion of the 13-stall Supercharger station to 18 charging stalls. Crews were on site working on the expansion when the photo was taken.
Another popular Southern California charging location, the Redondo Beach Supercharger, is also getting an expansion.
PG&E at Harris Ranch, planning for larger transformer to accommodate expansion to 18 Tesla Supercharger slots. pic.twitter.com/8TsL6cno48

— Jack Bowers (@JackBowers) May 15, 2017
Maienfeld, Switzerland is getting a Supercharger of its own. The country has been a world leader in the transition to electrified transportation and is the only nation in the world with a fully electrified train system. Photos by Redditor pilif.
Swinging back to the midwestern United States and the Bolingbrook, Illinois Supercharger is almost ready to open. Bolingbrook is strategically located just west of Chicago and will service travelers in and around the greater Chicago area. Photo by Redditor pazdan.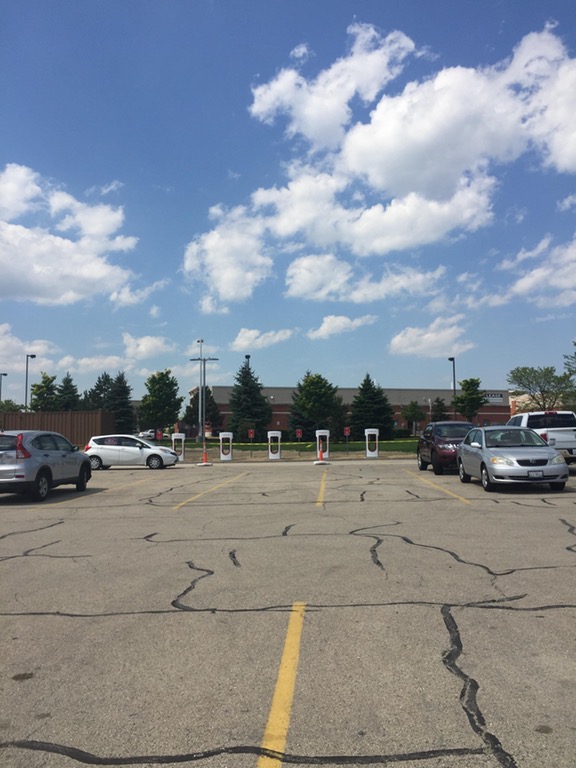 Finally, the grand opening of the Arlington, Texas Supercharger was on May 13th and was captured on video by Insolation Station over on YouTube. They capture the Supercharger opening ceremony which incidentally appears to be playing out all over the world, by the week.