Tesla has been transparent about its Enhanced Autopilot software which the company said would roll out incrementally over time, but that hasn't stopped HBSS Law firm from filing a new class-action suit today, alleging that Tesla deceitfully sold "inoperative Standard Safety Features" on cars that "lack basic functions featured in cars at half the price". In question is, what the suit describes as, "nonfunctional" Autopilot 2.0 software, an optional feature available on Model S and Model X vehicles equipped with self-driving hardware.
Tesla responded to the suit, slamming the credibility of the claims being made, stating:
"This lawsuit is a disingenuous attempt to secure attorney's fees posing as a legitimate legal action, which is evidenced by the fact that the suit misrepresents many facts. Many of the features this suit claims are "unavailable" are in fact available, with more updates coming every month. We have always been transparent about the fact that Enhanced Autopilot software is a product that would roll out incrementally over time, and that features would continue to be introduced as validation is completed, subject to regulatory approval.
Furthermore, we have never claimed our vehicles already have functional "full self-driving capability", as our website has stated in plain English for all potential customers that "it is not possible to know exactly when each element of the functionality described above will be available, as this is highly dependent on local regulatory approval."  The inaccurate and sensationalistic view of our technology put forth by this group is exactly the kind of misinformation that threatens to harm consumer safety."
The new class-action suit alleges that the California electric car maker knowingly sold nearly 50,000 vehicles equipped with self-driving Autopilot 2.0 hardware and the promise that Enhanced Autopilot hardware "still has not met Tesla's promises" and was missing standard safety features.
The suit specifically takes issue with the Enhanced Autopilot feature of Tesla vehicles noting that, "the "Enhanced Autopilot," for which customers paid an extra $5,000, is 'essentially unusable and demonstrably dangerous.'"
The Tesla purchase page for the Model S "Tesla's Enhanced Autopilot software has begun rolling out and features will continue to be introduced as validation is completed, subject to regulatory approval."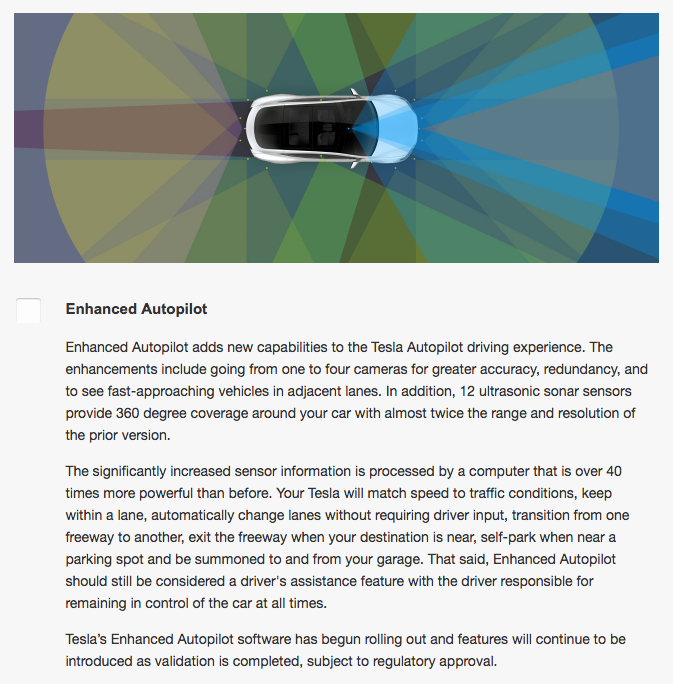 The suit takes issue with the "beta" nature of the Enhanced Autopilot software, alleging that Tesla knew that it could not do what Tesla claimed it would do. It states that "the automaker knew that its software was incapable of upholding its promises to purchasers."
Steve Berman a managing partner of Hagens Berman which represents the plaintiffs, shared:
"Tesla has endangered the lives of tens of thousands of Tesla owners across the country, and induced them to pay many thousands of dollars for a product that Tesla has not effectively designed. Tesla sold these vehicles as the safest sedan on the road. What consumers received were cars without standard safety enhancements featured by cars costing less than half the price of a new Tesla, and a purported 'Enhanced Autopilot' that operates in an erratic and dangerous manner."
The suit compares the safety features available in Tesla vehicles to those available on "cars costing less than half the price of a new Tesla." Tesla's over-the-air update of firmware 8.1 aimed to bring Enhanced Autopilot to near feature parity with Model S and Model X vehicles equipped with first generation Autopilot 1.0. Here's an excerpt from our coverage of firmware version 8.1, when it was first introduced:
Vehicles equipped with Tesla's Autopilot 2.0 feature and self-driving sensors, also commonly referred to as "hardware 2" (HW2), will see improvements to Autosteer, lifting a previous speed cap set at 55 mph (88 mkh) to 80 mph (129 kmh). The update also adds the Auto Lane Change feature and Tesla Summon, which until now was only available on first-generation Autopilot cars. Tesla's Lane Departure Warning feature has also been added to Autopilot 2.0 which will vibrate the steering wheel if the vehicle veers from its intended driving lane when speeds reach above 36 mph (58 kmh).
Berman doesn't see it that way, stating that "to this day, Tesla has not released truly functional software for its Standard Safety Features or Enhanced Autopilot."
The suit lists out the specific issues it takes with the "missing" Standard Safety Features:
"Regarding its Standard Safety Features which include automatic emergency braking, front collision warning, side collision warning and auto high beams, Tesla told consumers these features would be available by December 2016 and 'roll out through over-the-air software updates,' but to date, only a dangerously defective Traffic Aware Cruise Control has actually come to fruition, according to the suit. The remaining features simply do not exist."
In scope of the class-action lawsuit are "about 47,000 affected Model S and Model X vehicles." The suit seeks the value of the standard safety features that do not exist in these cars plus $5,000 for the "nonfunctional Enhanced Autopilot feature" that many owners purchased as an option to their vehicle.